Moisturizing After Salicylic Acid: What To Do & Use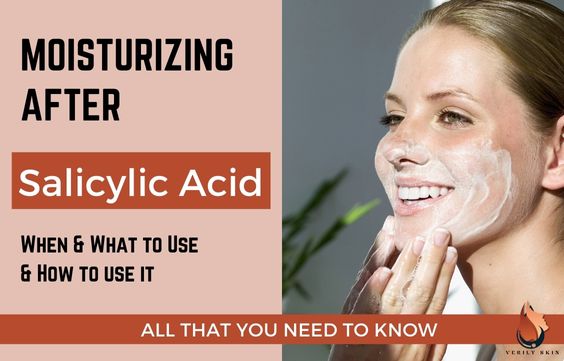 How and when should you be moisturizing after salicylic acid has been put on your skin? What are the best moisturizers to use? 
Never fear. Your friendly skin-sister is here. Let's talk about what salicylic acid does to the moisture barrier of the skin and how best we can maintain it for healthy, glowing skin. 
What Salicylic Acid (SA) Does For Skin
Salicylic acid is a beta-hydroxy acid that is most commonly used in skincare to exfoliate and treat acne. 
Since SA can get deep into the skin, it works much more effectively to unclog pores (helping with acne) and it exfoliates more deeply. 
SA can be used on the skin as a peel, topical cream or serum, cleanser, toner, or as a spot treatment for acne. 
Should You Be Moisturizing After Salicylic Acid Use
You should definitely use a moisturizer after using salicylic acid. 
Salicylic acid exfoliates your skin and clears your pores very deeply. Because of this, it is very easy for your skin to lose moisture and become dry. It also leaves your skin exposed to the elements and new "baby skin" is being regenerated through the layers. 
Salicylic acid will allow the moisturizer more effectively penetrate the layers of the skin better.
After salicylic acid has basically cleared the way by removing debris and dead cells from all the layers of the skin, the moisturizer will be able to make its way to the lipid and moisture barrier, which keeps the skin hydrated and healthy. 
Related Articles:
Best Salicylic Acid Soaps – Benefits, Risks & How To Use
Salicylic Acid For Oily Skin – What You Need To Know
Common Questions About Moisturizing After Salicylic Acid Use
Can you use moisturizer before salicylic acid?
You should not use moisturizer before using salicylic acid. 
SA is keratolytic. This means that it peels the layers of the skin away (even if we do not see physical peeling). 
While you do not want your skin to be excessively dry, you also do not want it to be occluded before you use salicylic acid. 
Many moisturizers occlude the skin to lock moisture in. This means that it will also keep the salicylic acid from penetrating as deeply as it should. It will also dilute the concentration of salicylic acid being delivered to the skin. All of this will make it less effective. 
Therefore, the best time to apply your moisturizer is after your salicylic acid. 
Related Article – 7 Reasons Salicylic Acid can make Acne Worse & What to Do
Can you put moisturizer over or on top of salicylic acid?
Yes, you can put moisturizer over or on top of salicylic acid, but it is recommended that you let the salicylic acid absorb into the skin first. 
Related Article – Skin Purging from Salicylic Acid: How to Spot & Treat
How long should you wait to apply moisturizer after salicylic acid?
Generally, it is recommended that you wait anywhere between 5 and 20 minutes after using salicylic acid before you apply your moisturizer. 
However, the time you should wait will ultimately depend on what formulation of salicylic acid you use. 
For face washes and toners, your moisturizer can be applied at least 5 minutes after your face has dried.
In the case of serums, creams, and spot treatments, you can wait about 10-20 minutes. 
After chemical peels, most skin care professionals recommend waiting about 15-20 minutes. Aftercare for Chemical Peel.
Waiting for a bit ensures that the acid has time to absorb into the skin. 
Related Article – Salicylic Acid For Dark Underarms: What You Need to Know
Can you use oil after salicylic acid?
Yes, you can use oil after you have used salicylic acid. 
However, it is best to use one that will not block pores, and that will help to draw moisture to the skin. 
For acne-prone skin, it is important to use an oil that is thin so that it does not worsen your acne by blocking your pores. 
For sensitive skin, it is best to use one that is not known to be exfoliating or irritating. 
Some great oils to use after salicylic acid are:
Rosehip seed oil
Sunflower oil
Grapeseed oil
Safflower oil
Sweet almond oil
Argan oil
Hemp seed oil
Sesame oil
Pumpkin seed oil
Can You Safely Use Lactic Acid & Retinol Together
Can you use rosehip oil after salicylic acid?
Yes, you can use rosehip oil after using salicylic acid, but not on the same day. 
Rosehip oil will not block pores, it will hydrate and moisturize the skin, and it contains tons of essential fatty acids and nutrients that benefit the skin. 
However, rosehip oil also contains vitamin A or retinol, which is a known skin exfoliator. 
Combining this with salicylic acid will be too harsh for the skin and may cause irritation and skin dryness, which is the opposite of what we want. 
If you are using both salicylic acid and rosehip oil in your routine, you should use them on alternate days. 
What is the best thing to use after applying salicylic acid
The best moisturizing agent to use, especially after treatments like salicylic acid, is hyaluronic acid. 
It is a humectant and will keep the skin hydrated and well-balanced. It is also gentle and will not cause any irritation to the skin, nor will it block pores, allowing the skin to breathe. 
Best Moisturizers To Use After Salicylic Acid
1- Cerave Hyaluronic Acid Serum for Face
This serum contains hyaluronic acid, ceramides, and vitamin B5 which hydrates the skin, locks in moisture, and restores the lipid barrier of the skin to keep it healthy. 
You can Click here to see the Cerave Hyaluronic Acid Serum for Face on Amazon. 
2- Toleriane Double Repair Facial Moisturizer with SPF
This moisturizer is said to be formulated with a high concentration of La Roche-Posay prebiotic thermal water, ceramide-3, niacinamide, and glycerin.
It also claims to provide up to 48 hours of hydration and restore the skin's natural protective barrier.
Click here to see the current price for the Toleriane Facial Moisturizer with SPF on Amazon. 
3- CeraVe Day & Night Face Lotion Skin Care Set
Both these formulas are said to be filled with ceramides, niacinamide, and hyaluronic acid.
They are both oil-free and promise hydration throughout the day and night respectively. The AM moisturizer contains sunscreen and the PM moisturizer is lightweight. 
Click here to check out the CeraVe Day & Night Face Lotion Skin Care Set on Amazon. 
Sources:
What Is Salicylic Acid and How Does It Benefit Skin? | Allure 
Which Non-Comedogenic Oils Are Best for Acne-Prone Skin? | Feel Beauty 
Rosehip Oil for Face: Anti-Aging, Acne, Dark Circles, and More