Using Moisturizer After Niacinamide – What You Should Know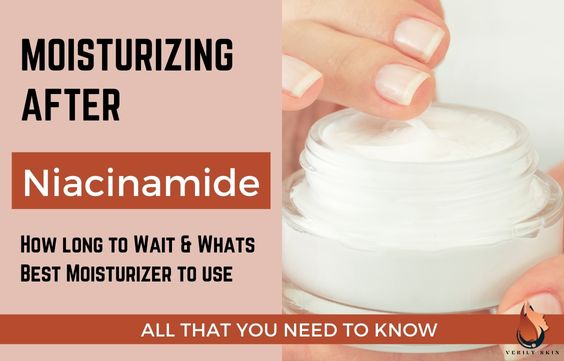 Niacinamide has a host of benefits for skin of all types, but where in your skincare routine does it fall? And does it work well with moisturizers?
Layering your products in the right order is essential for allowing them to work as they should. Some products even complement and enhance each other. 
So let's talk about using moisturizers and niacinamide. 
Should You Use Moisturizer Before or After Niacinamide
You should use your moisturizer after applying niacinamide. 
Niacinamide is usually a water-based serum that is very thin and liquid. This means that it needs to be used early on in your skincare routine – ie. just after your toner and before your other oil-based serums, products and/or moisturizers. 
Related Article – Best Niacinamide Soaps & Body Washes- Benefits & Risks
Wait Time Between Applying Niacinamide Serum and Moisturizer
Most professionals recommend waiting a minimum of 60 seconds between applying niacinamide and your moisturizer or other products. 
If your niacinamide does not dry down completely by then, wait until it has dried on your skin and has been absorbed. 
Waiting until your niacinamide serum has been absorbed gives it time to adequately penetrate the layers of the skin without being diluted by other products or occluded by your moisturizer, which will weaken or mitigate its effects.
Niacinamide for Dark Underarms: How to Use for Best Results 
Why It Is Important To Moisturize After Niacinamide
Using a moisturizer after niacinamide will help to lock the serum into the skin along with more hydration.
This will keep the skin healthy, making it readily responsive to the beneficial effects of the serum. 
Niacinamide itself can boost skin hydration it is not enough to keep the skin moisturized enough all day, especially if you are also using acids or other drying ingredients. 
Niacinamide for Dark Spots & Wrinkles Under the Eyes
Tips To Follow When Layering Your Skincare Products
Always start your routine with a cleanser to remove oil and other products from your skin.
After cleanser you should exfoliate (if necessary). 
Start with the products that have the thinnest consistency. 
The general order for your daytime routine is oil or water-based cleanser, Toner, Serums (like niacinamide), spot treatment (if needed), eye cream (optional), face oil (optional), moisturizer, sunscreen, makeup or foundation.  
The general order for your nighttime routine is oil-based makeup remover, water-based cleanser, exfoliator or clay mask (when necessary), toner, acid treatment (optional), serums (like niacinamide), spot treatment, eye cream (optional), moisturizer, night cream or night mask.
Change things in your skincare routine to suit your skin.
Here are some great tips about how to use niacinamide with an example of a good product:
Best Moisturizers To Use After Niacinamide
Niacinamide is a very versatile ingredient and can be paired with almost any moisturizer. So your choice would be more based on your skin type rather than the use of niacinamide. 
If you have oily skin, it is best to use a water-based moisturizer that will not clog your pores. If you have dry skin, you can use a thicker moisturizer. 
Also, keep in mind that many moisturizers also contain niacinamide. If you are already using a relatively strong concentration of niacinamide in your serum, do not use a moisturizer that also contains niacinamide. Too much of this B vitamin can lead to sensitivity and irritation. 
Here are some great moisturizers we have found:
1- Neutrogena Hydro Boost City Shield Water Gel
This moisturizer is a gel formula that is oil-free, alcohol-free, and will not block your pores. It contains hyaluronic acid and has the added benefit of SPF. This is great for people with oily, acne-prone skin. 
Click here to see the Neutrogena Hydro Shield Water Gel on Amazon.
2- CETAPHIL Daily Hydrating Lotion for Face
This lotion is formulated with hyaluronic acid, is oil-free, and provides SPF protection. It also claims to provide 24-hour hydration. 
Click here to see the price for the CETAPHIL Daily Hydrating Lotion for Face on Amazon. 
3- Vanicream Daily Facial Moisturizer
This is a fragrance-free, lightweight moisturizer that is great for people with sensitive skin. It contains ceramides, glycerin, hyaluronic acid, and squalene which all help to provide lasting hydration. 
Click here to check out the Vanicream Daily Facial Moisturizer on Amazon. 
Frequently Asked Questions (FAQs)
Can I use moisturizer before niacinamide?
You should not use your moisturizer before niacinamide. 
Moisturizers seal the skin to lock in moisture, but it also keeps other things out. This means that if you put niacinamide on over your moisturizer, it will most likely just sit on top of the skin. It will not be absorbed properly and it will not work. 
Niacinamide before or after moisturizer: which is better?
It is better to use niacinamide before your moisturizer. 
This will ensure that the niacinamide serum can penetrate the skin undiluted and unhindered. Then your moisturizer will lock it in along with hydration and other nutrients. 
Can I use niacinamide without moisturizer?
Niacinamide is a hydrating ingredient so depending on the strength, you may use it without using moisturizer. 
However, this will depend on what other products you are using, how strong your niacinamide is, and the kind of skin that you have. 
If you find that your skin needs more hydration, then you should use a moisturizer. 
Can I use niacinamide without sunscreen?
Niacinamide is not affected by the sun, so you can skip SPF. But this is absolutely not recommended. 
Even though the rays of the sun will not affect niacinamide, they will affect your skin by causing free radical damage ad sunburns. The sun can also affect other ingredients in your skincare routine. 
You should always use sunscreen, even if you skip everything else. 
Should I use Niacinamide during the day or night?
Niacinamide is not sensitive to the sun so it can be used during the day OR the night, or both. 
When you use it would depend on your skin, your routine, and personal preference. 
Sources:
Niacinamide: 10 Benefits for Skin, Topical or Supplement, Side Effects 
Here's Why—and How—You Should Add Niacinamide to Your Skincare Routine 
How to Layer Your Skin-Care Products in the Correct Order | Allure 
Skin Care Routine: What Is the Correct Order? 
How Long to Wait Between Applying Skin-Care Products | Allure