Best Niacinamide Soaps & Body Washes- Benefits & Risks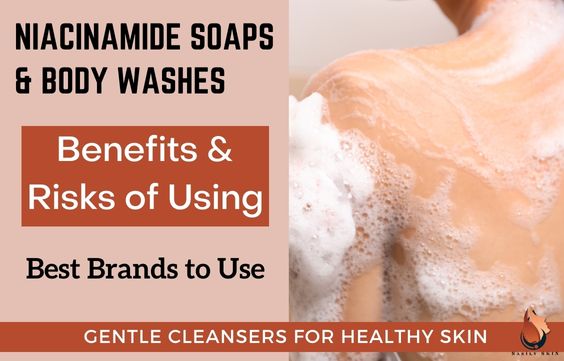 A trendy, powerhouse ingredient in skincare is Niacinamide, which can be found in the lineup of many (if not all) brands of serums, lotions, face washes, etc. But the less common formulas are Niacinamide bar soaps and body washes. 
I love to use Niacinamide soaps on my skin to tighten, brighten and give my skin a generally supple appearance, especially during the summer. Those beach shorts aren't going to flaunt themselves!
Benefits of Niacinamide Soaps & Body Washes
The benefits of Niacinamide in soaps and body washes will be the same as those of niacinamide in lotions and/or serums. The only difference will be in the application.
Here are the things that Niacinamide does for your skin:
Helps to build keratin and improve collagen production which strengthens the skin and keeps it firm
Improves hydration in the skin by aiding in the development and maintenance of a healthy lipid (ceramide) barrier in the skin
Has anti-inflammatory properties which reduce redness and blotchiness in the skin
Reduces and regulates oil production in the skin by balancing the natural moisture in the skin
May help to minimize pores by keeping the skin smooth, firm, and hydrated
Has antioxidant properties that protect the skin from oxidative stress, UV rays and sun damage, and also helps to reduce fine lines and wrinkles
May help to treat moderate to severe inflammatory acne (the kind with pustules and papules). Its anti-inflammatory effects may help to soothe the skin and decrease flare-ups over time. 
For some great soaps to help with acne and clear up clogged pores consider:
Salicylic Acid Soaps – Benefits, Risks & How To Use
Benzoyl Peroxide Soap: Benefits, Side Effects & Best Ones
Will Nicinamide Soaps Lighten Your Skin
Niacinamide Soaps and body washes can gradually lighten the skin by preventing the transfer of excess pigment from the cells that produce it to the surface of the skin. It also increases collagen production which could also help to prevent scar formation. 
For some better soaps to lighten your skin consider:
5 Best Soaps to Lighten Dark Underarms, Necks & Thighs
Vitamin C Soaps -Benefits, Side Effects & How to Use 
Best Kojic Acid Soaps- Benefits, Side Effects & How to Use
Best Niacinamide Soaps & Body Washes
These are the best Soaps that contain niacinamide in high concentrations that I have tried and tested:
1- CeraVe Foaming Cleansing Bar
Cerave Foaming Bar is actually a soap-free cleansing bar (still widely referred to as a soap by the majority of people) that contains niacinamide. It also contains kaolin clay, hyaluronic acid for additional moisture, and ceramides. It is great for normal to oily skin types.
This one is a favorite of mine and I use it all over my body to get that thorough cleanse without over-drying my skin. And amazing after using it for a few months I saw my skin visibly got healthier and with a lighter more even skin tone.
You can Click here to check out the CeraVe Foaming Cleansing Bar on AMAZON. 
2- The Body Exfoliant Bar by Nécessaire 
The Body Exfoliant bar is a moderate 2% physical exfoliant treatment for your skin. It has a soft moisturizing base infused with 5 Essential Ceramides, Luxe Plant Oils, and Niacinamide.
The bar can help to reverse keratosis pilaris, remove rough, dry patches, and release ingrown hairs.
It's a little on the pricey side for a soap but I love to use this one periodically to improve the texture of certain areas of my skin that are rough. 
You can Click here to check out the price for the Body Exfoliant Bar by Nécessaire on Amazon. 
3- Olay, Cleansing & Firming Body Wash
This body wash is not only great for firming and smoothening your skin but it also leaves it hydrated and feeling soft. It is great for people with dry skin. However, it is not unscented so if you are allergic or sensitive to fragrance, this might not be the best option for you.
This is my go-to for a budget-friendly skin treatment that also feels like a little pamper session! It can also be used every day. 
You can Click here to get the Olay Cleansing & Firming Body Wash on Amazon. 
4- La Roche Posay Lipikar Gentle Foaming Moisturizing Face & Body Wash
La Roche Body Wash is a little on the pricier side but honestly, the quality and the effectiveness are worth every dollar. I loved the way it made my skin feel even though it hurt my bank account to get it.
I have sensitive skin that gets dry very quickly and this body wash left me feeling clean but moisturized and happy.
Along with Niacinamide, it also contains:
The La Roche-Posay Prebiotic Thermal Water (soothing water sourced in the town of La Roche-Posay in France that has a unique combination of minerals, trace elements, and a high concentration of selenium, a natural antioxidant),
Shea butter, glycerin, and Aqua Posae Filiformis (also known as vitreoscilla filiformis, which is an exclusive, patented ingredient cultivated in the La Roche-Posay Thermal Spring Water). 
Click here to see the La Roche Posay Lipikar Gentle Foaming Face & Body Wash on Amazon. 
Side Effects of Niacinamide Soaps & Body Washes
When used on the skin, even in soaps and body washes, niacinamide is generally considered to be safe. 
However, like all skin ingredients, negative reactions and allergies are still possibilities. 
Niacinamide causes your body to release histamines (the chemical that produces an allergic reaction when you are exposed to something you are allergic to). For this reason, people who have known and pre-existing allergies are more at risk of developing an allergic-type reaction to niacinamide, especially if used in strong concentrations. 
Soaps and Body washes usually contain mild concentrations of niacinamide that are generally safe to use daily. However, I recommend that you always do a patch test on a small area of your skin before slathering your entire body with your chosen soap or body wash. 
If you do not experience any side effects 24-72 hours after your patch test application, the product is most likely safe to use elsewhere. 
Related Articles
You can read about some other great soaps for hydration, aging, acne, and general skin health by checking out these articles:
What are pH-Balanced Body Washes- Benefits & Best Brands
Vitamin E Soaps- Benefits, Uses & Side Effects 
Best Vitamin C Soaps -Benefits, Side Effects & How to Use 
Best Salicylic Acid Soaps – Benefits, Risks & How To Use
Benzoyl Peroxide Soap: Benefits, Side Effects & Best Ones
Glycolic Acid Soap- Benefits, Risks, How to Use & Best Ones
Best Potato Soaps – Benefits & Possible Side Effects
Best Calamine Soaps for Itchy Skin- Benefits & Risks
Sources
Niacinamide Is the Brightening, Clearing Ingredient Derms Want You to Use
The effect of niacinamide on reducing cutaneous pigmentation and suppression of melanosome transfer 
Niacinamide: 10 Benefits for Skin, Topical or Supplement, Side Effects