Glycolic Acid Soap- Benefits, Risks, How to Use & Best Ones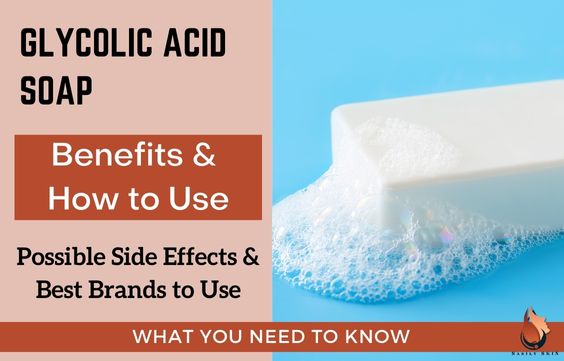 We have all seen and read about glycolic acid serums and toners, but what about Glycolic Acid Soap? Well, the concept is really the same but the application is different.
Glycolic Acid is a water-soluble alpha hydroxy acid (AHA) whose molecules are very small and easily absorbed by the skin. This makes it a very effective skincare treatment as it can penetrate deeply into the layers of the skin. 
Benefits Of Glycolic Acid Soap
Like other glycolic acid products, glycolic acid soap will:
1- Exfoliates the skin  – glycolic acid is a chemical exfoliant that will loosen the bonds between dead skin cells. This allows them to slough off, revealing new, softer skin. 
5-Lightens Skin Tone – Using glycolic acid regularly will eventually lighten your skin and help to even your skin tone. It can help to fade dark spots thanks to the exfoliation which removes pigmented cells. 
2- Clear pores and help acne – glycolic acid will remove the dead skin cells covering the surface of the pores, and thanks to its small molecule size, will also get into the pore to break up and remove oil and debris stuck inside of pores. This will prevent clogging and help to prevent or improve acne. 
3- Hydrates your skin – glycolic acid also acts as a humectant which means that it pulls water and moisture from the environment into the skin. This makes the skin more plump and supple. 
4- Improves fine lines and wrinkles – glycolic acid also helps to stimulate collagen production. This strengthens the skin and makes it more firm, gradually smoothing out fine lines and wrinkles. This makes it a great anti-aging treatment. 
5- Reduce Body Odor – Glycolic Acid has strong antibacterial properties which allows it to get rid of odor-causing microbes. So it might help your if you suffer from chronic body odor.
Related Article: Glycolic Acid for Underarms – How to Use, Benefits & Risks
Video: Dr. Gaile Robredo-Vitas – Your Glycolic Acid Questions, Answered!
Side Effects Of Glycolic Acid Soap
The main side effect of using glycolic acid soap is dryness. Soaps in general can be drying for the skin. Add glycolic acid to that and you can ramp up the dehydration factor for your skin. 
However, the keys are to use a soap that has a concentration of glycolic acid that is suitable for your skin and moisturize religiously! When I first experimented with glycolic acid I saw my skin became extremely dry which I countered by having a good moisturizing routine.
If you notice that your skin is becoming too dry like what happened to me, change how often you use the soap. If you are using it daily, cut that down to 2-3 times per week. Experiment with your routine until you find one that works for you. 
If you are using the soap less often but your skin is still getting too dry, then consider using a lower concentration. This is another aspect that you can experiment with until you find the concentration that will give you the most results with the least number of side effects (or no side effects at all). 
And do not stop moisturizing and using your SPF. Both of these make up the holy grail for your skin, trust me! 
Related Article: Moisturizing After Glycolic Acid: What You Should Know
Other side effects can include redness, itching, rashes, and a burning sensation. If you experience any of these symptoms and they do not improve with the lowest possible concentration or frequency of use, then you may need to consider other treatment options as glycolic acid might not be suitable for your skin. 
For a more gentle body wash consider Lume Acidified Body Wash – What it Does, Benefits & Risks
Also maybe consider using a salt soap – click here to learn Best Salt Soap – Benefits, How to Use & Side Effects
And here for Himalayan Salt Soap – Benefits, Side Effects & Best Ones
How To Use Glycolic Acid Soap
You will need to do is to choose the right kind of glycolic acid soap and then figure out how best to use it. Here is what I recommend:
Choosing A Soap
Speak to a skincare professional or dermatologist about your skin and discuss what concentration of glycolic acid might be best for you.
If you already know what concentration you can use, then start looking for a soap with that amount.
Generally, most glycolic acid soaps will contain 1-2% (sometimes up to 5%) glycolic acid. This is great for daily use in most skin types. If you want to use a stronger concentration, consult a professional for advice.  
Also, look at the other ingredients in the soap. This is to make sure that there are no toxic or additionally drying and/or irritating ingredients that will cause your skin more harm than good. 
Related Articles:
Benzoyl Peroxide Soap: Benefits, Side Effects & Best Ones
Best Salicylic Acid Soaps – Benefits, Risks & How To Use
How often can you use
When you have chosen the right soap for you, consider how often you will need to use it. Look at your skin and think about what you are trying to treat or achieve and how fast.
Also, think about how sensitive your skin is. Remember that even though you want results, you also want to avoid side effects that can harm your skin. 
A good rule of thumb is to start slowly. This means that you start with a low-concentration soap, using it 1-2 times per week first.
See how your skin will feel and react for the next 3-4 weeks. Then, if you feel like you need to, increase the frequency. Gradually do this until you are using the soap every day. This will give your skin time to adjust to the treatment. 
If you are not having side effects, but you feel like you are not seeing the level of results that you want, then you can increase the concentration of glycolic acid in the soap you are using. Adjust the frequency of use based on your results and side effects. 
Whether you can use it every day will depend on how your skin tolerates the treatment. If you have dry and sensitive skin already, you should not use glycolic acid soap every day. But if you have normal skin, you might be able to. Either way, it is important to moisturize your skin well every day when using this soap no matter how often you use it. 
Can You Use Glycolic Acid Soap Every Day?
Yes, you can use glycolic acid soaps on a daily basis, but only if your skin can handle it. Like I stated before start off using it 1-2 times a week at first (with at least two days apart) to see how your skin reacts.
If your skin has no major reaction you can proceed to use your Glycolic acid soap more regularly even daily. This will greatly accelerate how fast you see results.
Related Article – Best Kojic Acid Soaps- Benefits, Side Effects & How to Use
Using The Soap 
As for how to use the soap itself, well, it's a soap. Lather up, honey! You do not need to scrub and exfoliate your skin beforehand. This might make your skin too sensitive and cause irritation.
Simply soak your skin with regular water (room temperature water, not hot or cold) and lather your whole body with soap.
Let the suds sit on your skin for a few minutes and then wash it off. Pat dry your skin and moisturize well. 
Where Can You Use Glycolic Acid Soaps
Only use this soap externally. This means that you should avoid getting it in your eyes, nose, mouth, ears, and inside of your private parts (it will be too harsh for the sensitive skin in those areas and can lead to irritation and infections. Ouch!)
Glycolic Acid is especially effective on your armpits and inner thighs to help to lighten and get rid of hyperpigmentation.
Best Recommended Glycolic Acid Soaps
1- Alder New York Cleansing Bar
To achieve exceptionally soft and smooth skin, this bar combines physical exfoliation (crushed jojoba seeds) with chemical exfoliation (1% glycolic acid).
Shea butter, jojoba oil, and nourishing sea kelp provide extra moisture for the skin. This bar soap is also great for people with sensitive skin because it is unscented and fragrance-free. It can be used daily.
You can Click here to check out the Alder New York Cleansing Bar on Amazon. 
2- Relumins Glycolic Max Soap
This soap is said to be great for daily use. It contains about 1.5% of glycolic acid. When used daily, it reduces oiliness, exfoliates the skin, cleans the pores, and prevents acne. It is also great for removing makeup at the end of the day. 
You can Click here to see the Relumins Glycolic Max Soap on Amazon. 
Alternative Glycolic Acid Body Washes
If you would prefer to use body washes instead of bar soaps, here are a few great options: 
1- Naturium The Smoother Glycolic Acid Body Wash
This is a skin-smoothing body wash that keeps skin soft, smooth, and supple. It contains about 5% glycolic acid and is said to be gentle enough for daily use. It is Fragrance-free, Cruelty-Free, Paraben-Free, Vegan, Gluten- Free, and Dermatologist Tested. 
Click here to see the price for the Naturium Glycolic Acid Body Wash on Amazon. 
2- Alpha Skin Care Moisturizing Body Wash
This body wash is soap-free and specially formulated with Glycolic Acid (1.28%), Vitamin E, and Aloe Vera, and has a pH of 4.5. Skin is expected to be left smooth, moisturized, and smelling fresh. It is great for daily use. 
Click here to get the Alpha Skin Care Moisturizing Body Wash on Amazon. 
Related Articles:
Are Carbolic Soaps Safe – Benefits, Risks & Side Effects
Sources
GLYCOLIC ACID: Uses, Side Effects and Medicines | Apollo Pharmacy
Is It OK to Use Glycolic Acid Every Day?
How Glycolic Acid Is Used in Skincare
Glycolic acid for the skin: Benefits and how to use it
 Derms Say Glycolic Acid Is the Ultimate Anti-Aging Exfoliator—Here's Why