Best Calamine Soaps for Itchy Skin- Benefits & Risks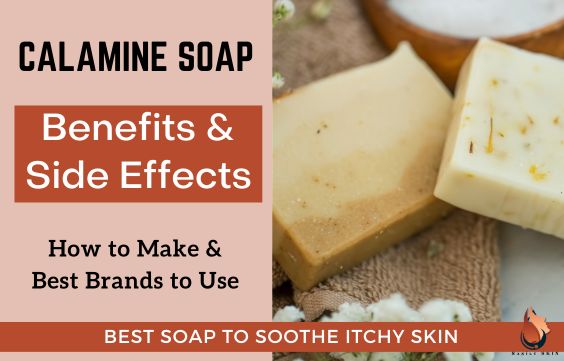 Calamine soaps are made of calamine lotion, a soap base, and moisturizing ingredients. They are great for sensitive skin and some brands are made gentle enough to be used by kids and babies.
So let's talk a little about how good or bad calamine soaps can be for the skin, and what some of the best ones are. 
What Is Calamine Soap
Calamine soap is a kind of soap that is made of calamine lotion or calamine powder, a soap base, and other nourishing and hydrating ingredients. 
Calamine itself is described by The New Oxford American Dictionary as "a pink powder consisting of zinc carbonate and ferric oxide, used to make a soothing lotion or ointment". 
It is used to soothe itchy, irritated, and inflamed skin in cases of bug bites, chicken pox, shingles, scabies, chiggers, minor burns, sunburns, swimmer's itch, rashes, exposure to poisonous plants, and many more. 
Related Article: Carrot Soaps- Benefits, Side Effects & Best Ones to Use
Is Calamine Soap As Good As Calamine Lotion
Calamine soap is as good as calamine lotion, but it depends on what you are treating. 
Some skin conditions require more aggressive treatment for the lotion to stay on the skin. In those cases, the best option is to apply calamine lotion. It goes directly onto the skin and will stay there until you wash it off. 
On the other hand, for milder cases or for people who have very sensitive skin and cannot keep the calamine lotion on for too long, soap will be the better option. It can help to treat and soothe without irritating the skin since the excess can be washed off after some has been absorbed by the skin. 
Related Articles –
What are pH-Balanced Body Washes- Benefits & Best Brands
Best Papaya Soaps for Lighter Skin- Benefits & Side Effects
Benefits Of Using Calamine Soaps
Calamine soap will have the same benefits as calamine lotion but might just differ in effectiveness for different conditions of different severity. 
However, the general benefits of using calamine soap include:
Easier on sensitive skin since it can be washed off
Can be used multiple times a day and even when the weather is hot and humid
Does not leave a sticky or greasy residue on the skin
Soothes the skin and lessens irritation and itchiness
Hydrates the skin and acts as a good moisturizer
Can help to control excess oil production in the skin. 
Eases oozing and inflammation of broken skin in cases of acne, blisters, etc. 
Can be used to treat and ease chickenpox, insect bites or stings, measles, eczema, sunburn, poison ivy exposure, and many others.
Helps the skin to heal faster thanks to its zinc component. 
Some other great gentle soaps and body washes to consider are:
Oatmeal Soap- Can It Help Eczema & Psoriasis
Vitamin E Soaps- Benefits, Uses & Side Effects 
Lume Acidified Body Wash – What It Does, Benefits & Risks
Side Effects Of Using Calamine Soaps
There are very few side effects associated with using calamine soaps. However, irritation and allergic reactions are always possibilities to consider. 
If you have very sensitive skin, calamine soap can irritate it. In this case, stop using the soap and see your dermatologist to discuss how to prevent the irritation or whether you would need to consider an alternative. 
If you think you could be allergic to calamine, then you will need to stop using the soap. You will also need to see your doctor to help treat the symptoms of the reaction. He or she can help you determine what would be your best alternative. 
I always recommend that you do a patch test before using any new ingredient all over your skin. This goes for calamine soaps as well!
Related Articles:
Best Potato Soaps – Benefits & Possible Side Effects
Naturium Body Wash – Benefits, Risks & Best One To Use
Can Calamine Soaps Be Used On Children and Babies
Calamine soaps are usually gentle enough to be used on children and even babies. However, I recommend that you speak to your child's doctor before trying calamine soaps or calamine lotion on their skin. 
I also recommend that you do a patch test before applying calamine all over their skin. 
Best Calamine Soaps To Use
You can make your own calamine soap or you can purchase one from a few trusted brands. 
1- Aspen Kay Aloe Vera & Oatmeal Soap with Calamine
Aspen has a gentle calamine soap bar that is also infused with organic aloe vera and colloidal oats. Both of these ingredients also soothe and hydrate the skin so it works great to calm irritated skin. 
You can Click here to see the Aspen Kay Aloe Vera & Oatmeal Soap with Calamine on Amazon. 
2- Healov Natural Instant Itch Relief Calamine Soap
Healove calamine soap is made of a blend of pure calamine powder, organic coconut oil, shea butter, olive oil, sunflower oil, palm oil, castor oil, aloe vera, ground oats, and a blend of gentle essential oil.
It soothes the skin and nourishes it to promote healing. 
You can Click here to get the Healov Natural Instant Itch Relief Calamine Soap on Amazon. 
DIY Calamine Soap
Here is a great recipe for calamine soap that I came across and liked:
1 lb shea butter melt and pour soap base
2 tbsp Calamine Lotion
1 tsp shea butter
5 drops chamomile
1 drop lemongrass
1 drop of tea tree
1 drop peppermint
Soap mould
4 cup microwave-safe measuring jug with spout
Wooden craft stick or wooden spoon for stirring
Method:
Cut the soap base into 1-inch cubes, and add them to the measuring jug, then add the shea butter. 
Heat the soap base and shea butter in the microwave for 30 seconds, remove and stir. 
Heat for additional 10-second intervals, stirring well between each heating session, until fully melted.
Add the calamine lotion, and stir to combine.
Once the soap base cools down a little bit, add the essential oils, and stir well.
Pour the soap liquid into the mould cavities, and allow to set undisturbed for 2 hours.
Remove the soap bars from the mold.
The calamine lotion will settle at the bottom of the mold so it will have a lovely pink color on one side. 
This recipe will give you about 5 standard soaps.
Sources
Calamine Lotion Uses: Benefits, Application & Potential Side Effects