Are Carbolic Soaps Safe – Benefits, Risks & Side Effects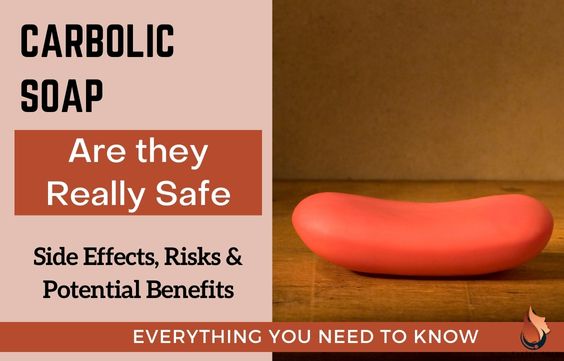 Carbolic Soap, also sometimes called Red Soap, has been around for longer than many of us can remember. Our grandparents and their parents have probably used it.
But how good is it for the skin? Does it have side effects? And based on its main ingredient, how safe is it for topical use? 
What Is Carbolic Soap
Traditional carbolic soap is made of carbolic acid (also called phenol) and/or cresylic acid (cresol). 
Both of these acids are phenols that are derived from coal tar or petroleum. They are both antiseptic when used in the right concentrations. 
Is Carbolic Soap Safe To Use
Traditional Carbolic Soap (containing actual carbolic acid) is not safe nor is it recommended for long-term use on the skin. 
Before the FDA and other regulatory bodies existed, carbolic soap was manufactured with different concentrations of carbolic acid (phenol). The concentration was just low enough not to cause irritation, chemical burns, or acute poisoning in the people that used them.
However, in 2017, the FDA decided that over-the-counter (OTC) antiseptic wash products (and soaps) containing certain active ingredients could no longer be marketed. One of these ingredients is phenol (carbolic acid).
Phenol (carbolic acid) is a known skin irritant that can cause severe chemical burns and poisoning if you come into contact with strong concentrations.
Manufacturers also could not prove that phenol and the other ingredients on the FDA's list could be used long-term without damaging the skin. It seemed that soaps containing these provided no more benefits or cleansing properties than regular soaps. 
For this reason, you will find that many of the carbolic soaps now have the carbolic scent and color in them, but do not contain actual carbolic or cresylic acid. 
Side Effects/Risks Of Using Carbolic Soap
The Agency For Toxic Substances & Disease Registry states that carbolic acid is well absorbed through all routes of exposure (including the skin) and that all exposure can cause systemic side effects. 
Using traditional carbolic soap (containing actual carbolic acid/cresylic acid in high a concentration) can potentially cause:
Irritation
Chemical Burns
Acute Phenol Poisoning
The severity of the side effects may vary depending on how much carbolic acid you are exposed to and how much your skin absorbs. Some people do not start to get any symptoms until hours later. 
Repeated exposure to phenol or carbolic acid (long-term use) can eventually cause renal damage, liver damage, and changes in skin pigment. It has also been shown to be related to the increased risk of coronary artery disease.
Phenol the main ingredient in carbolic soap is also known to be genotoxic so it is strictly advised against use by pregnant women. 
Related Articles:
Sulfur Soaps- Benefits, Side Effects, How to Use & Best Brands
Best Vitamin C Soaps -Benefits, Side Effects & How to Use 
Best Papaya Soaps for Lighter Skin- Benefits & Side Effects
How To Use Carbolic Soap
Even though companies are now prohibited from using carbolic acid in their soaps, some people still DIY their carbolic soaps (at their own risk). Others source unregulated carbolic soaps (although I do not recommend using these as they can be unsafe). 
However, if you do decide to use traditional carbolic soap (containing carbolic acid), you should:
Use the lowest concentration of carbolic acid you can find if you are making your soap yourself (less than 1%). This is your safest bet to prevent irritation, chemical burn, and other injuries to your skin. 
Do not buy carbolic soaps from sketchy or unrecognized sources. If the exact amount of carbolic acid or phenol that is used in the soap is not clearly stated in the ingredients list, you should not use it. You would not know how much carbolic acid you are putting on your skin and you can end up damaging your skin. 
Only use it on specific "problem" areas of your skin where you are trying to get rid of bacteria, and not on your whole skin
Do not use it every day. Instead, use the soap every 2-3 days. 
Do not leave it on your skin for more than a minute or two. Just gently massage the area and rinse off the soap. This will be good enough for washing away surface bacteria. 
Related Articles:
Glycolic Acid Soap- Benefits, Risks, How to Use & Best Ones
Himalayan Salt Soap – Benefits, Side Effects & Best Ones
Best Salicylic Acid Soaps – Benefits, Risks & How To Use
Potential Benefits Of Using Carbolic Soap 
The short-term use of traditional carbolic soap can potentially help with:
Acne – Carbolic soap can help to cleanse the skin of acne-causing bacteria. This can help to prevent flare-ups and breakouts. However, it cannot be used all over your skin every day. If you have active acne lesions, just use the soap over the lesions until they clear up, and then stop using the soap. 
A great alternative to carbolic soap for acne is benzoyl peroxide soap. Click here to read more about Benzoyl Peroxide Soap: Benefits, Side Effects & Best Ones.
Wound care – If you have a bruise, cut, stitches, or other kinds of wounds that can become infected, carbolic soap can be used to wash and clean the wound. It prevents infection by getting rid of bacteria. When your wound heals, you do not need to keep using the soap. 
Bacterial Skin Infections – Since carbolic acid is highly antibacterial, being used in soap can help to get rid of and prevent different kinds of skin infections. However, remember that strong concentrations of carbolic acid and long-term use can damage your skin. 
Body Odor – since carbolic acid is antibacterial, using a carbolic soap can help to control body odor. However, this is not a good solution for significant body odor since you cannot use this soap every day all over your skin, and definitely not on sensitive areas of your skin.
But, if you have mild body odor, then washing your skin once or twice a week with a carbolic soap to give your skin a "cleanse" could be beneficial. 
A great alternative to carbolic soap for body odor (even in sensitive areas) is the Lume body wash. Click here to read more about the Lume Acidified Body Wash – What It Does, Benefits & Risks.
Also, you can consider using Salt Soap click here to learn more.
My Verdict On Using Carbolic Soap
Given the risks and side effects associated with carbolic acid, I do not recommend using carbolic soap on your skin. Instead, use regular soap or approved antibacterial alternatives. 
While carbolic acid does have antibacterial properties that would usually be great for your skin, especially if you are acne-prone, it is the only benefit of this ingredient. 
The risks far outweigh the benefit. 
However, there are many other great ingredients, soaps, and other products that you can use that are both antibacterial and safe for your skin. 
If you are looking for a soap to help lighten your skin and remove dark spots consider Kojic Acid Soaps, click here to learn more.
Best Alternatives To Carbolic Soap
1- CETAPHIL Gentle Cleansing Bar
This is a soap-free formula that washes away dirt and bacteria without over-drying the skin. It's also one of my favorite soaps to use and recommend.
You can Click here to check out the CETAPHIL Gentle Cleansing Bar on Amazon. 
2- Dettol Original Antibacterial Bar Soap
This is a gentle soap that washes away dirt and bacteria. It is dermatologically tested & suitable for different skin types thanks to its moisturizing ingredients. Its antibacterial ingredient is Lemon Grass oil.
You can Click here to check out the Dettol Original Antibacterial Bar Soap on Amazon. 
3- Dove Care & Protect Antibacterial Beauty Bar
According to Dove, this bar has antibacterial properties that remove 99% of bacteria in seconds (in a 20-second wash test vs. E. coli) and at the same time still moisturize the skin for hours.
Click here to get the Dove Care & Protect Antibacterial Beauty Bar on Amazon. 
Sources
Antibacterial soaps banned in US amid claims they do 'more harm than good' | Science | The Guardian 
FDA issues final rule on safety and effectiveness of antibacterial soaps 
Federal Register :: Safety and Effectiveness of Consumer Antiseptics; Topical Antimicrobial Drug Products for Over-the-Counter Human Use 
ATSDR – Medical Management Guidelines for Phenol 
FDA Bans 19 Chemicals Used In Antibacterial Soaps 
Say Goodbye to Antibacterial Soaps: Why the FDA is banning a household item – Science in the News