Lume Acidified Body Wash – What It Does, Benefits & Risks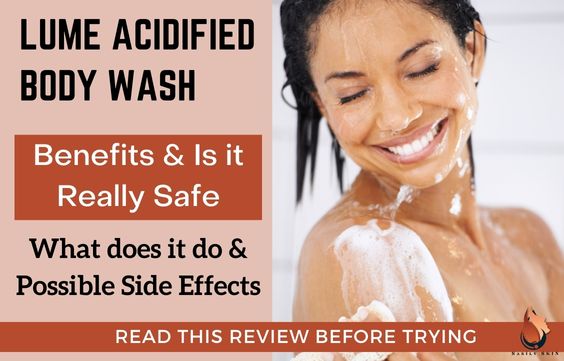 Lume is well known for its many products that can be used all over the body (including your underarms, groin, and privates!).
And one of their products is the Lume Acidified Body Wash which they say is gynecologist tested. Now that is interesting!
So many of us are very sensitive to fragrances down there. So much so that we steer clear of all scented products no matter how much we want to use them. So could this be a game-changer?
What Does The Lume Acidified Body Wash Do
Lume Acidified Body Wash works by deep cleaning your skin without raising its ph. 
How Does It Work?
The active ingredient in Lume Acidified Body Wash is Mandelic Acid which is a gentle alpha hydroxy acid (AHA). 
Mandelic Acid loosens the bonds that hold dead or old skin cells together and adhered to the surface of the skin. This helps to:
Shed these old skin cells and makes way for newer and softer skin.
It also cleans the pores and gently washes off surface bacteria, dirt, sweat, and other germs that accumulate amongst the old skin cells. 
Related Article – What are Acidified Body Washes: Benefits & Best Brands
Also, consider reading my articles on
Lume Deodorant Wipes – Are They Really Safe & Do They Work
Lume Deodorant for Private Parts- Is it Safe & Best Scents
Will Lume Acidified Body Wash Prevent Body Odor?
By cleaning the skin and maintaining a good pH, the Lumē Acidified Body Wash makes it harder for odor-causing bacteria to build up. 
This means that you will have less odor or no odor at all (this may vary for each person) between showers. The pH of your skin, and the level of dead skin cells, sweat, and dirt that are present on the surface of your skin all play very important roles in the development of body odor. 
If you are struggling with body odor consider checking out these articles:
Why Armpits Smell Even With Deodorant & Bathing: How to fix
Using Benzoyl Peroxide For Underarm & Body Odor: A Guide
Video: Lume –  How To Smell 3.5x Better Right Out of the Shower
What is the pH of Lume Acidified Body Wash
According to Lume, the pH of the Acidified Body Wash is about 3.5. 
This is what makes the skin more resistant to developing odor from the build-up of bacteria which can cause an odor when they react with sweat and debris on the skin. Most skin bacteria need a less acidic environment to thrive.
I highly recommend reading my article What are pH-Balanced Body Washes- Benefits & Best Brands
Did you know that Lume also has a great deodorant Click here to read my article on Lume Deodorant Review- Is It Really Safe & Side Effects 
Benefits Of Using The Lumē Acidified Body Wash
Mandelic Acid gives your skin that deeper clean
Maintains a low pH so that your skin stays bacteria-free for longer
Clinically proven to remove odor better than traditional soap and keep it away for at least 24 hours
It is made without SLS, SLES, parabens, and phthalates so it is less toxic for your skin
Developed with Gynecologists to be suitable for your armpits, privates & anywhere else
A little goes a long way so one tube will give you about 40 quarter-sized uses or more.
Related Articles –
How to Get Rid of Underarm Odor & Sweating Permanently
Carrot Soaps- Benefits, Side Effects & Best Ones to Use
Best Niacinamide Soaps & Body Washes- Benefits & Risks
Where to Get the Lume Acidified Body Wash
Amazon usually has the Lume Acidified Body Wash in stock and at decent prices. You can click here to see the current price for it.
You can also get it on Lume's website.
Did you know salt is a great natural way to kill bacteria check out the articles below to learn more
Using Salt as Deodorant for Smelly Armpits- Is it Effective
Best Salt Soap – Benefits, How to Use & Side Effects
Himalayan Salt Soap – Benefits, Side Effects & Best Ones
Side Effects Of Using The Lume Acidified Body Wash
The most concerning possible side effects of using Lume's body wash are dryness, irritation, and allergic reactions. 
Like all skin products, there is always a possibility that your skin could be too sensitive for some of the ingredients, no matter how gentle they might seem. 
However, this body wash has been seemingly well tolerated by people across the globe. The most common concern that many people have is that it made their skin feel a little dry.
If you notice that your skin becomes too dry, itchy, develops bumps or rashes, or becomes red or uncomfortable, stop using the body wash. Cleanse your skin with a gentle cleanser or soap and seek medical help. 
Related Article – 10 Quick & Easy DIY Natural Remedies For Smelly Armpits
Video: Honest review of the Lume Acidified Body Wash
Other Frequently Asked Questions (FAQs)
Is Lume body wash safe for your private parts?
According to Lume, their products, including their Acidified Body Wash are designed to be used externally on any part of the body, including your private parts. 
The areas will include the outside of the vulva for the ladies and around the base of the penis and scrotum for the guys. It is not advised to use this wash on the penis itself or the inner folds of the vulva. Mandelic Acid can be too harsh for these sensitive areas. 
You can, however, also use it between the folds of the legs, the space between the scrotum and rectum or between the rectum, and between the butt cheeks and up to the tailbone. 
Related Articles:
Oatmeal Soap Benefits- Can It Help Eczema & Psoriasis
Vitamin E Soaps- Benefits, Uses & Side Effects 
Can it be used on your face?
The Lume Acidified Body Wash can be used on your face. 
Mandelic acid makes a great and gentle exfoliating agent that will cleanse your face and pores. However, if you have dry skin, be sure to moisturize well afterward and always use an SPF. 
Who should avoid using Lume Acidified Body Wash?
Lume was designed to be generally safe to use by adults and kids. 
However, if you are pregnant, breastfeeding, or plan to become pregnant, please consult your doctor before using this or any other skin treatment. 
Additionally, if you have extra sensitive skin or think you could be allergic to any of the listed ingredients, please also consult your doctor before using this body wash.
Will Lume Acidified Body Wash lighten your skin?
The Lumē Acidified Body Wash does not contain bleaching agents. 
However, since mandelic acid is a gentle exfoliator, using it every day on your skin will eventually tone your complexion as new skin cells are regenerated. This will give the appearance of subtly lighter skin. 
Other soaps that are good at lightening skin:
Best Kojic Acid Soaps- Benefits, Side Effects & How to Use
Glycolic Acid Soap- Benefits, Risks, How to Use & Best Ones
Can Lume Acidified Body Wash Darken your Skin?
The Lumē Acidified Body Wash is not expected to make your skin darker. 
Unless your skin becomes badly irritated and inflammation occurs, your skin should not become darker from using this body wash. 
Ingredients In The Lume Acidified Body Wash
Lume claims that they never use Aluminum, Baking Soda, Phthalates, Sulfates, Parabens, or Talc. 
However, their Acidified Body Wash does contain:
Water (Aqua)
Cocamidopropyl Hydroxysultaine
Sodium Methyl 2-Sulfolaurate
Disodium 2-Sulfolaurate
Fragrance (Parfum) in the scented options only
Glycerin
Caprylyl Glycol
Glyceryl Oleate
Coco-Glucoside
Ethylhexylglycerin
Phenethyl Alcohol
Aloe Barbadensis Leaf Juice Powder
Citric Acid
Mandelic Acid
Cucumis Sativus (Cucumber) Fruit Extract
Calendula Officinalis Flower Extract
Palmaria Palmata Extract
Bambusa Vulgaris Shoot Extract
The body wash is also said to be vegan, dye-free, and cruelty-free. 
The Bottom Line – Is The Lumē Acidified Body Wash A Yay Or Nay
I would say that based on the thousands of global reviews, and from trying it for a short time, this body wash is a definite YAY. 
It is a little on the pricey side, but one tube does go a relatively long way. It is great for sensitive skin (which I have and did not see a single rash), and I love that it can be used EVERYWHERE.
I personally prefer the unscented option for my girly parts, but the scented one (Tangerine) was pleasant too. If you have already dry skin or even normal skin, you will need to moisturize well to prevent your skin from feeling too dry, especially if you use this every day. 
Related Articles:
Irish Spring Soap- Is it Good, Benefits, & Side Effects
Ivory Soap – Benefits, Side Effects, What You Need to Know
Sources
Clean Tangerine | Acidified Body Wash | Lume Deodorant 
Lume Product Launch Post – Acidified Body Wash 
What is mandelic acid? Benefits, side effects and uses 
Natural skin surface pH is on average below 5, which is beneficial for its resident flora