Lume Deodorant Review- Is It Really Safe & Side Effects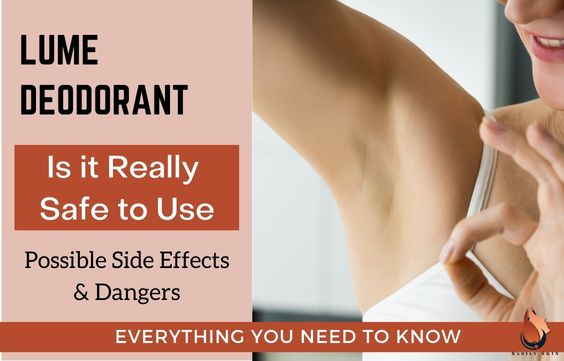 If you have been keen on trying aluminum-free deodorants then you have probably heard of the Lume deodorant.
Lume creates non-toxic deodorants that were developed by Dr. Shannon Klingman for 10 years until the formula was perfected. The company claims that it works for all body odor. 
Related Article – 10 Quick & Easy DIY Natural Remedies For Smelly Armpits
How Does The Lume Deodorant Work
The Lume deodorant contains arrowroot powder and tapioca starch, which absorbs sweat and oils, and mandelic acid which exfoliates the skin and kills bacteria. 
However, instead of using aluminum to block sweat glands, this deodorant relies on more natural ingredients that are not known to be harmful to the skin. The combined effect of mandelic acid, tapioca starch, and arrowroot powder keeps the skin dry and free from odor-causing bacteria.
The Lume deodorant is said to be effective for up to 72 hours but this will vary with everyone. 
It is considered to be non-toxic since it does not contain Aluminum, Baking Soda, Phthalates, Sulfates, Parabens, or Talc. The company is also reputed to be cruelty-free and vegan.
If you are planning to use Lume on your private parts consider reading my article on Lume Deodorant for Private Parts- Is it Safe & Best Scents
Related Articles –
Best Magnesium Deodorants & Sprays- Benefits & Side Effects
Best Salt Crystal Deodorants: Risks & How Good Are They
Why Armpits Smell Even With Deodorant & Bathing: How to fix
Where Can You Use Lume Deodorants
Lume Deodorants can be used safely anywhere on the body. 
This includes: 
Underarms
Under the breasts
Belly button
Tummy folds
Butt crack
Between Thighs
Thigh crease
Vulva
Scrotum
Feet
So, to be clear, the Lume Deodorants are considered safe for use on private parts, sensitive parts, and even parts that rub and chafe! 
However, keep in mind that our private areas are very sensitive and not all products considered safe to use in those areas will work for everyone. Pay attention to your body's signs and use them carefully to avoid irritation.
You can also check out our review of
How To Use Lume Deodorants
Lume Deodorants can be applied straight to the skin where you have odor after you shower or whenever needed.
It is ideal to apply this deodorant after cleansing. However, it is recommended that you apply it to dry skin. 
Lume deodorants are available in 3 options:
Cream stick
Cream tube
Solid stick option. 
Both the cream stick and the cream tube contain the same water-based cream formula.
Related Articles:
Unscented Deodorants: Benefits & How They Work Vs Scented
How to Get Rid of Underarm Odor & Sweating Permanently
Lume Cream Stick Deodorant
The cream stick dispenses Lume through 3 small holes at the top of the applicator by turning the dial at the bottom of the stick. It can be used directly on the underarms or you can use your finger to apply it anywhere on your body. 
Lume Cream Tube Deodorant
The cream deodorant tube allows you to easily control the amount you dispense and fingertip application is necessary (like a lotion or moisturizer). 
Checkout our article on Cream Deodorants Vs Solid – Differences & Which Is Better
Lume Solid Deodorant
The sold deodorant stick is like a traditional deodorant. It was designed with the armpits specifically in mind to make application easy. 
Related Articles:
Hand Sanitizer as Deodorant for Underarm Odor – Is it Safe
Vanicream Deodorant Review – Is It Effective & Safe To Use
Possible Side Effects
Reactions to Lume deodorants are rare, but like with all topical treatments, there is a possibility of adverse reactions. 
The major possible concerns are skin dryness, irritation, and allergic reactions. 
If you notice that your skin has become itchy, red, hot, swollen, painful, or has broken out into tiny bumps or boils, wash the area with mild soap and water to remove the deodorant and seek medical help. 
I always recommend that you conduct a patch test of any topical treatment before applying it all over your skin. Apply a little of the deodorant to a small area of the skin and see how your skin will tolerate it first. If all goes well, you can be on your merry way to whole-body deodorizing!
Are you struggling with being extra sweaty consider using: Sweatblock Wipes- Are They Safe, Benefits, & Side Effects
Related Article – Charcoal Deodorants- Are They Good, Benefits & Side Effects
Video Review- Does LUME DEODORANT WORK
Where To Buy Lume Deodorants
Lume Deodorants can be purchased from most pharmacies and local supermarkets. It can also be purchased online from Amazon, Walmart, and other online stores. 
1-Lume Solid Deodorant Stick – click here to see it on Amazon. 
2- Lume Deodorant Cream Stick – click here to check it out on Amazon.
3- Lume Deodorant Cream Tube – click here to see the price on Amazon. 
Frequently Asked Questions (FAQs)
Is Lume deodorant safe when pregnant and breastfeeding?
According to the company, Lume is safe to use when pregnant and breastfeeding. 
However, for those who are avoiding scents, there are unscented options available without the small percentage of essential oils and botanicals. The other ingredients are relatively safe and non-toxic. 
Related Article – Using Vaseline For Underarms- to Lighten & Help with Odor
Is Lume deodorant safe for kids and teens?
Yes, Lume is safe for kids and teens. As puberty starts catching up, kids and teens find themselves tackling moods, emotions, growth spurts, and yes, new body odors.
Lume is made of non-toxic ingredients and is great for helping teens and kids manage their body odor if needed. 
Does Lume stop sweat or just odor?
Lume's ingredients do not block sweat glands so they will not stop sweating. 
However, since sweating is natural and necessary, Lume was designed to absorb the sweat and tackle odor instead. 
If you suffer from excessive sweating consider using:
Carpe Deodorant & Clinical Strenght Antiperspirant, click here to learn more.
Carpe Hand & Foot Antiperspirant Lotions, click here to learn more.
Does Lume cover urine smell?
Yes, Lume can cover urine smell. 
Sometimes, due to different circumstances, urine leaks happen when you cough, sneeze or laugh. This can leave a distinct smell as the day goes on. However, Lume claims that their deodorants can cover this odor for up to 72 hours. 
Of course, this will depend on just how much urine is in the area. If you can wipe the area clean first, that would also go a long way in making Lume more effective. 
Related Articles:
Mitchum Deodorants: How Good Are They & Are They Safe
Why Armpits Smell Even With Deodorant & Bathing: How to fix
10 Quick & Easy DIY Natural Remedies For Smelly Armpits
How to Get Rid of Underarm Odor & Sweating Permanently
Using Benzoyl Peroxide For Underarm & Body Odor: A Guide
Now for some great deodorants that can actually help to lighten dark armpits check out:
Dove Even Tone Deodorant Review- Does It Work & Is It Safe
5 Best Deodorants to Lighten Dark Underarms- Prevent & Treat
Sources:
My Honest Lume Deodorant Review for 2023 (Plus, Lume Scents Ranked)