Dove Even Tone Deodorant Review- Does It Work & Is It Safe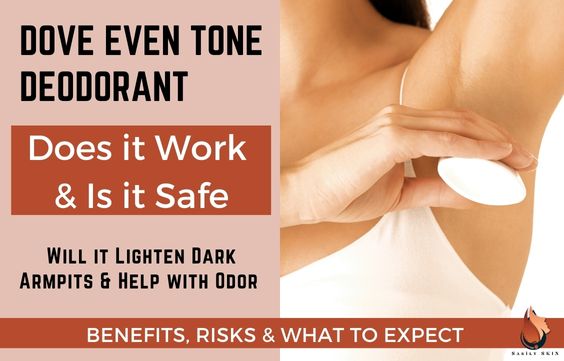 If you're like me and you started shaving your underarms early (as soon as you were allowed to without getting in trouble), then your skin may be a little dark (lucky you if they aren't!).
However, sometimes dark underarms can come with a little self-consciousness, I have been very invested in using products that will not only work for sweat and odor but will also help the overall health and appearance of my skin. Enter, Dove Even Tone Deodorant. 
Does Dove Even Tone Deodorant Lighten Underarms
Yes, Dove Even Tone Deodorant will gradually and subtly lighten your underarms. 
But how much lighter your underarms will get will depend on how dark your skin is, the cause of the darkness, and how consistent you are with using it. 
Some other natural methods to lighten dark underarms are:
Rose Water to Lighten Dark Armpits & For Body Odor
How to Use Potatoes For Underarm Whitening
DIY Apple Cider Vinegar for Cleaner & Lighter Armpits
Turmeric for Dark Underarms – Benefits & Easy DIY Scrubs
How Long Will Dove Even Tone Take To Work?
Dove Even Tone will take a few days to weeks to make a visible difference in your skin tone. 
Based on the multitudes of reviews I have waded through, many people have seen a difference in the tone of their underarm skin in as little as 7 days. However, this is not a quick fix for everyone. It took a number of other people a few weeks and consistent use to see visible differences in their skin. 
Additionally, if your underarms are very dark with damaged or changed skin texture, and it is being caused by underlying conditions like PCOS (such as in my case) or diabetes, Dove Even Tone might make very little or no difference at all. 
Skincare professionals suggest that you try to get the underlying conditions under control first. Your skin treatments will make much more visible and lasting progress. 
For more great deodorants to lighten dark underarms you can check out my article 5 Best Deodorants to Lighten Dark Underarms
Related Article – Retinol For Dark Underarms: How to Use, Benefits & Effects
Video: Toya's Truths – Dove Even Tone Deodorant
To read more about other more effective treatments for dark underarms, check these articles out:
Hydroquinone For Dark Underarms – How to Use & Side Effects
Kojic Acid for Dark Underarms- How to Use Correctly & Risks
Tretinoin for Dark Underarms: How to Use Safely & Benefits
How Often Do You Need To Use Even Tone?
For best results, I recommend using Dove Even Tone at least twice daily. 
Apply onto clean skin every time you shower or twice a day (once in the morning and once again before bed). Remember that consistency is key!
Related Article –
Vitamin C For Dark Underarms – How to use, Benefits & Risks
How Often to Exfoliate or Scrub Underarms for Best Results
Is Dove Even Tone Deodorant Safe For You
Yes, Dove Even Tone is safe enough for daily use. 
It does contain Aluminum Zirconium Tetrachlorohydrex GLY (11.4%). However, there is no real evidence to suggest that this compound causes cancers or any health concerns when used on the skin. It is even recognized and regulated by the FDA which deems it safe to be used in concentrations up to 20%.
If you suffer from excessive sweating consider using:
Carpe Deodorant & Clinical Strenght Antiperspirant, click here to learn more.
Carpe Hand & Foot Antiperspirant Lotions, click here to learn more.
Related Article – Glycolic Acid for Underarms – How to Use, Benefits & Risks
Benefits of Dove Even Tone Deodorant 
From personal experience, researched reviews, and reviews from friends, these are the benefits of Dove Even Tone Deodorant:
At least 24 hours of sweat and odor protection – Dove claims it should be 48 hours but for most of us, it lasted at least 24 hours and not for 48 hours).
Hydration and nourishment for your underarms – The Even Tone is made up of ¼ moisturizer complex which can help to improve the overall texture of your skin. I, and many others have noticed a difference in the way our skin feels after a few days. Definitely softer and a little smoother. 
More even skin tone – Dove does not claim to have bleaching ingredients. However, in most cases, Even Tone will help to even out your skin tone after consistent use. I, and many others agree. However, the results are relative and will vary for different people (as discussed above).
Related Articles:
DIY & Medical Ways to Quickly Whiten Underarms Permanently
Aloe Vera for Underarms: Benefits & How to Use Effectively
How Dove Even Tone Works
Dove Even Tone acts as an antiperspirant, deodorant, and skin toner. 
The main ingredient in this product is Aluminum Zirconium Tetrachlorohydrex GLY (11.4%). This blocks the ducts of the sweat glands under our arms to prevent us from sweating. It also contains fragrances to help us smell fresh throughout the day. 
On the other hand, the skin-toning ingredient in the Dove Even Tone Antiperspirant & Deodorant is Niacinamide.
When used on the skin, Niacinamide brightens and reduces hyperpigmentation by controlling the transfer of melanosomes. It also increases collagen formation to enhance smoothness, fine lines, and wrinkles.
Related Article – Niacinamide for Dark Underarms: How to Use for Best Results
The Other Ingredients In Dove Even Tone Deodorant
Apart from Aluminum Zirconium Tetrachlorohydrex GLY (11.4%), Fragrance (Parfum), and Niacinamide, this deodorant also contains:
Cyclopentasilxone
Stearyl alcohol
C12-15 alkyl benzoate
PPG-14 butyl ether
Hydrogenated castor oil
PEG-8, dimethicone
12-hydroxstearic acid
Silica
Polyethylene
Helianthus annuus (sunflower) seed oil
Steareth-100
BHT
Alpha-isomethyllonone
Benzyl alcohol
Benzyl salicylate
Cinnamyl alcohol
Citranellol
Geraniol
Hexyl cinnamal
Limonene
Linalool
Related Article – Best Essential Oils for Armpits & How to Use Correctly
Side Effects Of Dove Even Tone Deodorant 
The Dove Even Tone Deodorant seems to be generally well tolerated by the majority of people that have tried it. 
Many have mentioned that their skin did not experience any irritation as they might have expected. Likewise, after my trial run with this, I was pleasantly surprised as well. 
However, like all traditional antiperspirants and deodorants, this one too contains alcohol, which can irritate sensitive skin, especially if you have just shaved. Some people also experience a sensitivity reaction to Aluminum. So I recommend that you keep an eye out for any signs of irritation (redness, itchiness, bumps, burning, swelling, pain). 
If you do experience irritation or any other side effects, wash the product off your skin as soon as you notice it and let your skin rest. If the symptoms do not get better, seek medical attention. 
Related Article – Coconut Oil For Underarms: Benefits, Cons & DIY Remedies
Where To Buy Dove Even Tone Deodorant
Dove Even Tone is available for purchase on most online retail stores like Amazon, or in-store at supermarkets, shopping centers, and pharmacies nationwide. 
However, to make all our lives easier, you can Click here to check out the Dove Even Tone Antiperspirant Deodorant on Amazon. 
They are also available in different scents, though I prefer the Calming Breeze scent.
Sources
I tried the Dove Original and Dove EvenTone deodorants: Here's my honest review 
Dove Even Tone Deodorant Review – Does It Really Work For Dark Underarms? 
Amazon Customer Reviews – Dove Even Tone Antiperspirant Deodorant 
Walmart Customer Reviews – Dove Even Tone Calming Breeze 48-Hour Antiperspirant Deodorant
Target Customer Reviews – Dove Beauty Even Tone Calming Breeze 48-hour Antiperspirant & Deodorant Stick  
Even Tone Antiperspirant Deodorant Rejuvenating Blossom | Dove
What is niacinamide? Experts explain the benefits of the anti-aging skin care ingredient