Aloe Vera for Underarms: Benefits & How to Use Effectively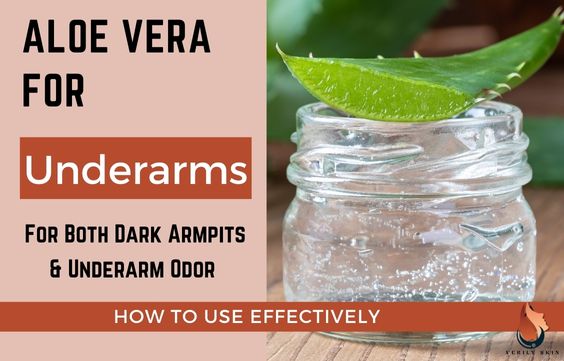 Just like the other parts of your body, your armpits need care and maintenance to either prevent or treat things like odor and darkness (hyperpigmentation).
Aloe Vera is a known powerhouse ingredient in skincare and DIY treatments, but what can it do for your underarm specifically?
Let's talk about what aloe Vera does for the skin, and how it can help your armpits.  
Benefits of Aloe Vera For Underarms
Generally, there are many skin benefits of aloe vera that not only act on regular skin but also on sensitive skin like the underarms. Aloe Vera:
Lighten Dark Skin – by reducing melanin production
Reduces Underarm Odor – since it has strong antibacterial properties.
Exfoliates skin – Salicylic acid, which is also present in aloe vera, serves as a mild exfoliator.
Soothes Skin Injuries – makes it a great soothing agent for your underarms if you have razor burns, soreness from waxing, or cuts after shaving. 
Is an Effective Underarm Moisturizer
Reduces Inflammation
1- Effective at Treating Dark Underarms
Yes, Aloe Vera has been proven to lighten dark areas of skin such as those found in armpits. Aloe vera inhibits the production of melanin, which is the pigment that makes skin darker.
By doing this, as the skin continuously sheds and less melanin is produced, the tone of the skin will eventually lighten and even out. 
Aloe Vera also exfoliates the skin, allowing new healthier, and brighter skin to grow.
Related Article: DIY & Medical Ways to Quickly Whiten Underarms Permanently
2- Reduces Underarm Odor
Aloe vera can help to manage and/or reduce armpit odor. 
Since aloe vera is an antiseptic, using it on your underarms can moisturize your skin while also preventing the build-up of odor-causing bacteria in that area. 
It will not prevent you from sweating but it can help to keep the armpits free from excess micro-organisms that can make your odorless sweat stinky.  
Related Article: 10 Quick & Easy DIY Natural Remedies For Smelly Armpits
3- Exfoliates the skin
Aloe Vera contains some salicylic acid which is a BHA that exfoliates the skin.
It gently exfoliates the skin, allowing new skin cells to regenerate.
Salicylic Acid For Dark Underarms: What You Need to Know
Can Aloe Vera be used as an underarm deodorant?
Aloe Vera alone cannot be used as a deodorant, nor can it permanently replace your deodorant. Aloe vera alone is not strong enough to prevent odor completely and it is not an antiperspirant.
It can be added to your underarm care routine, used in deodorant DIYs or products, or used as a treatment to help to manage underarm odor. 
Apple Cider Vinegar can also help reduce odor too, click here to learn more
4- Ideal for Soothing Underarms after waxing or Shaving
Yes, you can put aloe vera gel on your armpits after shaving. Aloe vera is soothing and antibacterial. It will help to soothe the skin after shaving and also disinfect and clean any bumps, cuts, and razor burns. 
Aloe Vera will also help to promote healing and reduce any scars from forming. This makes it a great soothing agent for your underarms if you have razor burns, soreness from waxing, or cuts after shaving. 
Related Article: Glycolic Acid for Underarms – How to Use, Benefits & Risks
5- Perfect for Dry Underarms
Aloe vera is especially helpful for dry skin types as it contains humectants, which draw water from the air or deeper inside the skin.
Aloe also contains high amounts of vitamins C and E which help to prevent free radicals, which are the chemicals responsible for cell damage.
You can also use Niacinamide for Dark Underarms, click here to learn more.
6- Can Potentially Treat Certain Skin Conditions.
Aloe vera's anti-inflammatory characteristics may make it easier to control inflammatory conditions like psoriasis whose flare-ups result in red, itchy, and scaly skin.
You need to check with your doctor before attempting to use aloe to treat any medical condition.
Turmeric for Dark Underarms – Benefits & Easy DIY Scrubs
Can you leave Aloe Vera on your underarm overnight?
Yes, you can leave aloe vera gel on your armpits overnight. If your skin does not have a bad reaction to the gel, you can leave aloe on your underarms for as long as you are comfortable.
Related Article: How Often to Exfoliate or Scrub Underarms for Best Results
How To Use Aloe Vera For Armpits
Pure Aloe Vera can be used by itself, however, it can also be used as an ingredient in DIY moisturizers and deodorants, or any DIY underarm remedy.
You can mix your aloe vera gel with essential oils, carrier oils like jojoba oil and coconut oil, and other ingredients which can mask the aloe smell and prevent over-drying.
An alternative to DIYs is to purchase aloe vera underarm products that you can consistently use on your underarms.
But if you are using refined aloe vera gel or aloe vera products, it is best to use pure aloe vera gel as a mask and then wash it off. 
This is because:
The aloe vera plant has a smell that some people find offensive
When it dries and can be sticky or make your skin feel stiff when left on.
And since it is exfoliative, some people also find that using aloe vera too often or leaving it on their skin for a long time actually makes their skin dry. 
Related Article: Best Essential Oils for Armpits & How to Use Correctly
Best DIY Aloe Vera Recipes For Armpits
All of these DIYs will both help to gradually lighten dark underarms and will also help to manage and prevent armpit odor. 
1- Aloe Vera Gel Mask 
Ingredients:
Piece of an Aloe Vera plant OR some Aloe Vera gel (as organic as you can get it)
Directions:
Scoop out some fresh aloe vera gel from the plant (or pour some of your store-bought organic aloe vera gel in your hands)
Apply a layer of the gel to your dark armpits
Keep it for 10 to 15 minutes
Once it dries up just wash it off with water
Repeat the remedy every other day
Related Article: How to Exfoliate Armpits – 6 Best DIY Easy Natural Scrubs
2- Aloe Vera Moisturizer
Ingredients: 
1/3 cup aloe vera gel
2 tablespoons sweet almond oil
2 tablespoons jojoba oil
1 tablespoon beeswax
10 drops of any essential oils
Directions:
The Beeswax, jojoba oil, and almond oil should all be added to the top of a double boiler. Use a glass or stainless steel basin to hold your oil if you don't have a double boiler.
Put this bowl in a saucepan with a few inches of water, then set it over the fire. 
Set the heat to medium-high and place your double boiler or double boiler alternative over the stove. Till they are thoroughly blended, let the oils melt. It should take two to five minutes to do this. The oil doesn't need to be stirred. It should come together naturally.
After they have combined, put the oils in a bowl. Use a mixing dish that can accommodate the oils and has some headroom on top for the other ingredients.
You should wait until your oils are at room temperature before continuing. To allow the oils to cool, put the mixing bowl away for about an hour.
In another bowl, combine your aloe vera gel and your essential oils and mix them well. You can use one kind of essential oil or a combination of oils based on your preference. 
When your oils in the other bowl have cooled enough, add your aloe vera mixture into the oil. Use a hand mixer to mix the ingredients all together until you reach the desired consistency. 
Transfer your moisturizer into an airtight container and use it as necessary. 
Ensure to do a patch test before using this on your whole underarm area. 
Related Article: Coconut Oil For Underarms: Benefits, Cons & DIY Remedies
3- Handmade Rose and Aloe Natural Deodorant
Ingredients:                   
2 tablespoons coconut oil                                    
1 tablespoon baking soda                                    
2 tablespoons tapioca starch/arrowroot                            
1 teaspoon aloe vera gel                                    
1 teaspoon rose water                                    
6 drops of rose essential oil                                
Directions:                   
Soften the coconut oil in a bowl sitting in warm water. Don't melt, just soften it enough to be able to mix in the other ingredients.
Add the remaining ingredients and mix well. 
Spoon into 1 – 2 small jars. Keep in a cool place (i.e. bathroom cupboard) and use within 6 months. 
To apply simply use your finger to rub a small amount, about 1/8 teaspoon, under each arm.
You may substitute the rose water and rose essential oil for a specific oil or fragrance of your choice. 
Related Article: Toothpaste For Dark Underarms – Ultimate DIY Guide
Recommended Aloe Vera Products For Armpits
1- Seven Mineral Organic Aloe Vera Gel
In addition to being 99% aloe vera gel, 7 minerals aloe gel also uses a natural ingredient as a thickener (seaweed extract). It is
Easily absorbed into the skin and does not leave a sticky residue.
Harvested from freshly cut aloe leaves, not powder, so it's one of the purest available combinations.
Certified Organic which is important since it will be absorbed into your skin
Click here to see the current price for the Seven Mineral Organic Aloe Vera Gel on Amazon. 
2- JĀSÖN Soothing Aloe Vera Deodorant Stick
Jason Deodorant stick has been shown to actively control odor. It contains:
Baking Soda helps to absorb any underarm odor.
Grapefruit Seed Extract deals with odor-causing bacteria.
Aloe Vera helps to promote brighter and healthier underarms.
Click here to check out the JĀSÖN Soothing Aloe Vera Deodorant Stick on Amazon.
3- Cetaphil Soothing Gel-Cream with Aloe
Cetaphil Gel Cream is made to be absorbed easily into your skin which allows it to be fasting acting.
It is infused with Aloe Vera Gel giving it all the benefits that come with Aloe such as lightening your skin and helping to manage odor
Click here to see the current price for the Cetaphil Soothing Gel-Cream with Aloe on Amazon. 
Common Questions about Aloe Vera For Armpits
What is the best way to use Aloe Vera for Dark Armpits?
The best way to use aloe vera to lighten dark armpits is to use the pure (organic) aloe vera gel as a mask.
It can be applied for a time and then washed off. This can be repeated daily or as often as your skin can tolerate it. 
Related Article: Baking Soda & Lemon for Underarms: How to DIY & Benefits
What is the best way to use Aloe Vera to prevent odor?
The best way to use aloe vera to prevent armpit odor is as an ingredient in your deodorant. Many people make DIY deodorants and add aloe vera to them, or they purchase natural deodorants that have aloe vera as the main ingredient. 
Related Article: Vitamin C For Underarms – Everything You Need To Know
Related Articles:
Dry Armpits: How to Correctly Moisturize & What to Use
Retinol For Dark Underarms: How to Use, Benefits & Effects
Laser Whitening Underarms – Everything You Need To Know
5 Reasons Why You Cannot Use Coconut Oil As a Deodorant
Turmeric for Dark Underarms – Benefits & Easy DIY Scrubs
Sunflower Oil For Underarms: Benefits & How To Use
How to Use Potatoes For Underarm Whitening
Why Armpits Smell Even With Deodorant & Bathing: How to fix
Sources:
Aloe Vera for Face: 10 Benefits, Side Effects, and More
Using Aloe Vera has multiple benefits
6 Benefits of Aloe Vera for Skin, According to Dermatologists | EatingWell