Sunflower Oil For Underarms: Benefits & How To Use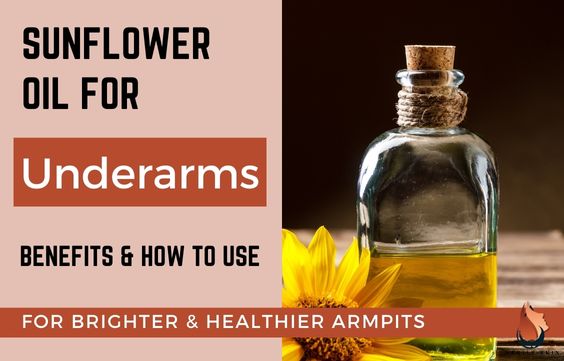 Sunflower oil packs a serious punch when it comes to hydration. And Hydrated skin = Healthy skin.
This oil is derived from the native sunflower that is characteristic of the Southwest United States and it contains many nutrients that benefit the skin like:
Linoleic Acid
Oleic Acid
Vitamin E
Sesamol
Coconut Oil For Underarms: Benefits, Cons & DIY Remedies
Can You Use Sunflower Oil For Underarms
Absolutely. The many benefits of sunflower oil make it an amazing ingredient for underarm care. 
Let's take a look at everything we need to know about the benefits and recipes for how to use sunflower oil for underarms. 
Why Armpits Smell Even With Deodorant & Bathing: How to fix
Benefits Of Sunflower Oil For Underarms
The skin of the underarms is usually sensitive and thin, but it still needs to be maintained, protected, and hydrated. 
Sunflower oil has a host of benefits that can keep your underarms happy and healthy:
1- Strengthens the skin's natural moisture barrier
The linoleic acid in sunflower oil is great for limiting how much water is lost from the skin, keeping the skin hydrated and healthy. Sunflower oil contains about 70-80% linoleic acid, which makes it a great protector of the skin's moisture barrier.
How to Use Potatoes For Underarm Whitening 
2- Smoothens & softens the skin
Sunflower oil is considered to be an emollient. This means that it settles between the gap among the skin cells, giving skin a smoother, softer feel. 
Glycolic Acid for Underarms – How to Use, Benefits & Risks
3- Provides antioxidants to the skin
Sunflower oil contains lots of vitamin E, which is a powerful antioxidant. Vitamin E protects the skin from free radicals and sun damage, as well as other environmental pollutants. 
Chemical Peels for Dark Underarms – All You Need to Know
4- Soothes the skin
Sunflower oil is thought to be calming for the skin, especially if previously irritated. Though more research is needed to confirm this, many people testify that sunflower oil does have soothing benefits. 
Aloe Vera for Underarms: Benefits & How to Use Effectively
5- Helps with wound healing
Sunflower oil contains oleic acid and sesamol, which some research indicates may aid wound healing. Meaning it should help your underarms recover after shaving.
How to Exfoliate Armpits – 6 Best DIY Easy Natural Scrubs
6- Does not clog pores
Sunflower oil is non-comedogenic. This means that it will not clog your pores. Therefore, it is great for use by people with oily skin or with acne troubles. 
Clogged Armpit Pores: Causes, How to Spot & Treat
7- Generally non-irritating
Sunflower oil is considered to be generally non-irritating for most people of all skin types. It can be used by people with dry, normal, oily, or combination skin, as well as people who are acne-prone.  
DIY Apple Cider Vinegar for Cleaner & Lighter Armpits
Does sunflower oil lighten dark underarms
Sunflower oil does not have any known bleaching properties, but it can help to even the tone of the underarms over time. 
When your underarms are well moisturized and healthy, the cell turnover will be faster and more even-toned from lack of stress and irritation. The unhealthy cells will eventually shed and your skin will have a brighter, healthier look. 
Related Article – Salicylic Acid For Dark Underarms: What You Need to Know
Now for some great deodorants that can actually help to lighten dark armpits check out:
Dove Even Tone Deodorant Review- Does It Work & Is It Safe
How long will sunflower oil take to lighten dark underarms
You should see a visible difference in your underarm skin in about 6-8 weeks if you consistently use sunflower oil. 
These results can be expedited if you also combine your sunflower oil with known lightening agents like Vitamin C or Niacinamide incorporated into your underarm care routine. 
Related Articles:
Vitamin C For Underarms – Everything You Need To Know
Niacinamide for Dark Underarms: How to Use for Best Results
Will sunflower oil help with underarm odor?
Sunflower oil is not a natural deodorant or antiperspirant, but keeping your skin moisturized, clean, and healthy will definitely contribute to keeping odor away for longer.
You can add sunflower oil to your routine as your moisturizer after other treatments for odor and with your deodorant and antiperspirant.
Related Article: 10 Quick & Easy DIY Natural Remedies For Smelly Armpits
How To Get Rid Of Underarm Odor & Sweating Permanently
How To Use Sunflower Oil For Underarms
Sunflower oil can be used directly on the skin, as an ingredient in DIY skincare treatments, or in skincare products designed for underarms. 
To use sunflower oil alone on your underarm skin to moisturize:
Cleanse your skin
Use organic, cold-pressed sunflower oil
Pour a small amount into your hands
Gently massage it into your underarms until absorbed
Turmeric for Dark Underarms – Benefits & Easy DIY Scrubs
How often should I use sunflower oil to lighten my underarms?
To see the best benefits of sunflower oil, you should use it on your underarms every day. Like all treatments, consistency is key. 
Related Article: DIY & Medical Ways to Quickly Whiten Underarms Permanently
Can you use Sunflower oil on underarms overnight?
Yes, you can use sunflower oil overnight. It is thin, will not block your pores, and will keep your underarms hydrated during the night. 
Can I put sunflower oil on my underarm after shaving or waxing?
Yes, you can put sunflower oil on your underarms after shaving or waxing. 
This oil is said to be soothing as well as hydrating. After shaving or waxing, your skin will need both of these things. 
Best DIY Recipes Using Sunflower Oil For Underarms
1- Whipped Body Butter
Ingredients: 
1/3 cup coconut oil
1/3 cup shea butter
1/4 cup sunflower oil
Essentials oils (optional)
Directions: 
In a mixing bowl, combine the coconut oil, shea butter, and sunflower oil.
In a double boiler or by placing your mixing bowl over a pot of boiling water, melt the oils and butter until smooth.
Place your bowl in the refrigerator or freezer to cool.
Once cool, use a mixer or whisk to whip the body butter into a smooth texture.
Place your lotion in an upcycled jar or glass container.
2- Sunflower Oil Deodorant Stick
Ingredients:
¼ cup Sunflower oil
3 TBSP Beeswax
1 TBSP + 1 TSP Arrowroot powder
1 TSP Zinc oxide
2 TSP Baking Soda
30 drops of the essential oil(s) of your choice
Old stick deodorant container that you have cleaned out.
Directions:
Combine the sunflower oil and the beeswax in a bowl.
Place this bowl in a hot water bath to melt the beeswax and let it combine with the sunflower oil. 
When the sunflower oil and beeswax have melted and combined, take the bowl out of the hot water bath and dry off the container, then add the arrowroot powder. 
Then add in the zinc oxide and mix well. Be careful not to inhale the zinc oxide. 
Add in your baking soda and mix well. 
Finally, add your 30 drops of essential oils. You may add less or more in any combination you want. 
When your mixture has been well combined, pour it into your stick deodorant container. 
Leave it to cool until it becomes solid and then use as you would your usual deodorant. 
Video: Easy DIY Deodorant Stick
Recommended Products With Sunflower Oil For Underarms
1- PURA D'OR Organic Sunflower Seed Oil
This sunflower seed oil by PURA D'OR is cold-pressed, organic, unrefined, and rich in all its original nutrients. It can be used directly on the skin or as a carrier oil for other ingredients. 
Click here to see the current price for the PURA D'OR Organic Sunflower Seed Oil on Amazon. 
2- Weleda Skin Food
This skin food has a nourishing base of sunflower oil and almond oil that keeps the skin hydrated and healthy. It is a great everyday moisturizer for people with dry skin. 
Click here to see the current price for the Weleda Skin Food on Amazon. 
3- Dr. Organic Organic Deodorant
This is a liquid cream roll-on deodorant that contains Certified Organic Aloe Vera, Sunflower Seed Oil, Irish Moss, and Vitamin E. It is expected to provide adequate odor protection without any toxic ingredients. 
Click here to check out the Dr. Organic Organic Deodorant on Amazon. 
Side Effects Of Sunflower Oil For Underarms
Though sunflower oil is generally safe for most people, you should::
1- Be careful if you have seed or nut allergies
If you have known allergies to seeds and nuts, or even sunflower seeds specifically, consult a doctor before using sunflower seed oil. Also, do a patch test before using this oil on large areas of your body to avoid allergic reactions. 
2- Be careful if you have a ragweed allergy
Some people who have a ragweed allergy have also reported increased sensitivity or allergies to sunflower seeds and even sunflower oil as well.
Sources:
1- Sunflower Oil for Skin: Benefits, Limits, and How to Use It 
2- Sunflower Oil Is a Hydrator With Serious Skin Benefits