How to Exfoliate Armpits – 6 Best DIY Easy Natural Scrubs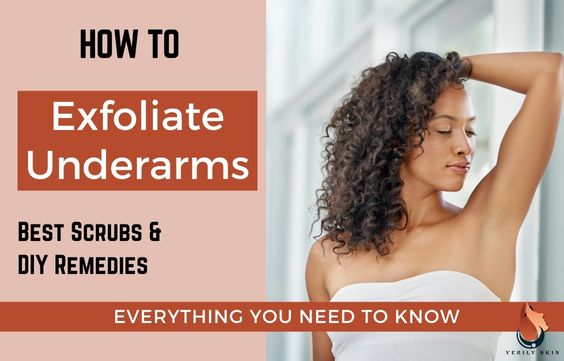 Unsure of how to exfoliate your armpits properly? 
Don't sweat! I've got you. 
Because of their location, armpits are prone to product and dead skin buildup, so they must be thoroughly cleansed and exfoliated to stay fresh and clean.
But it needs to be done correctly to avoid bruising and further damage to the skin which can lead to darker armpits.
So, we are going to guide you on how to correctly exfoliate your armpits and share with you some gentle yet effective DIY scrub remedies.
Related Article: DIY & Medical Ways to Quickly Whiten Underarms Permanently
How to Exfoliate & Scrub Your Armpits
There are two kinds of exfoliation methods you can use to exfoliate your armpits: chemical and physical. 
Chemical Exfoliators 
A chemical exfoliator is usually an acid or an active ingredient that is applied to your skin. It helps to remove the top layer of skin cells and sometimes deeper layers to resurface your skin. 
The most common chemical exfoliators used today are acids such as glycolic acid, lactic acid, mandelic acid and salicylic acid.
Chemical exfoliators will give you faster and longer-lasting results but they are harsher on your underarms. Chemical exfoliators can also be used in the form of toners that can be left on the skin. This is the least aggressive option, especially for newbies. 
Recommended acids:
Glycolic Acid, you can click here to learn how to use it for your underarms.
Salicylic Acid For Dark Underarms: What You Need to Know
Kojic Acid for Dark Underarms- How to Use Correctly & Risks
Physical Exfoliators
Physical exfoliators manually remove the top layer of skin cells from your skin. This means that when it is applied to your skin, you need to massage it in a scrubbing motion to physically clear away debris. 
Physical exfoliators are easy to use and most readily available. They can be dry brushes, loofahs, or scrubs. 
Many people find that scrubs (either ready-made products or DIYs) are the easiest to use. 
Vitamin C For Underarms – Everything You Need To Know
The Exfoliation Process
Like all skincare routines, underarm care has steps that you should follow for the best results:
Cleanse – use a gentle but effective cleanser to remove any sweat and product buildup from your underarms. 
Apply your exfoliator – Choose an exfoliator that will not be too harsh for your skin and use it as directed.
Use a Toner (optional) – After exfoliating, you can use a gentle toner to help soothe your skin. 
Moisturize – Use a generous amount of hydrating moisturizer to keep your underarms from becoming too dry.
Repeat this exfoliation process only 1-2 times per week for the best results.
If you do this too often you can actually damage your skin and lead to darker armpits.
Click here to read more about underarm exfoliation and for some helpful tips.
Best Natural DIY Scrub To Exfoliate Your Armpits at Home
1- Sugar Scrub For Underarms
This scrub removes dead cells and build-up by the action of sugar and salt grains. The lemon also works as a lightening agent and olive oil and honey function as skin moisturizers. Together, they clean, exfoliate and help to reduce odor.
Ingredients: 
1/4 cup of sugar
1 tablespoon of salt
1 tablespoon of olive oil
1 tablespoon of honey
1/2 lemon
Directions: 
Combine the juice from the lemon, the sugar and the salt
Add the olive oil and honey, then mix until it becomes a granular paste
Apply to your skin after a shower
Massage in circular motions for 3-5 minutes
Remove with warm water and pat dry
Repeat 1-2 times per week
DIY Apple Cider Vinegar for Cleaner & Lighter Armpits
2- Underarm Oatmeal Scrub
Oatmeal is a fantastic ingredient for underarm scrubs since it eliminates dead skin and also has whitening properties due to the starch it contains. It also hydrates the skin, reduces aging, and prevents stains. The other ingredients (lemon and honey) also help to amplify the effects. 
Ingredients:
1 tablespoon of oatmeal
1 tablespoon of honey
1/2 lemon
Directions:
Mix the ground oatmeal, the honey, and the lemon juice in a container until you get a homogeneous paste
Apply to your armpits and massage gently for about 5 minutes
You may leave the mixture on for about 20 minutes and then wash it off with warm water
Repeat 2-3 times per week or as necessary as needed and tolerated
Aloe Vera for Underarms: Benefits & How to Use Effectively
3- Turmeric Scrub
The turmeric in this scrub will target hyperpigmentation (darkened skin) and help to remove excess bacteria from the underarms. This will result in lighter and less smelly armpits over time. The other ingredients will help to moisturize and soothe the skin. 
Ingredients:
1 cup white sugar
¼ cup sweet almond oil or coconut oil
2 tablespoons ground turmeric powder
10-12 drops of essential oil (I used lavender and lemon)
Optional: add ½  teaspoon rosehip oil or Vitamin E oil or a teaspoon of castor oil
Optional: a teaspoon of citric acid
Directions:
If you are using coconut oil that is solidified, melt it first.
Combine all ingredients in a medium mixing bowl and stir well.
Once evenly mixed, transfer to an airtight container, such as a mason jar.
To Use: Apply to wet skin and massage on skin in a circular motion. Rinse with warm water and pat dry with a towel.
For those with very sensitive skin, almond meal can be used in place of the sugar. It is even gentler. Be mindful, this scrub will need to be refrigerated and will have a short shelf life.
You can click here to learn about the benefits and more recipes of turmeric for underarms.
4- Baking Soda + Lemon Scrub
Sodium bicarbonate (baking soda) is an excellent ingredient for armpit scrubs since it removes dead skin and avoids blockage of the pores in the region. This prevents impurities from forming or irritations from occurring, reducing bad odor and discoloration. 
Ingredients:
1 tablespoon baking soda
1 lemon
Directions:
Mix 1 tablespoon of baking soda with the juice of 1 lemon
Apply directly to armpits without exerting too much pressure
Leave it one for 3-5 minutes and then rinse off with warm water
Repeat 1-2 times per week or as often as needed
Do not apply the mixture after having done hair removal, or just before sun exposure
You can click here to learn more about Baking Soda & lemon and the benefits and different recipes you can use for your underarms.
5-Baking Soda + Coconut Oil
Ingredients:
1 tablespoon baking soda
1 tablespoon coconut oi
Directions:
Mix the oil and the baking soda together until they form a well-mixed paste
Apply to the underarms and massage gently for 3-5 minutes
Leave the mixture on for about 10 minutes, then rinse it off and pat dry
Repeat 2-3 times per week or as often as necessary
You can click here to learn more about the benefits of coconut oil and other recipes you can use for your underarms.
6-Strawberry Scrub
Strawberries contain AHA exfoliating acid, so they make an efficient yet gentle armpit exfoliant to increase the effectiveness of your natural deodorant. A calming blend of ground oats and coconut milk is also an excellent place to start for hydration.
Ingredients:
1 cup raw sugar
1/4 cup coconut oil
1/4 cup ground or even whole oats
1/4 cup pureed strawberries (you can also smoosh it using the back of a fork)
Directions: 
Mix all of the ingredients together until a paste is formed
Apply the mixture to your skin and massage gently for 3-5 minutes
Let it sit on your skin for another 10 minutes and then gently remove with water
Repeat 1-2 times per week or as often as necessary
Retinol For Dark Underarms: How to Use, Benefits & Effects
How to Choose the Right Exfoliator For Your Armpits
The best exfoliator for your armpits will depend on what you are hoping to achieve or treat, and your skin type. 
If you are trying to treat a specific condition (for example dryness, acne, darkness, etc) there are specific exfoliators that should be used. 
This will also depend on your skin type as some kinds of exfoliators may irritate certain types of skin more than others. 
You should start simple. The best thing you can do is to start with a mild physical scrub – one that you can buy or make yourself at home. 
Always patch test first and see how your skin reacts, then go from there. 
You can also Consult a professional for advice if you are new to exfoliating your underarms or have very sensitive skin
Sunflower Oil For Underarms: Benefits & How To Use
Best Products You Can Use To Exfoliate Your Armpits
Recommended Chemical Exfoliators For Underarms
1-Paulas Choice Liquid Salicylic Acid Exfoliant
This toner uses salicylic acid which mimics the natural exfoliation process of younger skin by helping it shed extra layers while unclogging and clearing pores.
It is a non-abrasive and leave-on exfoliant making it gentle enough for daily use on all skin types. It exfoliates dead skin cells while clearing pores for a more even tone, plus it visibly reduces fine lines & wrinkles.
Click here to see the price for Paulas Choice Salicylic Acid Exfoliant on Amazon.
2-Pixi Glow Tonic
This tonic exfoliates and purifies the skin with Glycolic Acid. Its Ginseng component improves circulation and energizes, while its Aloe Vera component soothes and hydrates.
This tonic refines the appearance of pores and it gently accelerates cell renewal which helps improve your complexion. It also balances and soothes healthier-looking skin. It is Alcohol-free and toxin-free. And is suitable for all skin types
Click here to check out the Pixi Glow Tonic on Amazon. 
Physical Exfoliators
1-Pacifica Beauty, Coconut and Charcoal Underarm Detox Scrub 
This scrub aims to help you cleanse your armpits and unclog pores, preventing odor, ingrown hairs, and irritation. It is moisturizing and toxin-free. Note that it is scented so if you are sensitive to fragrance, you may want to use this with caution. 
Click here to see the price for the Pacifica Beauty, Coconut & Charcoal Underarm Scrub on Amazon. 
2-Carpe Exfoliating Underarm Scrub
This scrub is said to provide 24-hour odor protection. It should enhance the effects of the sweat and odor-blocking effects of your deodorants and underarm products. It is specially designed for sensitive skin like your underarms and other sensitive areas.
Click here to check out the Carpe Exfoliating Underarm Scrub on Amazon. 
Common Questions About Exfoliating Your Armpits
Why is it important to exfoliate your armpits?
Exfoliation helps to clean the skin, clean the pores, and prevent the build-up of bacteria and debris from the skin of the underarms. 
Exfoliating your armpits will help to keep them clean, keep them from smelling bad, and will keep your skin in a healthy condition overall. 
It will also prevent things like acne, dryness and irritation, and ingrown hairs from occurring.
 How to Use Potatoes For Underarm Whitening
Does exfoliation help to lighten dark underarms?
Yes. Exfoliating the right way will eventually help to lighten dark underarms. 
If you know how to exfoliate your armpits properly, the process removes layers of the skin gradually, taking away the darkened layers and allowing new, healthier layers to form. 
Many underarm scrubs are also filled with ingredients that specially target and treat dark underarms. 
How well this will work and how fast you will see results will depend on the condition of your underarms, the kind of scrub you use and how you use it, and your skin type.
Toothpaste For Dark Underarms – Ultimate DIY Guide
Does exfoliating your armpits help reduce smell?
Yes, exfoliating your armpits will help to reduce and manage odor by getting rid of build-up and excess bacteria. 
Your armpits have two kinds of sweat glands: Eccrine and Apocrine glands. 
Eccrine glands are required to control body temperature. You sweat when it's hot outside because your eccrine glands release water to cool your skin.
On the other hand, apocrine glands are scent glands that also produce lipids and proteins in response to emotional stress. Body odor is caused by microorganisms on the skin breaking down these odorless lipids.
The underarms are also one of the wettest and hottest areas of your body. This results in an environment under there that contains more bacteria and other microorganisms than other areas of the body. 
The pH is also higher in the armpits than in other areas of the body, allowing for increased bacterial growth. These bacteria degrade perspiration products, causing body odor to emerge.
Best Essential Oils for Armpits & How to Use Correctly
Video: How to take care of your underarms
To get the most out of your exfoliators, you also need to have a proper armpit care routine, which includes exfoliating.
Related Articles:
Sources:
5 Easy Ways To Look After Your Underarms This Spring | British Vogue
How To Exfoliate Your Underarms (A Dermatologist's Guide)
Real Talk: Do I Need to Exfoliate My Armpits?