How Often to Exfoliate or Scrub Underarms for Best Results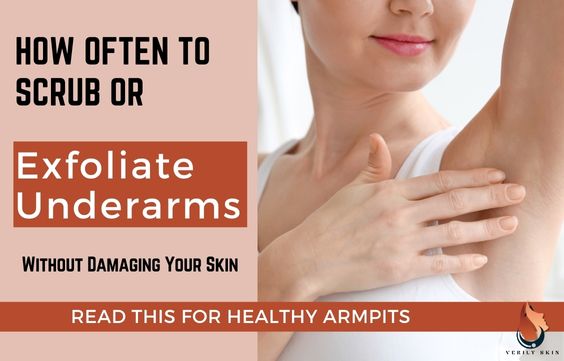 Should you be exfoliating your underarms? And if so, how often should you exfoliate your underarms for the best results? 
The underarms are sometimes one of the most forgotten areas when it comes to skincare. But, our pits need some TLC too. 
One of the hallmarks of having healthy, glowing underarms is proper exfoliation. 
How Often Should You Exfoliate Your Underarms
Skincare professionals recommend that you exfoliate your underarms 1-2 times per week for the best results. 
Exfoliating too much can irritate the skin and cause damage. This is because the skin of the underarm is usually thin and sensitive.
And Some people who have extra sensitive skin may need to exfoliate just once per week. 
However, generally, you should not be exfoliating that tender area more than twice per week. Since exfoliation removes layers of skin, it's important to let the skin rejuvenate between treatments
Now it's also very important that you correctly exfoliate your underarms, you can click here to read How To Exfoliate Your Armpits & the Best Scrubs & DIY Remedies.
DIY & Medical Ways to Quickly Whiten Underarms Permanently
Why You Should Exfoliate Your Underarms Regularly
The underarms should be regularly exfoliated to avoid:
Folliculitis (infection and inflammation of the hair follicles),
Discoloration.
Ingrown hairs,
Prevents Infections
The underarms are areas of skin that grow hair, and anywhere hair develops on the skin there is a chance of a buildup of bacteria, debris, oil, and dead skin cells.
Dead skin cells can build up on armpit skin if it is not washed often, which can encourage bacterial growth, cause unpleasant odors when mixed with sweat, uncomfortable pustules, and leave scars.
Dry Armpits: How to Correctly Moisturize & What to Use
Prevents Discoloration
Regular exfoliation helps to remove dead skin cells which can give your underarms a darker appearance.
Also by preventing infections, you can help prevent hyperpigmentation due to infection from occurring.
Chemical Peels for Dark Underarms – All You Need to Know
Prevents Ingrown Hair
Your underarms are also especially vulnerable to ingrown hairs since armpit hair is often coarser and curlier than the hair on your scalp.
Exfoliation helps the hair grow out more freely by keeping the pores clear of debris that might block the hair's growth route.
Glycolic Acid for Underarms – How to Use, Benefits & Risks
DIY Apple Cider Vinegar for Cleaner & Lighter Armpits
What Happens If You Exfoliate Your Underarms Everyday
Exfoliating your underarms every day will irritate the skin and cause it to become damaged. 
As I have stressed, the skin under your arms is delicate and sensitive, as well as thin. 
Exfoliating more than twice per week will not give the skin enough time to heal and regenerate. This can cause irritation which can lead to:
Micro-tears in the skin
Rashes or bruises
Darkening of the skin
The skin also becomes more prone to infection and sensitivity to products in this weakened state. 
Salicylic Acid For Dark Underarms: What You Need to Know
The Underarm Exfoliation Process
Just like regular skincare for your face or body, skincare for your underarms should also be done in proper steps:
Cleanse – use a gentle but effective cleanser to remove any sweat and product buildup from your underarms. Remember that you constantly lather deodorant and antiperspirants every day, so there is bound to be residue. 
Apply your exfoliator – Choose an exfoliator that will not be too harsh for your skin and use it as directed. This can be a chemical or physical exfoliator. 
Use a Toner (optional) – After exfoliating, you can use a gentle toner to help soothe your skin. 
Moisturize – Use a generous amount of a hydrating moisturizer to keep your underarms from becoming too dry. Very dry armpits are prone to irritation, cracks, and chaffing. 
Aloe Vera for Underarms: Benefits & How to Use Effectively
Helpful Tips To Remember When Exfoliating Your Underarms
If you are new to exfoliating your underarms or have very sensitive skin, stick to low-strength chemical exfoliants. Harsher chemical exfoliants or physical scrubs might be too irritating for your skin. 
If you are using a chemical exfoliant, do not leave it on for longer than recommended. 
If you are using a physical exfoliator, use gentle motions to prevent abrasions in the skin. 
If you feel uncomfortable or unsure about using the acids, you can use a gentle exfoliating toner with the active ingredient in it. This is sometimes safer and easier to manage, especially for sensitive skin. 
Do not exfoliate more than twice per week.
Exfoliate before you shave and wait a few days after shaving to exfoliate again. 
Try to use underarms products that are non-toxic, that do not clog pores, and that do not contain harsh chemicals. 
Sunflower Oil For Underarms: Benefits & How To Use
Recommended Underarm Exfoliators
For Beginners and Sensitive Skin
Pixi Glow Tonic To-Go Exfoliating Toner Pads (5%)
These pads are presoaked with Glycolic Acid (5%) to exfoliate, Ginseng to improve circulation & energize, Aloe Vera to soothe and hydrate, and Fructose & Sucrose to brighten. 
Click here to check out the Pixi Glow Tonic To-Go Exfoliating Toner Pads on Amazon.
For Experienced Users
Physical Exfoliator: Pacifica Beauty, Coconut & Charcoal Underarm Scrub
This is made with apricot seed powder to manually exfoliate, as well as charcoal to detox and coconut oil and green tea to protect and hydrate the skin. 
Click here to see the price for the Pacifica Beauty Underarm Detox Scrub on Amazon. 
Chemical Exfoliator: Paula's Choice 8% AHA Gel Exfoliant (Leave-On)
This is a non-abrasive, leave-on, gentle exfoliant with Glycolic Acid, Chamomile, and Green Tea. It is said to help minimize the look of discolorations and age spots, and consistent use can increase skin firmness. 
Click here to check out the Paula's Choice AHA Gel Exfoliant on Amazon. 
Sources:
How To Exfoliate Your Underarms (A Dermatologist's Guide)
5 Easy Ways To Look After Your Underarms This Spring | British Vogue
Top 5 Tips for Softening Underarm Skin | HowStuffWorks
The Right Way To Exfoliate Underarms For Smoother And More Even-Toned Armpits