Turmeric for Dark Underarms – Benefits & Easy DIY Scrubs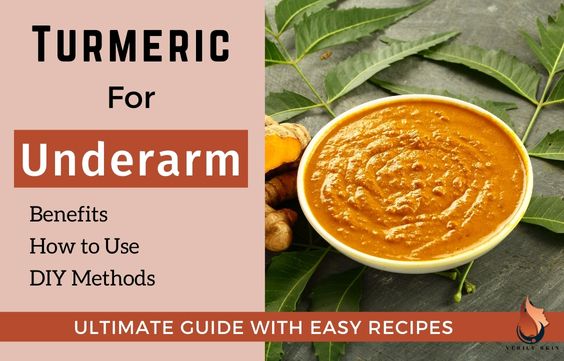 Can you use turmeric for underarms? Yes. You absolutely can. 
Turmeric has been a gold standard of skin care for generations. People have been applying it to their skin and consuming it in drinks or foods for hundreds of years.
One of the most common skin conditions that turmeric treats is hyperpigmentation (darkened skin). It has become especially popular for the underarm area.
So in this article, we will cover:
What is turmeric
Benefits of Using Turmeric on Your Underarms
DIY Ways to Use Turmeric for Your Underarms (Various recipes)
Best Turmeric Products for Armpits
What Is Turmeric
Turmeric is a spice derived from the root of the Curcuma longa plant, a longstanding member of the ginger family.
Curcumin is the main active component, which gives the spice its yellow hue.
Curcumin is also what is responsible for the skin and health benefits. It has very strong antibacterial, antioxidant and anti-inflammatory properties. 
In both Indian and Chinese medicine turmeric was traditionally used to treat a wide array of skin conditions.
DIY & Medical Ways to Quickly Whiten Underarms Permanently
Benefits of Turmeric For Underarms
1-Lightens Hyperpigmentation (Dark Armpits)
Yep. That is correct, folks. Turmeric can lighten dark underarms! Turmeric inhibits the formation of melanin, the pigment that causes dark patches and other types of hyperpigmentation.
A turmeric-based lotion or a turmeric mask can help unsightly spots go away naturally over time, giving skin a more even tone!
Related Articles:
Baking Soda & Lemon for Underarms: How to DIY & Benefits
DIY Apple Cider Vinegar for Cleaner & Lighter Armpits
How long will Turmeric Take to Lighten Dark Armpits
If you consistently use turmeric it will take around 3-7 days until you see your underarms start to lighten.
For a quicker method to lighten your underarms check out:
Laser Whitening for Underarms: Cost, Risks, How Fast is it
Hydroquinone For Dark Underarms – How to Use & Side Effects
How often can you use Turmeric to Lighten your Underarms
This will depend on what you mix the turmeric with, if you mix turmeric with honey or milk you can use it daily.
But if you use turmeric with stronger agents like lemon juice you can apply this 2-3 times a week.
How to Use Potatoes For Underarm Whitening
2- Helps to Heal Underarms
Turmeric has strong anti-inflammatory, antibacterial and antioxidant properties which will help to heal damaged skin on your underarms.
Giving it a more supple, smooth and glowing look
3-Helps With Underarm Acne
If you are one of those people that trouble with breakouts or acne in your armpit area, turmeric can help!
This happens in multiple ways.
Turmeric keeps skin cells from sticking together and blocking pores. It's also microbial and some forms of acne are caused by microbes.
And finally, turmeric's anti-inflammatory effects aid faster healing by soothing irritated tissues.
Related Article – 5 Best Deodorants to Lighten Dark Underarms- Prevent & Treat
4- Keeps Your Underarms Looking Younger
Turmeric works to reduce sagging, fine lines, and wrinkles from forming. This is because it helps to increase the production of collagen and the creation of healthier-looking skin tissue.
5-Manages Oily Underarms
Turmeric is good for oily skin because it helps regulate the production of sebum, an oily substance produced by the sebaceous glands.
Dry Armpits: How to Correctly Moisturize & What to Use
6-Could Help Psoriasis and Eczema
Turmeric may reduce the action of PhK, a protein related to psoriasis. Its anti-inflammatory and antibacterial qualities help to target the cause of disorders such as psoriasis and eczema, even in the armpits.
Salicylic Acid For Dark Underarms: What You Need to Know
Ways To Use Turmeric For Underarms (Best DIYs)
Turmeric can be mixed with just about anything to make a paste or mask that you can apply to your skin.
However, remember that your underarm is super sensitive. So, make sure to use ingredients that will not further irritate your skin. 
Also, remember that like all skin treatments, turmeric will also take time to produce visible results. It is a powerhouse ingredient, but it is not magic.
The key is to stay consistent.
Also, always patch-test your skin before applying any of these DIY recipes to prevent irritation or allergic reactions.
Now that we're done with the reminders, here are some really great recipes:
Turmeric Scrub For Underarms
Turmeric, Sugar, and Coconut Oil
Ingredients:            
1 cup white sugar (white sugar is less aggressive than brown sugar or salt)
¼ cup sweet almond oil or coconut oil
2 tablespoons ground turmeric powder
10-12 drops of essential oil (I used lavender and lemon)
Optional: add ½  teaspoon rosehip oil or Vitamin E oil or a teaspoon of castor oil
Optional: a teaspoon of citric acid
Directions:
If you are using coconut oil that is solidified, melt it first.
Combine all ingredients in a medium mixing bowl and stir well.
Once evenly mixed, transfer to an airtight container, such as a mason jar.
To Use: Apply to wet skin and massage on skin in a circular motion. Rinse with warm water and pat dry with a towel.
If your underarm skin is very sensitive skin, almond meal can be used in place of the brown sugar in the scrub. It is even gentler. 
Be mindful that this will need to be refrigerated and will have a short shelf life.
Coconut Oil For Underarms: Benefits, Cons & DIY Remedies
Turmeric Methods to Treat Underarm Hyperpigmentation
Turmeric & Honey Mask
Ingredients:
1 tbsp turmeric
1 tbsp unpasteurized honey
Directions:
Combine ingredients in a small bowl
Apply to the skin; wait 10–20 minutes
Rinse off with warm water
Turmeric & Lemon Scrub
Ingredients:
1 tbsp turmeric
Juice of one-half lemon
1 tbsp aloe vera gel
Directions:
Combine all ingredients; adjust the ratios as necessary
Apply to the skin; wait 10–20 minutes
Rinse off with warm water
Do not leave lemon juice on your skin for longer than one-half hour as it is acidic and can disrupt your skin's natural pH levels.
Turmeric & Baking Soda Scrub
Ingredients:
1 tablespoon baking soda
1 tablespoon gram flour
½ tablespoon turmeric
Water
Directions:
Mix all the ingredients together with enough water to make a paste
Apply the paste to the underarms and let it sit for 20 minutes
Wash it off with lukewarm water and pad dry with a clean towel.
Video: How To Lighten Dark Underarms Using a Turmeric Mask
Turmeric Method For Underarm Acne 
Turmeric Acne Mask
Ingredients:
Organic apple cider vinegar
1/2 teaspoon ground turmeric
1 tablespoon of organic, raw honey (preferably Manuka honey)
Milk
Directions:
Apply apple cider vinegar to a cotton ball and swipe all over the skin. 
Wait about 5 minutes before you apply the mask. 
Mix the turmeric powder with the honey. Use your clean hands (in a glove if you prefer) to apply the mask.
Let the mask sit for 15–20 minutes, then rinse with warm water. 
If the turmeric powder leaves a yellowish tint on the skin, use a milk-soaked cotton ball to go over stained areas. 
Repeat the mask twice a week.
Aloe Vera for Underarms: Benefits & How to Use Effectively
Turmeric Recipe for Underarm Psoriasis
Studies have shown that both topical and oral curcumin can improve symptoms of plaque psoriasis in 9–12 weeks.
Nighttime Turmeric Paste for Psoriasis
Mix one part turmeric powder with two parts water.
Simmer in a saucepan until the mixture thickens into a paste.
Once cooled, apply the paste to the affected area.
Wrap a piece of gauze or breathable cloth around the treated area.
Leave it on overnight.
In the morning, remove the gauze and rinse your skin with warm water.
Turmeric Tea
Add 1 teaspoon of ground turmeric to 4 cups of water and bring to a boil.
Simmer for 10 minutes and serve (add honey and/or lemon to taste).
Niacinamide for Dark Underarms: How to Use for Best Results
Turmeric Recipe For Sun Damage & Signs of Aging
Turmeric Night Serum 
Mix 4 tablespoons aloe vera gel with 10 drops of turmeric essential oil and 1 teaspoon of argan oil.
Apply to face before bedtime.
Wash in the morning.
Be sure to do an allergy patch test before you leave turmeric essential oil on your skin overnight.
Retinol For Dark Underarms: How to Use, Benefits & Effects
Turmeric Recipe for Small Wounds (Razor cuts or burns)
Healing Turmeric Paste
Combine 2 teaspoons turmeric powder with water or coconut oil until it becomes a thick paste.
Apply to cleansed wound and cover for up to 24 hours.
Best Turmeric Products To Add To Your Underarm Skincare Routine
If you are looking for a way to get the benefits of turmeric daily, here are some great products you can add to your underarm routine:
1-Aspen Kay Naturals Turmeric Soap
Aspen soap is made with concentrated turmeric making it very effective to lighten your underarms.
It should work for all skin types and is gentle enough for sensitive skin. Aspen turmeric soap is multipurpose since it can be used for adults, teens, and babies and you can use it on both your face or body,
It is also great as shaving soap since it helps to heal injured skin and might even help prevent hyperpigmentation caused by shaving.
Click here to check out the Aspen Kay Turmeric Soap on Amazon.
2-Medix Vitamin C & Turmeric Lotion
This lotion is a great combination of anti-aging ingredients with natural antioxidants. It contains:
Vitamin C has a lot of benefits for your skin. Vitamin C for Underarms.
Natural Ferulic Acid is an antioxidant that helps heal damaged skin.
Turmeric helps to lighten skin tone
It also contains other great natural ingredients such as shea butter, aloe vera, and natural extracts such as apple, sunflower, and rosemary, which promote healthier skin. It is vegan, toxin-free, and cruelty-free.
Click here to check out the Medix 5.5 Vitamin C + Turmeric Lotion on Amazon
Related Articles
Sources:
7 Turmeric Benefits For Skin | The Bar | Neutrogena®
The Benefits of Turmeric for Skin
10 Proven Health Benefits of Turmeric and Curcumin
Turmeric for Acne: Benefits, Uses, and More
Turmeric for Hyperpigmentation: How It Works, Face Mask Recipes & More