Vitamin C For Dark Underarms – How to use, Benefits & Risks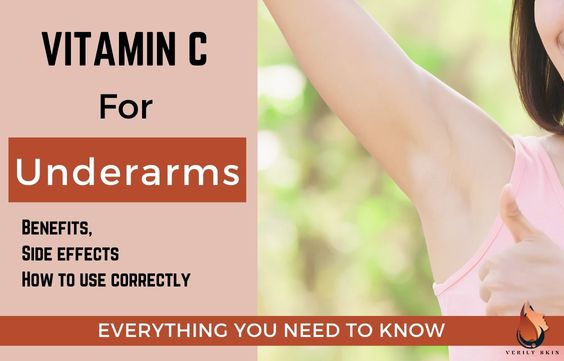 Topical Vitamin C has been called a powerhouse ingredient when it comes to skincare. But can we also use Vitamin C for underarms?
Yes, topical vitamin C can be used on your underarms. If it can help our face and bodies, it can definitely help us in the pits. 
So, let's discuss what Vitamin C does for the skin and how we can introduce those benefits to our underarms for some TLC!
What is Vitamin C
Ascorbic acid (another name for vitamin C) is a water-soluble vitamin that is essential in the repair of tissue, the formation of collagen, and the production of certain neurotransmitters in the body.
Due to its antioxidant, anti-aging, and skin-lightening qualities, topical vitamin C has been clinically demonstrated to have a wide range of therapeutic uses for skin care.
Related Article – DIY & Medical Ways to Quickly Whiten Underarms Permanently
How Vitamin C Helps Underarms
Vitamin C, when applied to your underarms correctly, can lighten, brighten, heal, protect, even out and firm the texture of the skin.
Many people and experts most commonly use Vitamin C to reduce hyperpigmentation (darkening) of the underarms. 
Some of them also use it to improve the texture and firmness of the skin of the underarms. 
Others use it to generally make their underarms brighter and healthier. 
Related Article: Baking Soda & Lemon for Underarms: How to DIY & Benefits
Now for some great deodorants that can actually help to lighten dark armpits check out:
5 Best Deodorants to Lighten Dark Underarms- Prevent & Treat
Dove Even Tone Deodorant Review- Does It Work & Is It Safe
How to Use Vitamin C For Underarms
Even though Vitamin C is generally well tolerated, there is a correct way to use it.
Always do a Patch Test First
Since your underarm is very sensitive, choose a small area of skin and do a patch test first. 
Apply a small amount of the Vitamin C product and wait 24 hours. If no negative reaction occurs, you may use it on the whole area. 
However, if you develop a rash, irritation, or any other side effects, discontinue the product immediately. 
Did you know that you can use Vitamin C Soaps to help lighten your armpits, click here to learn more.
Related Article – Retinol For Dark Underarms: How to Use, Benefits & Effects
How to Apply Vitamin C to Armpits
You may start applying it once daily
And eventually increase your frequency to twice daily as your skin gets used to the ingredient. 
Follow good skincare before applying vitamin C. 
A good rule of thumb, even for your underarms, is to cleanse, tone, apply vitamin C serum, and then moisturize.
Salicylic Acid For Dark Underarms: What You Need to Know
Tips when Using Vitamin C
Do not skip your deodorants and antiperspirants.
But avoid products with niacinamide which may make pure vitamin C less effective
Since your underarm is usually covered and already protected from the sun, you may skip SPF. However, I still recommend that you use some.
Maybe you can use a moisturizer that already has SPF in it. 
Turmeric for Dark Underarms – Benefits & Easy DIY Scrubs
Potential Side Effects of Using Vitamin C on Armpits
Side effects from vitamin C products are very rare. 
The most common one is irritation as some skin types can be super sensitive. 
However, there are different concentrations and variations of Vitamin C that can be used to avoid this side effect. 
Very rarely do you find that you have to stop using vitamin C altogether.
Related Articles –
Toothpaste For Dark Underarms – Ultimate DIY Guide
Hydroquinone For Dark Underarms – How to Use & Side Effects
Pros Of Using Vitamin C on Underarms
Vitamin C has many benefits for the skin when used regularly in skincare:
1-It is safe for most skin types
The majority of people may utilize topical vitamin C for a long time without suffering any side effects.
Rarely, individuals with hypersensitive skin may suffer little irritability. It can also be used with Alpha hydroxy acids, retinol, and SPF.
Glycolic Acid for Underarms – How to Use, Benefits & Risks
2-It is hydrating
According to researchers, some forms of vitamin C derivatives used in skin care have been demonstrated to have moisturizing effects on the skin.
They improve the moisture retention of your skin by reducing the amount of water that evaporates through the skin.
Dry Armpits: How to Correctly Moisturize & What to Use
3-It is brightening
The formation of melanin, the pigment responsible for skin color, is inhibited by vitamin C treatment.
Dark patches and the overall dullness that hinder you from having a dewy shine can be diminished with the use of this.
DIY Apple Cider Vinegar for Cleaner & Lighter Armpits
4-It reduces redness
Vitamin C's anti-inflammatory qualities can also aid in reducing redness, which can lead to a more uniform complexion.
A clean, smooth skin tone results from the simultaneous elimination of dark spots, redness, and inflammation.
How Often to Exfoliate or Scrub Underarms for Best Results
5-It reduces hyperpigmentation
Tyrosinase (enzyme in pigment production) activity is suppressed by vitamin C, which prevents the production of melanin (pigment).
And too much melanin can cause dark spots so by suppressing melanin production you can help to minimize any dark spots.
Vitamin C is frequently used in dermatology to lighten hyperpigmented skin patches.
Chemical Peels for Dark Underarms – All You Need to Know
6-It promotes collagen production
Collagen synthesis is a process that vitamin C is well recognized for enhancing. Vitamin C is essential for collagen production. And Collagen is essential for smooth skin.
Laser Whitening for Underarms: Cost, Risks, How Fast is it
7-It may help prevent sagging
Elasticity and firmness of the skin are related to collagen synthesis. Your skin may begin to droop as your collagen levels start to decline.
Applying a vitamin C serum may increase the synthesis of collagen, producing a tightening effect all over.
Sunflower Oil For Underarms: Benefits & How To Use
8-It may help wound healing
Wound healing is associated with collagen formation, and vitamin C boosts collagen production.
Niacinamide for Dark Underarms: How to Use for Best Results
Video Showing Effect of Vitamin C In Your Skincare Routine
What To Look For When Buying Vitamin C
Serums and other skincare items may contain Vitamin C in certain concentrations and formulations. 
Vitamin C's potency and skin-related effects might vary depending on its formulation.
Consider purchasing vitamin C products from your dermatologist's office or a reputable retailer. 
Check to confirm that it has:
a clinical formulation that contains an active form of vitamin C (for example, L-ascorbic acid)
a strength of 10 percent to 20 percent
a pH lower than 3.5
This combination has been studied in most clinical trials and is considered the safest.
The manufacturer's websites and ingredient pages usually have this information available.
Aloe Vera for Underarms: Benefits & How to Use Effectively
Best Vitamin C Products For Underarms
1-CeraVe Vitamin C Serum with Hyaluronic Acid
Developed by dermatologists, this serum visibly brightens & helps to restore the protective skin barrier. 
It contains 10% L-Ascorbic acid (the purest form of vitamin C) which helps to even skin tone & continuously brighten while helping to defend against free radicals & provide antioxidant benefits.
Click here to see the price of CeraVe Vitamin C Serum with Hyaluronic Acid on Amazon.
2-Pixi Beauty Vitamin-C Serum
This brightening, antioxidant serum provides a boost of immediate & long-term radiance.
Vitamin C & ferulic acid are proven to reduce the effects of sun damage & free radicals, helping to improve skin tone and create a smoother complexion.
Vitamin C brightens the skin whilst ferulic acid provides an antioxidant boost and probiotics protect & balance.
Click here to check out the Pixi Beauty Vitamin-C Serum on Amazon.
3-Paula's Choice C15 Super Booster
This contains 15% Vitamin C with Vitamin E & Ferulic Acid which diminishes visible signs of aging for smoother, brighter & firmer-feeling skin.
It also contains a blend of peptides and has a balanced pH of 3.0. Use this booster alone or add a couple of drops to a moisturizer twice daily as part of your morning & evening skincare.
Click here to see the price for the Paula's Choice C15 Super Booster on Amazon. 
Sources:
11 Vitamin C Serum Benefits, How to Use, and More
Vitamin C for Skin: Uses, Benefits, Risks
 Why is topical vitamin C important for skin health? 
Derms Say Vitamin C Is the Ultimate Brightening, Anti-Aging Antioxidant—Here's Why