Best Salt Crystal Deodorants: Risks, Benefits & How to Use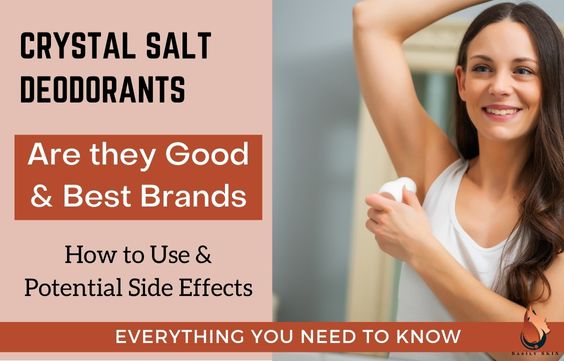 Salt Crystal Deodorants have become quite popular in the natural deodorant community as more and more people are moving away from traditional deodorants.
However, many people are still debating whether they can be truly effective and what the best ones are to use. 
Are Salt Crystal Deodorants Safe & Effective To Use
Salt Deodorants are very safe and can be effective at reducing odor. But exactly how good they are will depend on how much you sweat and how your body reacts. 
The majority of crystal deodorants are composed of potassium alum, commonly referred to as potassium aluminum sulfate, which is a natural mineral salt. 
Did you know that you can also use salt in the form of soap to help reduce odor – check out these articles to learn more:
Best Salt Soap – Benefits, How to Use & Side Effects
Himalayan Salt Soap – Benefits, Side Effects & Best Ones
Also, check out my articles on:
Using Salt as Deodorant for Smelly Armpits- Is it Effective
Best Magnesium Deodorants & Sprays- Benefits & Effects
Will Salt Deodorants prevent or increase armpit sweat?
The Potassium alum in salt deodorants will work to detox your pore and clean them out, leaving them free to push out sweat and other toxins from the skin.
This means that as your skin adapts to the new deodorant, you might end up sweating some more. Potassium alum does not stop sweating, however, after a few weeks, your body should go back to normal (with no excess sweating). 
If you suffer from excessive sweating consider using:
Carpe Deodorant & Clinical Strenght Antiperspirant, click here to learn more.
Carpe Hand & Foot Antiperspirant Lotions, click here to learn more.
Sweatblock Wipes- Are They Safe, Benefits, & Side Effects
Will Salt Deodorants Reduce Odor?
Salt deodorants are effective at dealing with armpit odor. They work by killing and keeping bacteria at bay which is the cause of body and underarm odor.
And as long as you use it whilst at the same time practicing good underarm hygiene, armpit odor should not be a problem. 
Some other DIY ways to reduce armpit odor are:
Cornstarch For Smelly & Sweaty Armpits- Benefits & Risks
Using Rose Water to Lighten Dark Armpits & For Body Odor
Witch Hazel for Underarms: Benefits, How to Use & Effects
Benefits of Using Salt (Crystal) Deodorants
The major benefit of using salt deodorants is that they:
Detox your underarms.
Reduce odor
Unclog your pores and
Allow your body to sweat and flush out trapped toxins. 
Most brands are also free of parabens, stearates, triclosan, propylene glycol, triethanolamine (TEA), diethanolamine (DEA), artificial colors
All of these can be harmful to some skin types. But you need to read the label before purchasing.
Related Article – DIY Baking Soda & Lemon for Underarms: Benefits & Risks
Best Salt Crystal Deodorants To Use
Of all the salt crystal deodorants we have investigated and reviewed, the following are the best ones we could find. 
1- Crystal Deodorant Stick
Crystal Deodorant Stick comes in both scented and unscented options. If you have super sensitive skin, the unscented option might be best for you. It is easy to use and has been proven to last all day for many of the people that have given it a try.
A few people have reported a few side effects like irritation, but their skin seems to have eventually adjusted to the change in formula.  
Click here to check out the Crystal Deodorant Stick on Amazon. 
Video – Crystal Mineral Deodorant Stone Review
2- Vital Green Crystal Deodorant
This is another well-reviewed and tested salt crystal deodorant. However, it does not seem to work as well for people who have excessive sweating and odor problems.
Keep in mind that it is a "natural" deodorant. But, with constant use, many people have noticed a significant reduction in odor. Others who have mild to moderate sweating and odor claim that it works very well for them. 
Click here to see the Vital Green Crystal Deodorant on Amazon. 
3- Nakd. Thai Crystal Deodorant Stone and Spray
This deodorant is unscented but is also sold with scented deodorant sprays. So while the crystal control bacteria and detoxes the underarms, the sprays provide a fresh scent. You can use both or one.
Many users claim that they work wonderfully for them, but a few people had an initial irritation when they first started using it as they switched from traditional deodorants. If you have very sensitive skin, I advise that you gradually make the switch. 
Click here to check out the Nakd. Thai Crystal Deodorant Stone on Amazon. 
Click here to see the Nakd. Thai Crystal Deodorant Spray on Amazon. 
For other great natural deodorant options, check these articles out:
Charcoal Deodorants- Are They Good, Benefits & Side Effects
Lume Deodorant Review- Is It Really Safe & Side Effects 
Vanicream Deodorant Review – Is It Effective & Safe To Use
Frequently Asked Questions
How Long will Salt Crystal Deodorants last?
Since you will be applying your salt crystal deodorant like regular deodorant, they generally will last all day unless you generally sweat excessively or indulge in strenuous activities that cause you to sweat more. 
If you usually need to reapply, you should do so. However, in the first few weeks, if you notice that you are sweating more than usual, you may need to reapply your salt crystal deodorant for the best results. 
Related Articles –
5 Best Deodorants to Lighten Dark Underarms- Prevent & Treat
Using Benzoyl Peroxide For Underarm & Body Odor: A Guide
How do you use Salt Deodorants?
Salt crystal deodorants are very easy to use. You simply cleanse your underarms, wet the stone, and use it to gently massage the skin.
It will become slick so ensure that you spread the moisture all over your skin. Allow the area to dry and you're good to go!
Related Articles –
Unscented Deodorants: Benefits & How They Work Vs Scented
Why Armpits Smell Even With Deodorant & Bathing: How to fix
Do Salt Crystal Deodorants contain aluminum?
Some brands of crystal deodorants frequently make the claim that they are devoid of aluminum zirconium, aluminum chlorohydrate, and aluminum chlorohydroxide, but they do contain potassium aluminum sulfate. 
However, Potassium alum (potassium aluminum sulfate), which is a much bigger molecule, is thought to not be absorbed by human skin, according to manufacturers.
But, it is a form of aluminum that researchers are slowly discovering can be absorbed into the skin when activated with water (as most crystal deodorant stones need to be). 
Related Articles –
Best Essential Oils for Armpits & How to Use Correctly
Cream Deodorants Vs Solid – Differences & Which Is Better
Do salt crystal deodorants have side effects?
Like all skin treatments, these deodorants have potential side effects as well. The most common ones are irritation, dryness, and temporary increased sweating. 
Click here to read more about the side effects of salt crystal deodorants.
How do you store salt crystal deodorants?
I recommend storing your salt crystal deodorants upside down in a dry area. 
Many of these deodorants need the stone to be wet before applying, which activates it. However, when storing it, you do not want it to remain wet or have water accumulating in the container.
So, the best thing to do is to dry off the stone and store it upside down so that any excess water drains out of it. Keep it in a cool, dry place. 
Related Article – How to Exfoliate Armpits – 6 Best DIY Easy Natural Scrubs
Related Articles:
Mitchum Deodorants: How Good Are They & Are They Safe
Dove Even Tone Deodorant Review- Does It Work & Is It Safe
How to Get Rid of Underarm Odor & Sweating Permanently
10 Quick & Easy DIY Natural Remedies For Smelly Armpits
Sources
Aluminum in Crystal Deodorants | Bubble & Bee Organic 
Crystal deodorants – are they safe? – Hello Natural Living 
Is Crystal Deodorant Safer Than Antiperspirant, and How Does It Work?