Best Antiperspirants For Your Face – Read Before Trying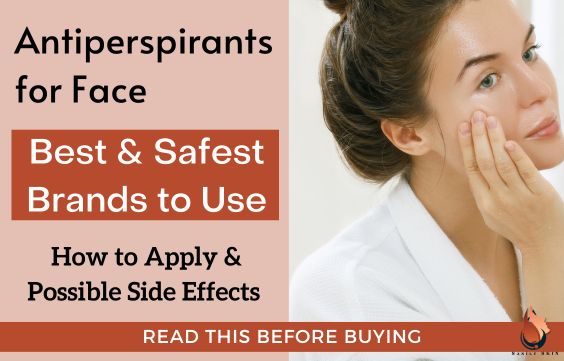 Yep. There are antiperspirants for your face, and they work surprisingly well! Hyperhidrosis is one of the things that can cause excess facial sweating. Or, sometimes, if we are more active than usual, we can produce more sweat on our scalp and face.
Now, if you sweat a lot, then face sweat will be one of your biggest problems, especially if you are a makeup girlie. And yes, make-up (most of them) can be sweat-proof, but some do not hold up that well, and it can get sticky and uncomfortable. 
Fortunately, there are products that can help! Unfortunately, though, not all products are created equal and not all of them will be healthy for your skin. So which facial antiperspirants are the most skin-friendly ones? 
How Antiperspirants For Your Face Work
Just like regular antiperspirants, the ones for your face will prevent sweating in areas of your face where you need sweat protection. 
Facial Antiperspirants can be natural (sweat-absorbing and aluminum-free) or traditional (sweat-blocking and with aluminum). The formula you choose will depend on what is best for your skin and your personal preference. 
The sweat-blocking facial antiperspirants will use aluminum to create temporary plugs in your pores to block sweat from escaping through your skin.
On the other hand, the sweat-absorbing ones will contain naturally derived ingredients that absorb excess sweat and moisture  (arrowroot powder, cornstarch, tapioca starch, etc.) to keep the skin as dry as possible. 
Related Article – Best & Safest Deodorants For Your Bum (Men & Women)
How To Use Antiperspirants For Your Face
You first need to choose the one that's right for your skin, and then follow the instructions that come with the product. 
However, in general:
Sweat-blocking antiperspirants for your face are applied at night, on clean, completely dry skin, just before bed. It is allowed to dry and absorb into the skin overnight and then the skin is washed in the morning, followed by regular skincare, sunscreen, and makeup. 
Natural, sweat-absorbing antiperspirants for your face can be applied to skin that is clean and dry usually after your shower and before you are ready to go out. Some of them can be used under makeup but they will absorb excess moisture from the makeup so keep your desired finish in mind. 
Pay attention to where you need to apply them. Focus on areas of your face where you sweat a lot (temples, nose, forehead). If you have acne-prone or sensitive skin, avoid areas where you usually get breakouts or sensitive areas. 
As always, I recommend that you patch-test your facial antiperspirant on a small area of your face for a few days before applying it all over. This is to make sure that your skin will not react badly to the product and to anticipate any possible allergic reactions. 
Can you use antiperspirants on your face before makeup?
In short, yes you can use antiperspirant under your makeup. However, this will largely depend on the kind of antiperspirant you are using and its formula. 
Traditional antiperspirants (sweat-blocking) work well under make-up as they absorb into the skin and are washed off in the morning before you apply your skincare and makeup. 
However, natural antiperspirants will sit on top of the skin so you need to figure out if the formula will work well with your other skincare and makeup.
I recommend applying your skincare first and letting it absorb into your skin as much as possible.
Then use the natural facial antiperspirant as a primer under your makeup.
It will help to mattify your face and will keep moisture and oil under control under your makeup. 
Best Antiperspirants For Your Face
1- Sweatblock Face Antiperspirant Wipes
The active ingredient (the one that will block sweat) is Aluminum Chlorohydrate(15%). However, it also contains Witch Hazel, Water, Polysorbate 20, PEG-180, and Vitamin E all of which help to soothe the skin and reduce possible irritation.
These wipes were designed to be gentle enough to be used on facial skin and long-lasting under makeup too!
You can Click here to see the Sweatblock Face Antiperspirant Wipes on Amazon. 
You can also check out my article on Sweatblock Wipes- Are They Safe, Benefits, & Side Effects
2- Neat 3B Face Saver Gel
The Face Saver sweat-blocking gel contains Aluminium Zirconium Tetrachlorohydrex Glycine (15%), which is the active ingredient that stops sweat in its tracks.
This one has gone absolutely viral on social media with almost thousands of reviews on Amazon and even more on TikTok. From my research, most individuals who tried it are saying that it works amazingly well under skincare and makeup.
The brand itself says that it was designed to still work well and not mess up your skincare and/or makeup when applied underneath. All this while being super effective!
It also contains Aqua, Propylene Glycol, Cyclotetrasiloxane, Cyclopentasiloxane, PEG/PPG-18/18 Dimethicone Cyclopentasiloxane, Cyclotetrasiloxane, and Parfum (fragrance).
You can Click here to view the Neat 3B Face Saver Gel on Amazon. 
You can also learn more by reading my full review on The Neat 3B Face Saver Gel – What To Expect
3- Carpe Sweat Absorbing Face Lotion
This Carpe face lotion is vegan, cruelty-free, and paraben-free. Instead of aluminum chloride, it contains aluminum starch octenylsuccinate which is the aluminum salt of the reaction product of octenylsuccinic anhydride with starch.
So, it will not plug your pores, but will rather sit on the skin and absorb moisture and oil. This formula also contains a host of other skincare ingredients like Jojoba oil, aloe extract, niacinamide, glycerin, Vitamin E, and others that help to nourish the skin and prevent irritation.
It can be used under makeup and skincare on clean, dry skin by applying a thin layer on the sweaty areas of the face. 
You can Click here to view the Carpe Sweat Absorbing Face Lotion on Amazon. 
4- Totton Sweat Absorbing Face Lotion
This face lotion does not contain aluminum, but its sweat protection ability comes from zinc phenol sulfonate. It does not contain many skincare ingredients but it does contain glycerin to condition the skin.
It is very effective and well tolerated by many skin types. 
Click here to check out the Totton Sweat Absorbing Face Lotion on Amazon. 
Side Effects Of Using Facial Antiperspirants
Like all topical products used on your face, the main side effects to expect are irritation and allergic reactions. 
Remember that the skin of your face is much thinner and more sensitive than other areas of your body. Many people also tend to get more acne on their face than anywhere else which makes them much more easily irritated and prone to breakouts and acne flare-ups. 
Always patch-test your products, especially products that will be absorbed into your skin, before applying them on large areas of your face. 
If you notice that your skin becomes red, itchy, has bumps, is swelling, burning or stinging, then wash the area immediately and give your skin a break. If you try the product again and this still happens, then it may be irritating your skin.
Some people can play around with their routine so that their skin builds tolerance, but this should be done under the guidance of a skincare expert if you are not familiar with the technique, and other skincare-related tidbits. 
On the other hand, if you use the product a few times without any side effects, but then you experience these side effects all of a sudden with your next application, you may be having an allergic reaction to one or more of the ingredients. Again, wash the area clean and seek medical advice. You should not continue to use the product. 
Also, be sure to avoid using pore-blocking formula on areas where you are prone to developing acne and breakouts. These formulas can make them worse by blocking your pores. 
Tips On How To Choose The Right Antiperspirant For Your Face
To figure out what kind of facial antiperspirant is best for you, consider:
The kind of skin that you have (Is it extra-sensitive? Oily? Dry? Acne-prone? etc.)
How much do you sweat  (so you know just how much sweat protection you need)
Are you allergic to any particular ingredient (aluminum, zinc, starch, talc, etc.)
Whether you prefer traditional antiperspirants or natural formulas (aluminium-free)
How patch testing worked (when you narrow down your choices, patch test the formulas first to see how they will work. Try it on small areas of skin first, then try it under skincare and makeup to see how well it will hold up)
Related Articles:
Certain Dri Review- How to Use, Risks & What to Expect 
Odaban Spray: Is it Effective, Safe & What to Expect
Driclor: Is it Safe, Side Effects & Better Alternatives
Perspirex: How to Use, Effectiveness, Risks & Side Effects
Sweatblock Wipes- Are They Safe, Benefits, & Side Effects
Duradry – Are They Effective, How to Use & Side Effects
Anhydrol Forte Review- How Effective Is It & Side Effects
Sources