Carpe Hand & Foot Lotion Review -Is it Effective & Safe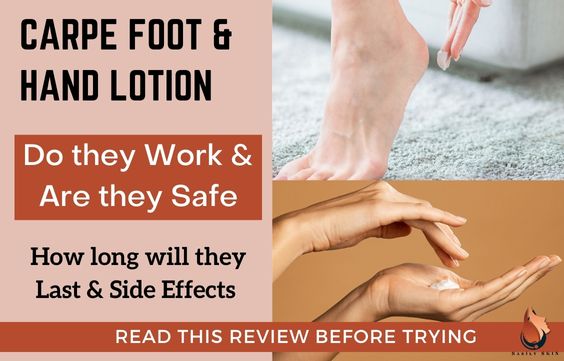 Not only is Carpe known for their ridiculously effective antiperspirant for underarms, but they seem to have also figured out the solution to sweaty hands and feet.
Many people have jumped on the wagon and tried their hand & foot lotions. We are here to see what the verdict is.
Do Carpe Hand & Foot Antiperspirant Lotions Work 
Carpe Hand & Foot lotions are very effective for people who struggle with sweaty hands and feet. 
Carpe lotions are also very safe and can be used daily once your skin has shown no adverse reactions towards it.
Many of the people that have tried the Carpe lotions suffer from something called Hyperhidrosis, which is sweating more than is necessary for our bodies to regulate our temperature. This most commonly occurs under our arms, in our hands, on our feet, and sometimes on our scalp and face. Some people sweat excessively all over their bodies. 
The Carpe Hand & Foot Lotions were designed to help with palmar (hand/palm) and plantar (foot) hyperhidrosis. 
If you suffer from very sweaty armpits, You can use Carpe Deodorant and Antiperspirant, click here to learn more.
Another great option is Sweatblock Wipes, you can click here to learn more.
Video: Carpe Antiperspirant Lotion Review
How long do the Carpe lotions take to work?
While some people have seen immediate results, others have had to use it for a few weeks to see a marked reduction in their sweat production. 
However, keep in mind that the effectiveness of antiperspirants, in general, will depend on how severe your sweating is and your consistency when using the product.
Related Article:
 Best Salt Soap – Benefits, How to Use & Side Effects
How Does Carpe Lotions Stop Sweating
Carpe uses an Aluminum salt called Aluminum Sesquichlorohydrate to prevent the body's sweat glands from excreting sweat. 
The 15% Aluminum Sesquichlorohydrate in this formula forms a gentle, temporary plug in the ducts of our sweat glands so that our skin can remain dry throughout the day. 
Are you struggling with being extra sweaty consider using: Sweatblock Wipes- Are They Safe, Benefits, & Side Effects
Related Article – Why Armpits Smell Even With Deodorant & Bathing: How to fix
How To Use The Carpe Hand & Foot Lotions
The Carpe Hand & Foot lotions are pretty simple to use. Here is what you need to do:
Wash your hands and feet to make sure they are clean.
Dry them well. 
Apply a pea-sized drop of the hand lotion to your hands and rub your palms together for 15 seconds. Let them dry. 
Apply a dime-sized amount of the foot lotion to your feet and rub it in all over for 15 seconds. Let your feet dry. 
Live your life carpe diem and sweat-free for the rest of the day. 
Video: How to Use Carpe
How often should you apply the Carpe lotions?
For maximum effect, it is recommended that you use the lotions on your hands and feet in the morning after you shower or before you start your day, in the afternoon, and again at night before bed.
If you have very sweaty hands and feet, the more you use the lotions, the less you will sweat over time. 
Where To Buy Carpe Lotions
The Carpe Lotions can be easily purchased from Amazon or other online stores, from Carpe themselves, or in-store at pharmacies or other retailers near you. 
Hand Lotion:
You can Click here to see the Carpe Antiperspirant Hand Lotion on Amazon. 
Foot Lotion:
For Carpe's Foot Lotion, You can Click here to check it on Amazon. 
Face Lotion:
Click here for the Carpe Sweat Absorbing Face Lotion on Amazon. 
Frequently Asked Questions
Is there a difference between the hand and foot lotion?
The ingredients in the hand and foot lotion are the same, but the formulation and consistency seem a bit different. 
Foot lotions tend to be thicker and creamier than land lotions. This is because the skin on our feet is thicker and rougher than the skin on our hands. Foot lotions take longer to penetrate and absorb into the skin and are able to stay on and in the skin longer. 
Hand lotions are usually thinner and absorb into the thinner skin of our hands much faster. 
What do the Carpe lotions smell like?
While the Carpe lotions do not contain specially added fragrances, they do contain eucalyptus oil which gives the lotion a gentle, fresh eucalyptus smell. 
So, other than preventing sweat, they can also gently deodorize your hands and feet. 
Can Carpe Hand & Foot lotions be used on the face?
I do not recommend that you use the Carpe Hand & Foot Lotions on your face. 
These lotions were designed especially for your hands and feet. They might be too heavy for your face, especially if you have sensitive or acne-prone skin. 
However, Carpe has a special design lotion that you can use worry-free on your face. Don't worry, I have you covered! It's linked below.
Can you use the Carpe hand & Foot Lotions on your armpits?
I do not recommend using the Carpe Hand & Foot lotions on your armpits. 
Carpe has an antiperspirant that was specially designed for sweaty armpits. It has great reviews and by all accounts, It works ridiculously well! 
To read more about Carpe Antiperspirants for underarms, click here: 
Or you can Click here to check out the Carpe Underarm Antiperspirant & Deodorant on Amazon. 
How Safe Are The Carpe Hand & Foot Lotions
The Carpe Hand & Foot Lotions are considered to be safe to use daily. But remember that talc and aluminum are present in these formulations. 
However, although there have been concerns over talc's connection to cancer, these formulations are safe enough because they are creams and not powders that can be inhaled.
To read more about using talc, click here: Baby Powder for Armpit Odor & Sweat – Benefits & Risks
On the other hand, the amount of aluminum in this formula is sufficient to reduce perspiration but not to the point where it is absorbed into our systems at levels high enough to result in cancer or other systemic issues.
Are the Carpe Hand & Foot Lotions safe when pregnant and breastfeeding?
Unfortunately, Carpe products have not been officially tested for use during pregnancy and breastfeeding. 
I recommend consulting your doctor before using these products if you are pregnant or breastfeeding. Because of the lack of data, many pregnant women try to stay away from traditional antiperspirants during their pregnancies and breastfeeding days. 
However, your doctor will be better able to look at the ingredients in these products and determine whether they are safe for you during this time. 
Are the Carpe Hand & Foot Lotions safe for children and teens?
I reached out to Carpe and they confirmed that their products are safe for use in children 8 years and older. 
However, in general, antiperspirants have been studied and proven to be safe for adults. But, not many studies have been conducted regarding their use in children and teenagers. 
So, if you have very sweaty children and teens, have their doctors take a look at the Carpe products and clear them for use first. 
Potential Side Effects Of The Carpe Hand & Foot Lotions
Generally, the Carpe Hand & Foot Lotions are well tolerated and unlikely to cause side effects in most people. 
However, irritation is still always a possibility, especially when using antiperspirants. 
I recommend that you always do a patch test before using new products like these. Put a small amount on a small area of skin around your hands and/or feet (where you will be using it) and see how your skin will react over 24-72 hours. If no reaction occurs, you're good to go!
If you do experience irritation (redness, bumps, itching, burning, pain, swelling), stop using the product, wash it gently but well off of your skin, and seek medical attention to treat your skin. You may also need to consider using another kind of product. 
What are the other ingredients in the Carpe Hand & Foot Lotions?
Apart from 15% Aluminum Sesquichlorohydrate, the Carpe Hand & Foot lotions also contain:
Water
Isopropyl Alcohol
Silica
Silica Silylate
Talc
Polysorbate-20
Dimethicone
C12-15 Alkyl Benzoate
Phenoxyethanol
Isopropyl Myristate
Eucalyptus Oil
Glycerin
Hydroxypropyl Methylcellulose Ethylhexylglycerin
Citric Acid
Sodium Hydroxide
Sources
1- Carpe Lotion for Palmar Hyperhidrosis: Review, Side Effects, and Cost
2- Carpe Antiperspirant for Sweaty Hands, Face, and Feet Review — duuude | Only the Good Stuff 
3- Carpe Reviews | Is it your antiperspirant solution? [2023] 
4- Carpe Review – Plugged In Golf