Manscaped Ball Deodorant -Is It Effective & Is It Safe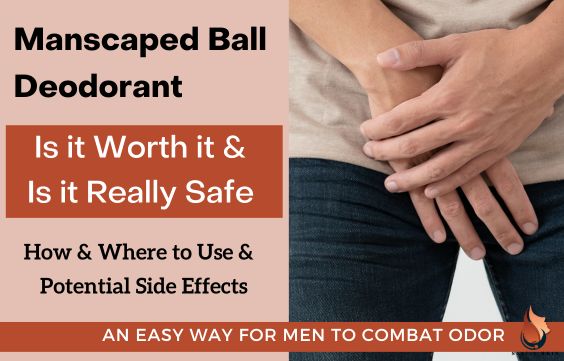 You would be surprised at how many deodorants there are for balls and how easy they are to use! One of the popular ones is the Manscaped Ball Deodorant. However, many of you guys (and ladies) have a few questions. 
Is it really effective? Is it safe to use? Does it cause irritation or side effects? What do other people who have used it say? And here's the best one yet: Will the ladies like how it smells and/or tastes? 
So, we had our guys try it out and their ladies gave their reviews as well! 
Let's see what we found out. 
What Is The Manscaped Ball Deodorant
The Manscaped Ball Deodorant is actually called The Crop Preserver. It is a clear, quick-drying lotion that is designed to be used on men's private parts.
The Manscaped lotion absorbs sweat, prevents chafing, and deodorizes and moisturizes your balls, creases, base, and skin around the penis (not the penis itself) and buttcrack. 
To learn more about men's deodorants for their private parts You can also check out my article on The Best Ball Deodorant & Sprays: Are they Safe & How to Use.
Video Showing Manscaped
How Effective is it with Odor & Sweat
From our research and testing it out we concluded that Manscaped Ball Deodorant is great for mild to moderate sweaters and for deodorizing odor. 
According to the company, the Manscaped crop preserver was designed for athletes, gamers, professionals, or just regular everyday-routine kind of guys. 
When our guys put it to the test, it held up pretty well over a regular 12-hour day. This included workout sessions, shopping, coming into the office, walking home, and a few nights out on the town. 
Of course, it needed to be reapplied every time they showered, but once it dried down, our guys loved how it felt and it kept them dry. 
Now, none of our guys have hyperhidrosis or excessive sweating. However, given that this is made of organic ingredients and does not contain aluminum, it is safe to say, based on our experience with a wide range of deodorants, that this will not be as effective for people who sweat a lot. 
It does not stop sweating, but rather, it absorbs moisture. There is only so much moisture one application of tapioca starch can absorb. 
But, what it does do well, is deodorize! The manscaped ball deodorant has a citrusy, fresh scent with hints of something woodsy to give it that masculine touch. It smells great. The guys like it and the ladies think it smells clean and sexy. 
So, if you're planning to get some action after that date or just on a regular night with the missus, I think using the crop preserver will definitely score you some points!
Another great deodorant you can use for your Private Parts is Lume, click here to learn more.
How Is The Manscaped Ball Deodorant Used
The Manscaped Crop preserver is used after each shower onto dry skin. 
Simply shower as usual and make sure you dry off completely. Let your skin air dry for a bit if you need to. 
Then take a small amount of the crop preserver lotion, rub it together on your hands,
Then apply it to the base of the skin around your penis, your balls, the space between your balls and butt,
And lastly, you can swipe upwards between your buttcheeks towards your tailbone. 
Let the lotion dry down completely before getting dressed. This should only take a few minutes. 
Do not apply this lotion directly onto your penis, or too closely around or in your anal opening. It is designed for external use only. 
You can also check out my article on The Best & Safest Deodorants For Your Bum (Men & Women)
Is It Safe to Use
The Manscaped Crop Preserver Ball Deodorant is safe to use since it does not contain any ingredients that are known to be toxic. 
Even though aluminum is not actually toxic when used in deodorants, it is sometimes a cause for concern for many people. However, this deodorant is natural and does not contain aluminum or any other sweat gland-blocking ingredients. 
The other ingredients are non-toxic and usually well tolerated by most people. The only other ingredient that may cause some irritation is fragrance, but this will vary for every person. 
Ingredients
The main ingredients in the Manscaped Crop preserver are:
Tapioca starch, which absorbs sweat to keep you dry and prevent chafing
Caprylic Capric Triglycerides – which are refined from coconut oil and create a light, moisturizing, silky oil that is rich in antioxidants but isn't greasy. This ingredient helps soothe the skin. 
Aloe Vera Leaf Juice – which helps to soothe and hydrate the skin
Fragrance – Since this is a deodorant, it does contain added fragrance. 
The other ingredients include:
Water
Polymethylsilsesquioxane, Stearyl Alcohol
Disodium EDTA, Potassium Hydroxide
Glyceryl Stearate, Phenoxyethanol
Ethylhexylglycerin, Peg-100 Stearate
Benzoic Acid, Glycereth-2 Cocoate
Stearic Acid, Carbomer
The formula is said to also be Dye Free, Cruelty-Free, Vegan, Paraben Free
Does The Manscaped Ball Deodorant Have Side Effects
There aren't many reports of side effects from the use of the Manscaped Crop Preserver Ball Deodorant. However, like all other topical products, irritation and allergic reactions are always possibilities. 
Some people can be allergic to different ingredients like fragrance or even starch. It is impossible to tell who can be allergic to what if they have never used it before. 
So, I recommend that you always do a patch test before using this or any other product all over your body, especially your very valuable man parts. 
If you notice signs and symptoms like rashes, itching, bumps, swelling, a burning sensation, pain or discomfort, stop using the deodorant, wash your skin off, and seek medical attention. 
Frequently Asked Questions (FAQs)
Can It Also Be Used On Armpits
The Manscaped Crop Preserver Ball Deodorant can also be used on your armpits. 
However, keep in mind that this is a natural deodorant, so if you sweat more under your arms, it might not be the best choice. 
It is made of safe ingredients for sensitive skin so it can be used anywhere on the body externally (other than the face and directly on the genitals). 
Does the manscaped ball deodorant smell good?
The Manscaped Crop Preserver Ball Dedorant has light hints of citrus and jasmine,  and a more anchoring hint of something woodsy to give it that masculine touch. 
Many guys describe it as light but good and many ladies describe it as fresh and sexy. It is not too strong but strong enough to keep odor at bay. 
Related Article: Lume Deodorant for Private Parts- Is it Safe & Best Scents
Does the manscaped ball deodorant have a taste?
While The Manscaped Crop Preserver Ball Deodorant is non-toxic, it does have a taste and it is not recommended that you ingest it. 
So, I know what you're thinking: "Gonna have to skip the balls during heads, huh?". 
While I know many of these fun events are not planned, it is best that your lady either wipes you off first, you take a shower, or you just skip the balls. 
Manscaped smells great but it doesn't taste great and since it was not designed to be edible, I do not recommend having her eat it. And chances are, she won't want to lick that up again. 
Do ladies like how the manscaped ball deodorant smells?
Our ladies here at Sasily Skin love how the Manscaped Crop Preserver smells. 
Other ladies we have let take a whiff of the bottle think it smells great too. 
Various other reviews also indicate that many ladies like that it's light but sexy and not over-powering. 
Is the manscaped ball deodorant a good value?
The manscaped crop preserver ball deodorant is a bit on the pricey side, but it is quality. 
Now, how long a bottle will last will depend on how often you use it, and how much of it you use. 
Where To Buy The Manscaped Ball Deodorant
You can Click here to check out the Manscaped Crop Preserver Ball Deodorant on Amazon. 
Sources
The Best Ball Deodorants to Use in 2023, According to Dermatologists 
Manscaped Collection Review – Your Average Guy 
Manscaped Review (2023): Your Crotch Deserves a Spa Day 
What is ball deodorant & how to use it 
Men's Ball Deodorant with Anti-Chafing | Crop Preserver® | MANSCAPED US