Best Magnesium Deodorants & Sprays- Benefits & Side Effects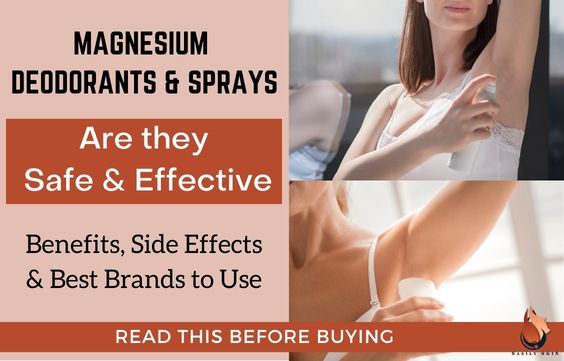 Magnesium is one of the best supplements to help your hair, skin, and nails. However, it also helps us to control body odor.
So, as expected, the skincare industry has found a way to incorporate magnesium into deodorants & sprays that claim to do great things for underarm odor!
Are Magnesium Deodorants & Sprays Safe
Magnesium deodorants & sprays are generally considered safe to be applied on the skin. 
It is non-toxic and since magnesium ions are rather large, they are really only absorbed through the skin at the level of the sweat glands and hair follicles. They do not permeate the skin much deeper. When it comes to our underarms, this is exactly where we need them!
However, some people may experience irritation, especially if they have sensitive skin. 
Magnesium is usually found in natural deodorants which are used as alternatives to aluminum-containing (traditional deodorants) or those containing baking soda. 
Other great deodorant options:
Best Salt Crystal Deodorants: Risks & How Good They Are
Charcoal Deodorants- Are They Good, Benefits & Side Effects
Lume Deodorant Review- Is It Really Safe & Side Effects 
Dove Even Tone Deodorant Review- Does It Work & Is It Safe
Are Magnesium Deodorants & Sprays Good for Underarm Odor?
Yes, magnesium will help to lessen underarm odor by preventing the growth of odor-causing bacteria.
Your skin has a pH of about 5.5, which makes a great environment for bacteria to grow. However, magnesium has a pH of about 9-12, making it very alkaline and not very sustainable for bacteria.
By applying magnesium to your skin, the alkaline environment it creates eventually kills odor-causing bacteria and prevents them from growing. 
Related Articles:
Why Armpits Smell Even With Deodorant & Bathing: How to fix
Using Salt as Deodorant for Smelly Armpits- Is it Effective
Will magnesium deodorants & Sprays stop or reduce sweating?
Magnesium will help to control sweat by keeping you dry for longer. 
Magnesium is also not very water-soluble, so it takes much longer to dissolve in your sweat. As it absorbs moisture, you will be dry for longer until the magnesium dissolves. 
If you suffer from excessive sweating consider using:
Carpe Deodorant & Clinical Strenght Antiperspirant, click here to learn more.
Carpe Hand & Foot Antiperspirant Lotions, click here to learn more.
Related Articles:
Cornstarch For Smelly & Sweaty Armpits- Benefits & Risks
Using Benzoyl Peroxide For Underarm & Body Odor: A Guide
Benefits Of Using Magnesium Deodorants & Sprays
Magnesium in deodorants & sprays is great for you because it:
Is non-toxic
Does not clog your pores
Is less irritating than baking soda or some traditional deodorants
Reduces odor effectively
Reduces sweat by absorbing sweat for longer
Related Articles:
5 Best Deodorants to Lighten Dark Underarms- Prevent & Treat
10 Quick & Easy DIY Natural Remedies For Smelly Armpits
How to Get Rid of Underarm Odor & Sweating Permanently
Side Effects Of Using Magnesium Deodorants & Sprays
Reactions to magnesium in deodorants & sprays are uncommon, but still a possibility. 
They may include:
Rash
Hives
Itching
Redness
Blisters
If you experience any of these symptoms, stop using the product and gently wash it off of your skin. Consult your skincare professional for advice.
Related Articles:
Best Essential Oils for Armpits & How to Use Correctly
DIY Baking Soda & Lemon for Underarms: Benefits & Risks
Best Recommended Magnesium Deodorants & Sprays
1- Schmidt's Sensitive Skin Stick
Schmidt's is a natural magnesium deodorant that is very affordable and that will leave your pits smelling great. The usual suspects like Aluminum, propylene glycol, parabens, phthalates, potentially irritating baking soda, and artificial scent are all absent from it.
However, its recipe does contain a variety of additional moisturizing components, such as vitamin E, shea butter, coconut, and jojoba oils.
It also has odor-neutralizing magnesium, and arrowroot powder to absorb extra sweat. Additionally, the deodorant is vegan, cruelty-free, and Ecocert certified.
Click here to check out Schmidt's Sensitive Skin Stick on Amazon. 
2- MAGSOL Organics Natural Deodorant
This composition is perfect for people with sensitive pits since it has only four ingredients: sweet almond oil, beeswax, magnesium oxide, and essential oils.
Food-grade magnesium, the active component, acts to lessen moisture accumulation and efficiently eliminate odor. Most reviewers say that it lasts them 2-3 months per bottle and it keeps their body odor at bay all day! 
You can click here to get the MAGSOL Organics Natural Deodorant on Amazon. 
3- Life-Flo Magnesium Oil Spray
This Life-Flo Spray is made of pure magnesium oil and is all-natural. It has helped many individuals to keep odor at bay all day. It's especially good for people with mild to moderate sweating and body odor.
It's made of Magnesium Chloride Brine and is also used for muscle massages and relaxation. Some people have had some irritation when using the oil on freshly shaved skin or damaged skin, so avoid doing this and always do a patch test!
Click here to see the price for the Life-Flo Pure Magnesium Oil on Amazon. 
4- Seven Mineral Pure Magnesium Oil Spray
Seven Mineal also has another really good magnesium spray that has great feedback in relation to being used as a deodorant.
It is made of USP-grade liquid Magnesium Chloride and comes in a large 12 oz bottle that is expected to last a few months. Some people have experienced some irritation with it, especially on freshly shaved or very sensitive skin, but the majority have had no issues. Remember to always do a patch test!
Click here to check out the Seven Mineral Pure Magnesium Oil Spray on Amazon. 
Other Frequently Asked Questions (FAQs)
Do magnesium deodorants clog pores?
Magnesium deodorants do not clog your pores. 
The magnesium creates a film over your skin rather than being absorbed too deeply past your sweat glands and hair follicles. So it is easy to wash off and remove and will not remain in your pores. 
Related Article – Witch Hazel for Underarms: Benefits, How to Use & Effects
Are magnesium deodorants & sprays safe during pregnancy & breastfeeding?
Since magnesium is minimally absorbed through the skin, it is considered to be generally safe during pregnancy and when breastfeeding. 
However, I recommend that you consult your doctor before using magnesium products if you are pregnant, breastfeeding, or planning to become pregnant. The dos and don't may vary for each person depending on their health specifics. 
Related Articles –
Using Rose Water to Lighten Dark Armpits & For Body Odor
Best Salt Soap – Benefits, How to Use & Side Effects
Magnesium vs Baking Soda: Which is Better?
While magnesium and baking soda work similarly, magnesium is better for your skin. 
The main reason for this is that magnesium is much less irritating than baking soda. Even though it is even more alkaline, many have claimed that it doe snot irritate their skin as much as baking soda does. 
Magnesium vs Aluminum in deodorant: which is better?
Magnesium is a more natural and less toxic ingredient than aluminum, but it is less effective. 
Aluminum in deodorants works better and longer for people who sweat excessively and have very bad body odor. 
However, while magnesium will not be as effective or as long-lasting as aluminum, it is, in the long run, better for your skin and health. After a while, your skin will get used to the more natural ingredient, after it detoxes itself, and sweating and odor will eventually lessen significantly.
But, if you prefer or need a stronger ingredient to help with sweat and odor, traditional deodorants with aluminum might be your best bet. 
Is zinc or magnesium better for deodorant?
While zinc is pretty effective, magnesium works better with your body chemistry to prevent odor and keep you dry. 
Zinc has its own set of pros and cons. Some people prefer this over magnesium and others do not. Some people even mix the two!
Sources
Myth or Reality—Transdermal Magnesium? – PMC 
Transdermal Magnesium Explained: Sprays, Lotions, Creams, and Gels – BetterYou 
Magnesium Hydroxide Deodorant – Guide (2023) 
6 Benefits of Magnesium in Deodorant – honestlyphresh 
Magnesium Hydroxide In Deodorant. Everything You Need to Know.