Carpe Deodorant Review- Does it Work, Benefits & Effects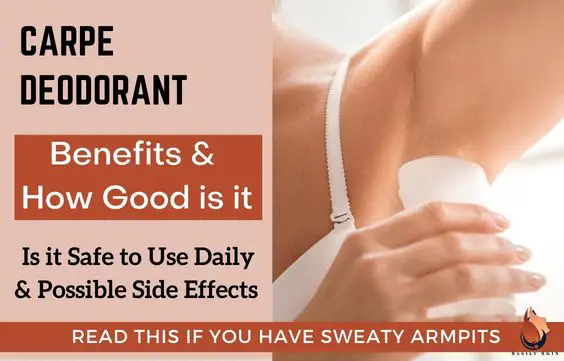 If you are a person that sweats a lot and is always researching deodorants to help, then you have probably heard about Carpe Deodorant.
It comes in a regular strength and clinical strength that was designed to tackle Hyperhidrosis (excess sweating).
But there are several other deodorants that claim to do the same thing, so what is so special about Carpe? How well does it actually work? Let see.
How Effective Is Carpe Deodorant 
Carpe Deodorant is one of the most effective deodorants currently available for people who sweat a lot. And it can be safely used every day.
I do not sweat excessively, but I have tried this, and man, let me tell you, I forgot I even had sweat glands. Other friends and reviewers who sweat more, and even those with hyperhidrosis (clinically diagnosed excessive sweating) have all agreed that this deodorant is very effective. 
If you have sweaty feet and hands consider using Carpe Hand & Foot Lotion, click here to learn more.
Another great alternative is Sweatblock Wipes, you can click here to learn more.
How Does Carpe Deodorant Work
Carpe's main ingredient is Aluminum Sesquichlorohydrate which reacts with proteins in sweat to form a gentle plug that blocks the ducts of your sweat glands. 
The formulation also contains other sweat-absorbing and supporting ingredients that help to keep your underarms dry all day. They work to enhance the effect of the Aluminum Sesquichlorohydrate. 
Related Article – Why Armpits Smell Even With Deodorant & Bathing: How to fix
Does Carpe Deodorant really stop sweat?
Yes, Carpe Deodorant actually stops you from excreting sweat through the pores under your arms. 
The plug that the Aluminum Sesquichlorohydrate forms blocks the ducts of your sweat glands which means that the sweat cannot come out of your glands and onto your skin. 
Are you struggling with being extra sweaty consider using: Sweatblock Wipes- Are They Safe, Benefits, & Side Effects
Related Articles –
Charcoal Deodorants- Are They Good, Benefits & Side Effects
Vanicream Deodorant Review – Is It Effective & Safe To Use
How long will Carpe Deodorant last?
Carpe Deodorant is expected to last for at least 24 hours. 
If you sweat a lot and the regular deodorant is not keeping you dry all day, Carpe recommends that you try their clinical strength option. 
However, in general, people have claimed that once they put this on, they are good to go for at least 24 hours. 
Related Articles:
Using Salt as Deodorant for Smelly Armpits- Is it Effective
10 Quick & Easy DIY Natural Remedies For Smelly Armpits
How To Use Carpe Deodorant
For the best results, Carpe recommends that you use their deodorant in the following way:
At night, before bed for at least 4 weeks to see maximum results, then again in the morning. Use twice daily.
On clean, dry skin
In a thin layer. Rotate the knob until a thin later of the deodorant is visible and rub it onto the skin. Let it dry. 
Related Articles –
Can You Make DIY Antiperspirants- Best Ways to Fight Sweat
Unscented Deodorants: Benefits & How They Work Vs Scented
Cream Deodorants Vs Solid – Differences & Which Is Better
Video:  Carpe – How to use Carpe with Dr. Bhatia & Good to Know Tips
How fast will you see results?
You should expect to see maxim results after about 4 weeks of consistent use. 
However, many people have claimed to see results in 24 hours! Personally, the difference was noticeable to me within the first three days of using this deodorant. Others also claim to see results or a noticeable difference even faster!
Related Article – Best Salt Crystal Deodorants: Risks, Benefits & How to Use
Where to Get Carpe Deodorant
You can get Carpe Deodorants from their website. But I bought mine from Amazon which usually has great deals and faster shipping.
You can click here to view and purchase the clinical-strength Carpe Antiperspirant Deodorant on Amazon.
Benefits of Carpe Deodorant
The Carpe Deodorant will:
Prevent sweating and keep your underarms dry all day
Gently block your sweat ducts but not enough to give you clogged pores or follicles that become inflamed. 
Keep you fresh. Even though it goes on sticky, it absorbs into the skin and leaves the area dry. The scents keep you smelling good all day. 
Will work for people who have hyperhidrosis (especially the clinical strength option)
Last you a long time. A little goes a long way so one container will last you a while, making it an affordable investment. 
Some other deodorants to consider:
Dove Even Tone Deodorant Review (To help lighten dark armpits)
Best Magnesium Deodorants & Sprays- Benefits & Side Effects
Potential Side Effects Of Carpe Deodorant
The most common side effect associated with the Carpe Deodorant is irritation. 
However, this is not too common a complaint. Like all skincare products, irritation, and allergic reactions are always a possibility. 
If you have super sensitive skin, or if you are using Carpe for the first time, I recommend doing a patch test first. Place a little of the deodorant on a small patch of skin close to your underarms and see how your skin will react to it for the first 24-72 hours. If no reaction occurs, you should be good to go!
Please remember that Carpe contains aluminum, so if you are sensitive or allergic to aluminum and aluminum derivatives, this may not be the right choice for you. 
Related Articles –
Using Benzoyl Peroxide For Underarm & Body Odor: A Guide
Cornstarch For Smelly & Sweaty Armpits- Benefits & Risks
Can Carpe darken underarms?
Carpe is not known to cause darkening of the underarms. 
However, if your underarms become very irritated from the deodorant and you continue to use it without treating your skin or seeking help, your skin could become damaged, which can lead to darkening. 
Recommended article – 5 Best Deodorants to Lighten Dark Underarms- Prevent & Treat
How Safe Is Carpe Deodorant 
Carpe Deodorant is considered to be safe for adults to use daily. 
Keep in mind that it does contain talc and aluminum. However, while talc has some controversies surrounding its link to cancer, this formula is safe enough since it is a cream formula and not powdered to be inhaled.
To read more about using talc on your underarms, click here: Baby Powder for Armpit Odor & Sweat – Benefits & Risks
On the other hand, the aluminum in this formula is enough to make a difference in sweat reduction, but not enough to be absorbed into our bodies at levels high enough to cause cancers or other systemic problems. 
Related Article – Mitchum Deodorants: How Good Are They & Are They Safe
Video: Carpe –  Is Aluminum Bad For You? (In Deodorants)
Is Carpe deodorant safe when pregnant and breastfeeding?
Unfortunately, Carpe products have not been officially tested for use during pregnancy and breastfeeding. 
I recommend consulting your doctor before using these products if you are pregnant or breastfeeding. Because of the lack of data, many pregnant women try to stay away from traditional antiperspirants during their pregnancies and breastfeeding days. 
However, your doctor will be better able to look at the ingredients in these products and determine whether they are safe for you during this time. 
Is Carpe deodorant safe for children and teens?
I reached out to Carpe and they confirmed that their products are safe for use in children 8 years and older. 
However, in general, antiperspirants have been studied and proven to be safe for adults. But, not many studies have been conducted regarding their use in children and teenagers. 
So, if you have very sweaty children and teens, have their doctors take a look at the Carpe products and clear them for use first. 
Related Article – Best Essential Oils for Armpits & How to Use Correctly
Carpe vs Lume: Which Deodorant Is Better
Carpe is a traditional, aluminum-containing antiperspirant while Lume is a natural deodorant that does not contain aluminum. 
When comparing the two, it is essential to keep this in mind, as they will work differently. 
In terms of preventing sweating, then Carpe will be the undefeated champion of this round. The aluminum in the Carpe deodorant will stop sweat and odor for 24 hours or longer, as it was designed to do. Lume, however, does not contain aluminum that blocks sweat ducts.

So it will not stop sweating. However, what it will do is absorb moisture to keep you dry for as long as possible. Lume focuses more on odor elimination than the prevention of sweating. So, if you sweat a lot, Carpe will be the better option. 
Click here to check out the Carpe Underarm Antiperspirant and Deodorant on Amazon.  
On the other hand, if you are not a fan of aluminum, and want to switch to natural deodorants, or if you already use natural deodorants, then Lume is, by far, one of the best natural deodorants I and many others have tried. Despite the lack of aluminum, it is pretty effective for mild to moderate sweating and odor.
To read more about Lume deodorants, click here: Lume Deodorant Review- Is It Really Safe & Side Effects
What are the Ingredients in Carpe Deodorants
Other than Aluminum Sesquichlorohydrate at 15% Hydroxide, Carpe Deodorant also contains:
Water
Isopropyl Alcohol
Silica
Silica Silylate
Talc
Polysorbate-20
Dimethicone
C12-15 Alkyl Benzoate
Phenoxyethanol
Isopropyl Myristate
Eucalyptus Oil (in the original formula)
Glycerin
Hydroxypropyl Methylcellulose Ethylhexylglycerin
Citric Acid
Sodium
Sources
Carpe Reviews | Is it your antiperspirant solution? [2023] 
REVIEW: Carpe Antiperspirant–Keep Summer Sweat To A Minimum – SHEfinds 
Carpe Underarm Antiperspirant and Deodorant, Clinical strength with all-natural eucalyptus scent, Manage hyperhidrosis and combat excessive sweating without irritation, Stay fresh and dry all day long Reviews 2023
Label: CARPE ANTIPERSPIRANT FOR UNDERARMS- aluminum sesquichlorohydrate lotion
My Carpe | Underarm Antiperspirant for Excessive Underarm Sweating
How it Works (Antiperspirants) – Carpe
Is Antiperspirant Safe or Bad for You? – Carpe
The Truth About Aluminum – Carpe      
 Medical Treatments for Children with Hyperhidrosis – Carpe  
 Helping Kids with Hyperhidrosis – Carpe