Cream Deodorants Vs Solid – Differences & Which Is Better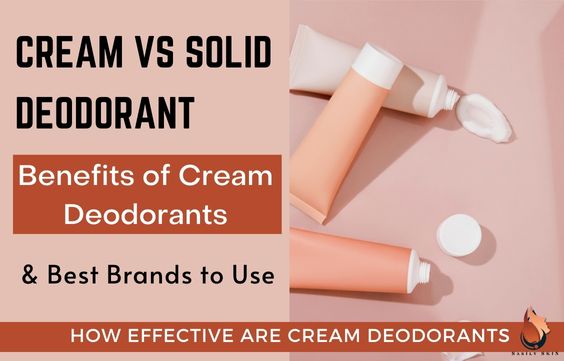 Deodorants, as we know, come in a variety of formulations – from the traditional solid sticks to creams, gels and even aerosol sprays. However, not all of them hold up the same.
So, let's talk about cream deodorants. How well do they work? How different are they from traditional deodorants? And ultimately, which one is better to use? 
What Are Cream Deodorants
As you can guess from the name, cream deodorants are deodorant products that are formulated to have the consistency of body cream or lotion. 
Based on the manufacturer, cream deodorants can have different textures and consistencies. Some may be thin, and some may be thicker. They will also contain different ingredients which can affect the end product consistency. 
Cream deodorants can contain aluminum and will stop sweating. However, many of them do not and so they will not stop sweating. But they can help to mask and control body odor and help to absorb sweat. 
Related Articles: Charcoal Deodorants- Are They Good, Benefits & Side Effects
Did you know that you can use Deodorants For Your Butt, click here to learn more.
How Well Do Cream Deodorants Work
Cream deodorants usually work very well when applied properly and with realistic expectations. 
A cream deodorant that is not also an antiperspirant will not block sweating in the same way as antiperspirant deodorant creams will. However, if you are just using it for body odor and not for controlling sweat, regular deodorant creams should work just fine.
On the other hand, antiperspirant deodorant creams, when applied correctly, usually work just as well as regular antiperspirant deodorants. 
Related Articles:
Unscented Deodorants: Benefits & How They Work Vs Scented
Best & Safest Deodorants For Your Bum (Men & Women)
Benefits of Cream Deodorants
1- Moisturizes the skin better – since cream deodorants are absorbed into the skin (rather than just dry on top of the skin), they provide more moisture for the skin. Many formulas can incorporate more moisturizing ingredients thanks to their thinner consistency when compared to stick or gel deodorants. 
2- Will not leave white or sticky residue on your skin – again, thanks to their formula, cream deodorants are well absorbed and will not leave a sticky or white residue that can transfer onto your clothes or make you uncomfortable. 
3- A little goes a long way – you only need a small amount of cream deodorant to do the trick and many times, you will not even need to reapply. 
4- They are more gentle on the skin – many people find that using cream deodorants is better for sensitive skin, especially since they are more hydrating. Many brands choose to make versions that exclude ingredients like aluminum or alcohol, which can irritate the skin. Others may still have these ingredients but also have other soothing ones as well. 
5- One container will last a while – since you would not need to reapply your cream deodorant throughout the day, one container will last you a while. Cream deodorants also usually come in larger quantities than the regular stick deodorants. 
6- They are considered environmentally friendly – since the cream goes directly onto your skin, other than the container (which, depending on the brand, can be recycled) there is no waste. On the other hand, other kinds of deodorants, like aerosol sprays, release harmful fumes into the atmosphere. 
7- They can be applied anywhere – while traditional stick deodorants are usually specifically for the armpits, cream deodorants can really be applied anywhere on the body.
Are you struggling with being extra sweaty consider using: Sweatblock Wipes- Are They Safe, Benefits, & Side Effects 
Related Articles:
Best Salt Crystal Deodorants: Risks, Benefits & How to Use
Vanicream Deodorant Review – Is It Effective & Safe To Use
Drawbacks Of Cream Deodorants
1- Cost – Some deodorant creams are more expensive than traditional stick deodorants 
2- Application – While they work well and are effective, some people may struggle to get the hang of how much they need to apply. If you apply too little, it will not work as well. 
3- They may not work for you if you have hyperhidrosis and bromhidrosis – These conditions (excessive sweating and excessive body odor, respectively) are medical conditions that cause you to sweat way more than normal and as a result, produce more body odor. Cream deodorants will most likely not work as well for people who suffer from these conditions as they may not be as strong enough.
Related Articles –
Mitchum Deodorants: How Good Are They & Are They Safe
Sweatblock Wipes- Are They Safe, Benefits, & Side Effects
Cream Deodorants Vs Solid Deodorants
Which one will last longer?
Cream deodorants and solid deodorants do the same thing. However, how long they will each last will depend on:
How well they are made
Your needs (based on how much body odor you produce and your daily activity level)
How you use it (how much you use it and often you reapply)
Both have the potential to last as long as 8 hours without the need to reapply. 
Related Article – 5 Best Deodorants to Lighten Dark Underarms- Prevent & Treat
Which one is better for the skin?
Generally, cream deodorants are considered to be better than solid deodorants for the skin. 
Since they have a thinner and more hydrating texture, and they usually include more hydrating ingredients. This is always better for the skin. 
They also tend to contain more natural ingredients. 
Related Article – 10 Quick & Easy DIY Natural Remedies For Smelly Armpits
Best Recommend Cream Deodorants
1 –  Kiehl's Superbly Efficient Antiperspirant & Deodorant Cream
By mixing an antiperspirant with a deodorant, Kiehl's creates one of the best cream deodorant products on the market. It has been specifically designed to absorb moisture without leaving behind any residue. It is also fragrance- and paraben-free. 
Click here to view and purchase Kiehl's Superbly Efficient Antiperspirant & Deodorant Cream
2- SVR Spirial Anti-perspirant Deodorant Cream
SVR Deodorant cream is excellent for reducing sweat and unpleasant smells in places including the face, hands, feet, folds, and armpits. This product controls sweat production and eliminates smells by combining Aluminum Chlorohydrate with Diatomaceous Earth.
It is created with probiotics, which aid in lowering the number of bacteria that result in offensive smells. Additionally, it has glycerin and allantoin, which moisturize the skin, shield it from environmental aggressors, and assist to calm inflammation.
The effect of this product lasts up to 48 hours after application and does not leave any white or yellow markings on clothing. It has an ultra-soft cream feel.
You can Click here to check out the SVR Spirial Anti-perspirant Deodorant Cream on Amazon. 
3- Lume Whole Body Deodorant Cream
If you're looking for a more natural deodorant option, then Lume is a great choice. This cream was designed to be used anywhere on the body, even on your private parts!
The cream deodorant tube allows you to easily control the amount you dispense and fingertip application is necessary (like a lotion or moisturizer). 
You can Click here to check out the Lume Whole Body Deodorant Cream on Amazon. 
Or you can Click here to read more about the Lume deodorant products.
Also, check out my article on Lume Deodorant for Private Parts- Is it Safe & Best Scents
Video: Lume – Apply it where you need it
Related Articles:
Best Ball Deodorant & Sprays -Safe for Men's Private Parts
Rexona Roll-On Deodorant Review: Benefits & Side Effects
Sources
Different Types of Deodorants: Cream vs. Stick 
What is Deodorant Cream? (with pictures) 
The Ultimate Guide to Deodorant Cream: Everything You Need to Know 
What Is A Deodorant Cream? Quick Guide To Use It | HerZindagi