Mitchum Deodorants: How Good Are They & Are They Safe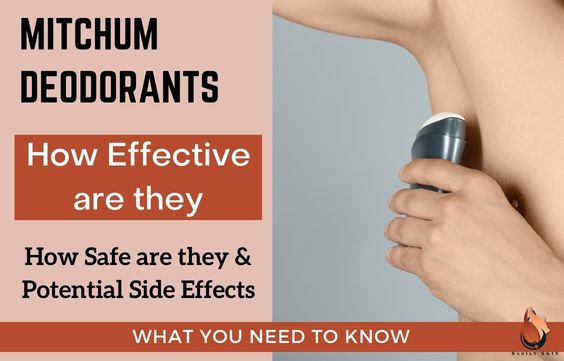 Mitchum Deodorants are manufactured and distributed by the famous brand Revlon. Their website states that they have been tackling sweaty problems since the 1950s.
Mitchum Deodorants are available in various formulas for both men and women. They make natural deodorants as well as aluminum-based antiperspirant deodorants. 
And in this article, we are going to take a look at how well they work and their safety.
How Effective Are Mitchum Deodorants For Odor & Sweating
Both the natural deodorants and aluminum-based antiperspirant deodorants created by Mitchum do a good job for both odor protection and sweating respectively. 
Of course, their efficacy would depend on how much sweat and odor you produce. However, they also have clinical strength options that are designed to help people who sweat and produce odor more than the average person. 
Related Article: Why Armpits Smell Even With Deodorant & Bathing: How to fix
My Review of Mitchum Deodorants
Have I used better deodorants and antiperspirants? Yes. But for their affordable price range, the Mitchum natural deodorants and their traditional aluminum-based antiperspirants work well enough for me (I am not an excessive sweater).
They are easy on my sensitive skin and leave little to no residue behind. They control mild to moderate odor and sweat effectively, and they smell pretty nice. 
While I have not tried their clinical strength formulas, other consumers who have (thousands of them) say that Mitchum's clinical strength formula works well on their skin and keeps the sweat and stink away. 
Related Article – 10 Quick & Easy DIY Natural Remedies For Smelly Armpits
How Long Do The Effects Of Mitchum Deodorants Last
Mitchum claims that their aluminum-based products provide up to 48 hours of protection while their natural products are expected to provide up to 24 hours of protection. 
From personal experience, I can say that Mitchum's aluminum-based deodorants do a great job at preventing sweat and odor for me for 24 hours (I just cannot go longer than that without a shower).
As I do not sweat that much on regular, moderate-activity days, I also tried their natural deodorants. These worked pretty well for me all day, too! My pits stayed dry and fresh up until I was ready to take a shower in the evening. 
Related Articles:
Unscented Deodorants: Benefits & How They Work Vs Scented
Cream Deodorants Vs Solid – Differences & Which Is Better
Are Mitchum deodorants good for excessive sweating?
For those who suffer from excessive sweating and odor, Mitchum produces a line of clinical-strength antiperspirant deodorants for both men and women. 
These clinical strength products claim to provide 48 hours of sweat and odor protection. Thousands of people who have used them say that they last at least 24 hours for them and that they work well to control sweating and prevent odor. 
Are you struggling with being extra sweaty consider using: Sweatblock Wipes- Are They Safe, Benefits, & Side Effects
Related Articles-
Charcoal Deodorants- Are They Good, Benefits & Side Effects
Cornstarch For Smelly & Sweaty Armpits- Benefits & Risks
Are Mitchum Deodorants Safe
Mitchum Deodorants and Antiperspirants are safe to be used on the skin every day. 
The regular Mitchum Antiperspirant Deodorants contain Aluminum Sesquichlorohydrate 25%. This is the main active ingredient that gives the formula its antiperspirant properties. Their clinical strength products contain Aluminum Zirconium Tetrachlorohydrex GLY 20%. 
While some people can be sensitive to aluminum, when used in these concentrations, they are safe for people who can tolerate it on their skin. The FDA has approved the use of Aluminum Sesquichlorohydrate in concentrations up to 25% and Aluminum Zirconium Tetrachlorohydrex GLY in concentrations up to 20% in antiperspirants and has confirmed that they are safe to use. 
Aluminum is absorbed through the skin at such low levels that using antiperspirants with aluminum daily is not a potential toxicity risk.
Check out the video below where a dermatologist explains how aluminum affects the body and how high exposure has to be for it to truly be harmful to our bodies. 
On the other hand, Mitchum also produces a natural power version of deodorants that is aluminum-free. Instead, they are powered by Bamboo Powder for wetness absorption without aluminum. This makes those options even safer for people who are sensitive or allergic to aluminum. 
Related Articles –
Best & Safest Deodorants For Your Bum (Men & Women)
Best Essential Oils for Armpits & How to Use Correctly
Do Mitchum deodorants & antiperspirants cause cancer?
Mitchum underarm products have not been known to cause cancer. 
There is some debate in the scientific community about whether aluminum-containing underarm products can contribute to the development of breast cancer. 
However, no studies to date have confirmed any substantial adverse effects of aluminum that could contribute to increased breast cancer risks. 
Related Articles on natural deodorants: 
Lume Deodorant Review- Is It Really Safe & Side Effects 
Carpe Deodorant Review- Does it Work, Benefits & Effects
Best Salt Crystal Deodorants: Risks, Benefits & How to Use
Best Magnesium Deodorants & Sprays- Benefits & Side Effects
Side Effects Of Using Mitchum Deodorants & Antiperspirants 
The most common side effects of using Mitchum Deodorants & Antiperspirants are irritation and allergic reactions. 
The majority of people report that these products work perfectly well on their skin (myself included, even though I have sensitive skin). However, there are a few people who have experienced some side effects. 
Some people are very sensitive to aluminum, fragrance, and even essential oils. This means that their skin can potentially become irritated by any of the Mitchum underarm products. The risk is even higher just after you have waxed or shaved your underarms. 
Look out for signs like:
Red, itchy rash
Bumps or hives
Redness 
Swelling
If you see any of these signs under your arms and they do not get better, stop using the product and seek medical attention. 
If you have a known allergy to aluminum, fragrance or any kind of essential oil (or the plants/seeds that they are made from), you should not use these products. 
Check the labels to see all the ingredients to make sure there isn't anything mentioned that you could be allergic to. Also, always patch-test your product before using it fully. 
Recommended Mitchum Deodorants & Antiperspirants
Here are a few Mitchum favorites of mine that I think work well based on personal experience from myself, and from my guy friends too!
For Women
1- Women Stick Solid Antiperspirant Deodorant
This formula comes in three different scents: Powder Fresh (the most popular), Pure Fresh, and Shower Fresh. They also provide 48Hr protection thanks to their Triple Odor Defense technology which creates a shield against odor from heat, motion, and stress.
They each go on invisible, leaving no white residue on the skin, and are all Dermatologist tested. 
You can Click here to see the Women Solid Stick Antiperspirant Deodorant on Amazon. 
2- Women's Tripe Odor Defense Gel
This formula does all the same things as the solid stick. However, the difference is that it is a gel, rather than a solid stick.
It glides onto the skin as a gel and dries down without leaving behind any sticky residues. It is also produced in three different scents: Powder Fresh (the most popular), Pure Fresh, and Shower Fresh. 
Click here to check out the Women's Tripe Odor Defense Gel on Amazon. 
3- Mitchum Natural Power Gel Cream
This natural formula provides 24Hr wetness absorption & odor protection but has 0% Aluminum. It glides on smooth and has a non-tacky silky finish that is non-greasy. And, it leaves no white residue behind.
The formula is vegan, cruelty-free, paraben-free, and 96% natural. It uses bamboo powder to absorb sweat and keep you dry, and it contains botanical oils to neutralize odor. It has been dermatologically tested. 
You can Click here to see the Mitchum Natural Power Gel Cream on Amazon. 
For Men
1- Men's Triple Odor Defense Solid Stick
This one is similar to the formula for women in terms of performance and efficiency. However, the difference is in the scents. This is infused with a crisp, clean, masculine scent. 
You can Click here to get the Men's Triple Odor Defense Solid Stick on Amazon. 
2- Men's Triple Odor Defense Gel Stick
Again, this gel formula is similar to the gel formula for women, but the scent is what makes it masculine. It also works amazingly well for the sweaty male when they do sweaty guy things. 
You can Click here to see the Men's Triple Odor Defense Gel Stick on Amazon. 
3- Men's Natural Power Gel Cream 
This natural formula is also similar to the natural formula for women. However, the difference is that botanical oils used to provide a scent will be different to provide a more masculine scent
Click here to get the Men's Natural Power Gel Cream on Amazon. 
Related Articles:
Lume Deodorant for Private Parts- Is it Safe & Best Scents
Best Ball Deodorant & Sprays -Safe for Men's Private Parts
Sources
Revlon Acquires Mitchum Concern – The New York Times 
CFR – Code of Federal Regulations Title 21 
WOMENS MITCHUM CLINICAL ANTIPERSPIRANT DEODORANT SOFT SOLID POWDER FRESH- aluminum zirconium tetrachlorohydrex gly cream 
Antiperspirants/Deodorants and Breast Cancer – NCI 
Antiperspirants and Breast Cancer Risk | American Cancer Society