Rexona Roll-On Deodorant Review: Benefits & Side Effects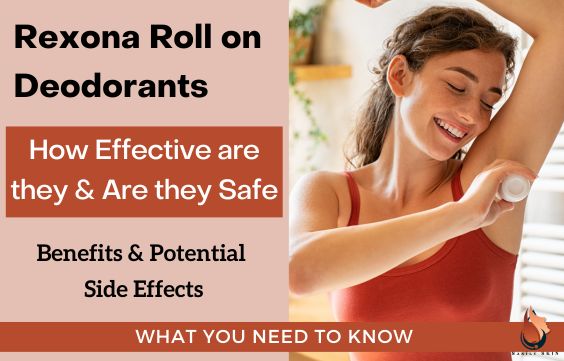 Rexona creates traditional antiperspirant deodorants for both men and women. And when I say traditional, I mean traditional. We're going to talk about the Rexona Roll-On Deodorant. 
This threw me way back to the first time I ever tried deodorant when roll-on deodorants were the fanciest thing you could use for your underarms. But apart from the nostalgia, does it work well? What are the benefits? And does it have side effects? Let's see. 
What Is The Rexona Roll-On Deodorant
Rexona is a brand of underarm care products that creates antiperspirant deodorants. This means that they block sweating and prevent odor. 
Rexona started modestly in Australia and was created by Mrs Alice Sheffer, a physician and the wife of SF Sheffer, the founder of the Sheldon Drug Company. Today, it's known worldwide as Rexona, Rexena, Shield, Degree or Sure®. 
Depending on where you are in the world, the name might vary, but the company formula and product are the same. 
Related Articles:
Sweatblock Wipes- Are They Safe, Benefits, & Side Effects
Mitchum Deodorants: How Good Are They & Are They Safe
Is The Rexona Roll-On Deodorant Safe?
Yes. The Rexona Roll On Deodorant is safe for you to use every day. 
Some people have concerns about using Aluminum every day on their skin and its potential for toxicity. However, the truth (and this is backed by scientific research) is that Aluminum is absorbed in such small amounts through our skin that it is unlikely to cause illness or cancers (as many are most worried about). 
Aluminum, once used in FDA-approved concentrations, is not toxic and will not cause long-term harm nor will it cause cancers.
The concentration of aluminum approved for use in deodorants, wipes, and other topical products is too small to cause illness. 
Check out the video below to see some great information on research studies and other findings about aluminum and its debatable link to toxicity.
For a more Gentler deodorant consider using: Lume Deodorant Review- Is It Really Safe & Side Effects 
How Effective Is The Rexona Roll-On Deodorant
The traditional Rexona Roll On Deodorant will give you sweat-blocking coverage and odor protection for 8-10 hours on a regular day. The Motionsense line will last 24-48 hours. 
Now, of course, this will vary depending on how much you sweat (some people have an underlying condition that causes excess sweating) and how much activity you do.
Their Motionsense line lasts longer (as it was designed to do). It is designed for 48-hour coverage, but I never wait that long to shower (that's just my thing). It did last up to 24 hours for me, though (and I do not sweat excessively unless I work out, which I did). 
The female scents are all quite soft. I prefer the shower clean scent, but the bamboo and powder-dry scents are also pleasant. 
A few of our guys are also familiar with this brand. It has been around since the 1900s after all. And many of us are familiar with its more popular name, Degree. 
The guys agree that before newer brands were on the scene, this was one of the first brands of deodorants they ever tried. And even now, they say it's still effective (and even more so with their new Motionsense technology). 
Related Articles:
Unscented Deodorants: Benefits & How They Work Vs Scented
Vanicream Deodorant Review – Is It Effective & Safe To Use
Benefits Of The Rexona Roll-On Deodorant
The general benefits of the Rexona Roll-On Deodorants are:
Easy to use
The ball roller dispenses the right amount of product
One bottle lasts a long time
Affordable
Have a long shelf life (2 years)
Easy to store
Effectively blocks sweating all day
Prevents and masks odor all day
Different formulations are available depending on what you need (regular, Motionsense for more active people, and antibacterial for people with excess odor)
Available for both men and women in suitable scents
They have been around for ages and are well-used, reviewed and well-liked by millions of people
Related Articles:
Carpe Deodorant Review- Does it Work, Benefits & Effects
Ingredients 
Depending on which product you are using, the ingredients may vary slightly. 
Rexona has its traditional line, its newer Antibacterial + Invisible line, its Motionsense line, and its Antibacterial + Odor Protection line. All of these will have many common but also a few different ingredients. All of them also come in different fragrances, so their fragrance ingredients will also differ. 
However, it is important to note that the active ingredient in all of these antiperspirant deodorant is Aluminum Cholorhydrate. This is what blocks your pores and sweat glands to prevent sweating. Their other ingredients include safe levels of fragrances, preservatives, Talc, and Palm Oil, along with other stabilizing and soluble ingredients. 
I encourage you to check the labels when purchasing to ensure that you are not sensitive or allergic to any of the ingredients that are listed. 
Side Effects Of The Rexona Roll-On Deodorant
There aren't specific side effects associated with using the Rexona Roll-On Deodorants, but like all skin products, there is a possibility that you could experience sensitivity reactions and allergic reactions to one or more of the ingredients. 
I recommend reading the labels to ensure that you are not known to be allergic to any of the ingredients. I also recommend doing a patch test before applying it all over your underarms. 
If you do notice signs and symptoms like itching, rashes, bumps, redness, swelling, blisters, or pain, then wash the product off and seek medical attention. 
Does Rexona darken underarms?
No, Rexona products are not known to cause underarm darkness, unless you have a bad reaction to it. 
When your skin has a reaction it can cause trauma which causes the cells to produce more melanin as it tries to heal. This is what causes the darkness. 
However, if you are using Rexona products without any reactions, then they are not expected to make your skin darker. 
Related Article: 5 Best Deodorants to Lighten Dark Underarms- Prevent & Treat
Where To Buy Rexona Roll-On Deodorants
Although sold under the brand name Rexona in the majority of nations, it is known as Rexena (Japanese: レセナ; Korean: 레세나) in Japan and South Korea, Sure in the UK, Ireland, and India, Shield in South Africa, and Degree in the US and Canada.
The Rexona Roll-On Deodorants can be found in most, if not all convenience stores, retail supermarkets and big stores. They can also be purchased online on Amazon. 
Sources
What Ingredients are in Our Antiperspirant Deodorants? | Rexona® 
Frequently Asked Questions | Rexona
Rexona Underarm Odour Protection Roll On Review – Khushi Hamesha 
Rexona Underarm Odour Protection Roll On Review 
In Review: Rexona Aerosols And Roll Ons 
Shower clean deodorant roll on by Rexona: review – Deodorant & antiperspirants- Tryandreview.com