Driclor: Is it Safe, Side Effects & Better Alternatives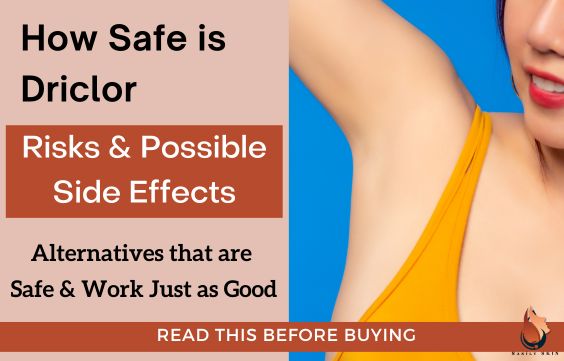 Driclor from my research and own experience is a highly effective antiperspirant.
Now while it is effective, a major concern is how safe it is to be used every day. So let's discuss exactly what those concerns are. 
If you want to learn more about How Effective Driclor is and How to Use it, then I recommend you click here to read my full review.
Is Driclor Safe To Use
Driclor contains 3 very basic ingredients (Purified Water, Ethanol, and Aluminium Chloride Hexahydrate 20%) that are all relatively safe to be used daily on your skin. 
Let's dive into this a little. 
Aluminium Chloride
The first misconception is that 20% Aluminium Chloride Hexahydrate is toxic for you. Our bodies, especially through our skin, absorb aluminum in such small amounts that it can't cause things like cancer and other illnesses just from applying it to the skin.
Additionally, 20% is an FDA-regulated and approved level for Aluminium Chloride Hexahydrate use in OTC antiperspirants. 
Alcohol
Another concern is that alcohol will cause your skin to become very dry. While this is true, this is also where skincare comes in. However, remember that you will not be applying this formula to your skin every day, except for the first couple of weeks.
After that, you will only be applying it 1-2 times a week. As long as you are caring for your skin (moisturizing), your bi-weekly application of Driclor will not cause your skin to become the Sahara Desert. 
Related Article: Dry Armpits: How to Correctly Moisturize & What to Use
Age Limit For Driclor Use
Even though Driclor is safe for skin in general, it should not be used on babies and children. 
Babies and children have much softer and more sensitive skin. Their protective membranes and skin layers are still being conditioned. This formula will be too harsh on them. 
However, you can use Driclor (with caution) from the age of puberty if necessary. Sometimes, puberty comes with intense hormonal changes that affect how much we sweat.
If you find that your adolescent or teen has issues with excessive sweating, then patch test the product for a few days on their skin to see how it works. Also combine it with a good, gentle, uncomplicated moisturizer to support good skincare and minimize irritation. 
For some milder deodorants consider:
Lume Deodorant Review- Is It Really Safe & Side Effects 
Charcoal Deodorants- Are They Good, Benefits & Side Effects
Best Salt Crystal Deodorants: Risks, Benefits & How to Use
Driclor Use During Pregnancy & Breastfeeding
Driclor, thanks to its very simple formula, is safe to use during pregnancy and breastfeeding. 
Aluminum will not be absorbed through the skin enough to cause any problems during pregnancy or with milk production and quality. 
However, you should ensure not to get it on the skin of your breast where your baby's mouth will come into contact. 
Related Article – 10 Quick & Easy DIY Natural Remedies For Smelly Armpits
Possible Side Effects
Like all skincare products, Driclor can possibly cause irritation and/or allergic reactions. However, not everyone will experience this. 
Aluminum can be irritating to the skin, especially extra sensitive skin. Some people can also be allergic to aluminum which can cause a localized reaction in the skin. 
Because of its lack of other soothing ingredients, this formula can cause irritation. To minimize this, you should always patch-test your skin first. Then remember to still practice good skincare habits like moisturizing.
Related Articles:
How to Get Rid of Underarm Odor & Sweating Permanently
Aloe Vera for Underarms: Benefits & How to Use Effectively
Can Driclor make you itchy?
If the formula irritates your skin, you can develop some itchiness from using Driclor. 
If this happens, apply an anti-itch cream. You can speak to a pharmacist or doctor for a recommendation. 
If the itching does not ease up, do not reapply the product. Instead, let your skin get rid of it. Treat your irritation and then consider patch-testing it again or switching to a different antiperspirant. 
Related Articles –
Best & Safest Deodorants For Your Bum (Men & Women)
Can You Make DIY Antiperspirants- Best Ways to Fight Sweat
Can Driclor cause dark underarms?
Driclor itself is not expected to cause dark underarms. However, your skin can get darker if it becomes irritated. 
This formula can cause irritation in some people, so if it does, your skin may get darker. 
To avoid this, always patch test first. Also, make sure that you are not allergic to any form of aluminum. And finally, remember to keep your skin well-moisturized every day. 
Related Article – 5 Best Deodorants to Lighten Dark Underarms- Prevent & Treat
Things You Shouldn't Do While Using Driclor
Don't apply Driclor to wet skin. Make sure your skin is completely dry before applying it, otherwise, it can cause burning.
Don't apply it to broken or irritated skin, or skin that has been shaved in the last 12 hours.
Don't use hair removal products on the same area of skin in the 12 hours before or after applying Driclor.
Avoid getting it in your eyes, nose, and mouth.
Avoid getting it on clothing, polished surfaces, jewellery or metal, as it may stain.
Driclor contains ethanol and is flammable. So do not store above 25°C or near naked flames.
Other Frequently Asked Questions (FAQs)
Has Driclor been discontinued?
Unfortunately, Drclor has been discontinued in some countries. However, it is still available in others. 
It has also been discontinued in most physical stores but is still available in some online stores (although many are currently sold out). 
We will continue to check with popular retailers like Amazon to see when and if they will restock. 
What are some good alternatives to Driclor?
Some great alternatives to Driclor are:
Anhydrol Forte (roll-on)
Perspirex
Sweatblock
You can check out these articles to learn more about these alternatives:
Sweatblock Wipes- Are They Safe, Benefits, & Side Effects
Perspirex: How to Use, Effectiveness, Risks & Side Effects
Odaban Spray: Is it Effective, Safe & What to Expect
Duradry – Are They Effective, How to Use & Side Effects
Perspirex vs. Driclor – which one is better?
It is my humble opinion that Perspirex is better than Driclor. Here is why:
They both contain the same amount of Aluminum (although Perspirex also has a few options with more aluminum – 25%) but Perspirex also has some skin support ingredients. 
For people with sensitive skin, or just in general, this is a safer and sometimes less irritating option. 
However, when it comes to actual sweat protection, I think they both perform very well!
You can click here to read about my full review of Perspirex.
Sources
1-Driclor Deodorant| Prescription Doctor 
2-Driclor – Summary of Product Characteristics (SmPC) – (emc)