Witch Hazel for Underarms: Benefits, How to Use & Effects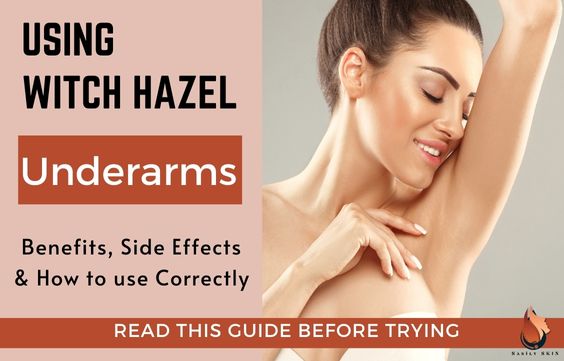 In the skincare industry, witch hazel is all the rage as a toner, but how much do we know about how it affects our skin? And Can we use witch hazel for underarms? 
Witch hazel is made by processing the leaves and bark of the witch hazel plant.
Can You Use Witch Hazel For Underarms
You should not use witch hazel on your underarms every day. Instead, use it periodically and/or short-term (wash it off).
Even though your bare eyes might not see it, traditionally distilled witch hazel irritates the skin. It contains tannins which in specific amounts can be beneficial for the skin. However, witch hazel contains a too high amount which tightens and dries out the skin too much. 
Additionally, it also contains alcohol. Even though 14-15% ethanol may not sound like a lot, even small concentrations of alcohol have been shown to dehydrate and damage the skin when used constantly. 
Therefore, using witch hazel as an underarm toner every day is not recommended because of its ability to dry out the skin and cause irritation, despite its benefits. 
For something milder consider Using Rose Water to Lighten Dark Armpits & For Body Odor
Related Article – Best Magnesium Deodorants & Sprays- Benefits & Side Effects
Benefits Of Using Witch Hazel For Underarm
If not overused, witch hazel can provide a few benefits for the skin:
Cleans the skin– Witch hazel has astringent and antimicrobial properties that help to clean the skin. The astringent properties help to get rid of oil, dirt, and dead skin cells while tightening the pores.
Soothes Irritation – Witch hazel also has anti-inflammatory properties that cause it to soothe irritation and inflammation. This is very helpful for razor burns.
Reduce itchiness and redness Witch Hazel is also great for conditions like eczema, psoriasis, insect bites, etc. which can affect the underarms as well.  
Reduces the appearance of darkness and aging – By tightening the pores and the skin, witch hazel reduces the appearance of fine lines and wrinkles. It also makes skin tone look more uniform, giving the appearance of a more even tone. 
Helps acne and breakouts – If you suffer from acne that affects your underarms as well, witch hazel will help to clean the skin, removing the build-up of oils and microbes that can cause your skin to break out. The antioxidants help the acne lesions to dry and heal. 
Related Articles –
Can Witch Hazel Treat Scars & Dark Spots -What to Know
Baby Powder for Armpits – Is it Safe, Benefits & Risks
Can witch hazel lighten armpits?
Witch hazel will not bleach your armpits but it can reduce the appearance of hyperpigmentation. 
Witch hazel cleans and tightens the skin. Over time, these effects will make the skin appear lighter and smoother.
However, since it is not recommended to use witch hazel on your armpits every day, this will be a slow process. 
Other great better ways to lighten armpits:
Niacinamide for Dark Underarms: How to Use for Best Results
DIY Apple Cider Vinegar for Cleaner & Lighter Armpits
Can witch hazel get rid of underarm odor?
Witch hazel can help to reduce underarm odor and help to maintain cleaner underarms. 
Witch hazel helps to clear the underarm skin of oil, dead skin cells, dirt, sweat and odor-causing microbes that have built up in the pores and on the surface of the skin.
Related Articles –
10 Quick & Easy DIY Natural Remedies For Smelly Armpits
Best Essential Oils for Armpits & How to Use Correctly
Can you use witch hazel instead of deodorant?
You cannot use witch hazel instead of deodorant. 
Witch hazel is an astringent with a strong scent. However, it is not an antiperspirant and it cannot hold off body odor by itself. It is best to use products specially designed for the underarms. 
Related Articles –
For a great natural deodorant consider the Lume, click here to learn more.
Baking Soda & Lemon for Underarms: How to DIY & Benefits
Using Salt as Deodorant for Smelly Armpits- Is it Effective
How To Use Witch Hazel For Underarms
Using witch hazel on your underarms is pretty straightforward all you need to do is:
Soak a cotton pad with a few drops of witch hazel and then wipe your underarms.
It is best to use witch hazel (if you must) for underarms 1-2 times per week.
But what I recommend is that you use it as a wash-off treatment.
Meaning you let the witch hazel soak for 15-20 minutes and then you rinse it off with water. 
Here are some great tips:
If you can get your hands on truly alcohol-free witch hazel and fragrance-free, that would be great. 
You can also dilute your witch hazel with water if necessary. Or, you can use it less often. 
Use this like you would a toner on your underarms 1-2 times a week. The astringent and antimicrobial properties will help to clean the skin and pores. It will also tighten the skin and dissolve any excess oil. 
If your skin is sensitive, you can apply the witch hazel and clean your skin with it and then wash it off after a few minutes. This prevents it from settling too much into the skin and forming a film of irritating compounds on the skin. 
Keep in mind that using it too often will cause the sensitive skin of your underarms to dry and crack. This will lead to infection, darkening, pain and discomfort. 
Also always moisturize your skin well after using witch hazel, even diluted. 
Remember to always do a patch test to see how your skin will react to any topical treatment before putting it all over the area. 
Related Articles –
Kojic Acid for Dark Underarms- How to Use Correctly & Risks
Hydroquinone For Dark Underarms – How to Use & Side Effects
Can you leave witch hazel overnight on armpits?
If you use witch hazel as a toner, 1-2 times per week (and not every day), you can leave it on your underarms overnight, provided that you moisturize well.
Remember that witch hazel can dry out your skin. The longer it is left on your skin, the more it will be absorbed until it is completely gone.
To counteract the drying effect and possible irritation, replenish the moisture in your skin by using a good underarm moisturizer. 
Related Articles:
Clogged Armpit Pores: Causes, How to Spot & Treat
Hand Sanitizer as Deodorant for Underarm Odor – Is it Safe
Video: IS WITCH HAZEL GOOD FOR YOUR SKIN?
Side Effects of Witch Hazel On Underarms
If you use witch hazel too often on your skin there are a few side effects you should anticipate:
Dryness
This is the most common concern when using witch hazel. Especially if using traditional witch hazel, which contains 14-15% alcohol. The tannins and the alcohol together can prove to be too harsh on the skin.
When it dehydrates the skin and then tightens the pores, the skin cannot absorb moisture as it needs to, leading to excessive dryness and damaged moisture barriers. 
Related Article – Using Vaseline For Underarms- to Lighten & Help with Odor
Irritation
On sensitive skin like your underarms, the high fragrance of witch hazel can be irritating. Skin dehydration can also be irritating enough to make the skin crack in worse cases. Always test-patch your skin to see its reaction before applying witch hazel all over the area. 
Best Witch Hazel Products For Underarms
1- THAYERS Alcohol-Free Unscented Witch Hazel Facial Toner
Even though this says "facial" toner, it can be applied anywhere on the body. It is alcohol-free and unscented so it can be used cautiously on super-sensitive skin.
It also contains aloe vera to help combat some of the dryness that may result as a side effect. 
Click here to get the THAYERS Alcohol-Free Unscented Witch Hazel on Amazon. 
2- Dickinson's Alcohol-Free Gentle Balancing Toner
This toner is said to be fragrance-free and alcohol-free. Its ingredients list contains only three ingredients: witch hazel distillate, phenoxyethanol (a preservative), and witch hazel extract.
Other than these, it is free from soaps, dyes, parabens, phthalates, or gluten.
Click here to see the Dickinson's Alcohol-Free Gentle Balancing Toner on Amazon. 
3- Quinn's Alcohol-Free, Unscented Witch Hazel with Aloe Vera
Many have reviewed this toner to be the best for sensitive skin. The company claims that it is alcohol-free, hypoallergenic, and has no added fragrances. 
Click here to check out the Quinn's Alcohol-Free, Unscented Witch Hazel with Aloe Vera
Sources:
Is Witch Hazel Good for Skin? | Paula's Choice
Witch Hazel for Face: Benefits and Risks for Skin Conditions
Confirmed: The Uses for Witch Hazel Are Pretty Much Endless