Can Witch Hazel Treat Scars & Dark Spots -What to Know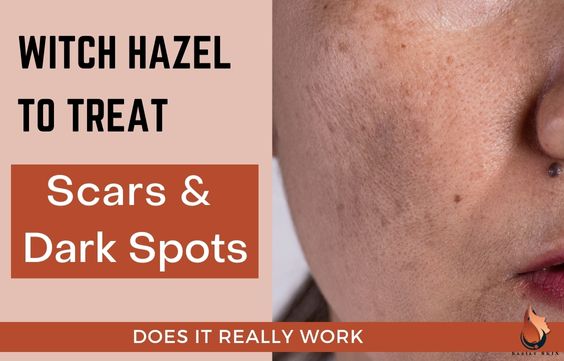 Witch Hazel has a great reputation among acne-prone users for inflammation, but one of the most common questions I get is whether we can use witch hazel for acne scars and dark spots.
Will it help to fade scars and dark spots?
What is Witch Hazel
Witch Hazel is a natural liquid extract that comes from the leaves, twigs, and bark of a North American plant called the Hamamelis virginiana shrub. 
It has loads of antioxidant and astringent properties that make it great for skin care. 
Traditionally, it was extracted and distilled as an alcohol-based solution. This is not necessarily bad for your skin, but it can be over-drying.  Recently, many manufacturers have found a way to produce alcohol-free witch hazel, which is much better for sensitive skin. 
Can Witch Hazel Treat Scars & Dark Spots
There is limited clinical research to suggest that witch hazel can directly treat scars and dark spots on the skin.
However, there is a significant amount of anecdotal evidence (based on users' experience) to suggest that it can help to reduce and improve scars and dark spots. 
It is believed that the astringent and antioxidant properties of witch hazel clean the skin and tighten it. Over time, this will subtly reduce the appearance of scars by removing old, dark skin cells and smoothening the texture of the skin's surface. 
Additionally, to back up users' experience, a 2022 study found that witch hazel successfully suppressed the production of pro-inflammatory cytokines in human skin cells. The results raised the possibility that the extracts may help to lessen acne-related inflammation and redness.
This means that it may help to inhibit some of the elements that contribute to acne scar formation. However, further research is required to establish a direct relationship between witch hazel and acne scar reduction.
Witch hazel does not have bleaching agents so it will not directly inhibit the production of melanin in the skin, which is what gives scars that darkened appearance. Scars can also be of different formations and depths, so the way any treatment will work for different kinds of scars will be different. 
Related Articles:
Can You Use Hydroquinone for Under-Eye Circles & Wrinkles 
How to Use Kojic Acid for Under-Eye Circles & Wrinkles
How long will witch hazel take to help acne scars and dark spots?
Witch hazel will gradually change the tone and texture of your skin over time. You should begin to see subtle differences in your skin within 2-4 weeks of consistent use. 
However, even with consistent use, how much change you see and how fast you see them will ultimately depend on your skin and how severe your scars are. 
Can witch hazel help keloids?
Witch hazel alone will not treat or make your keloid scar go away, but it can help to reduce its appearance depending on how severe the scarring is. 
A keloid scar is a kind of raised scar that is a thickened area of the skin. This happens when the skin heals but with more collagen and fibrous tissue than normal skin. So, the scar is not flat but rather appears like an extra growth over the surface of the skin. 
Witch hazel will tighten the skin, but depending on how bad the scar is, it will not make it go away. Rather, it will subtly improve its appearance. However, you will need other, more intense and direct scar treatments for keloid scars. 
General Benefits of Witch Hazel For The Skin
1- Tightens & Constricts Skin Tissue
Witch hazel contains tannins which are natural compounds that have astringent properties. Tannins get rid of excess oil in the skin and constrict pores, making skin improve in texture and appearance.
Less oil also means less build-up in the pores which makes acne worse. Less acne means less scarring and better texture means better skin tone over time. 
2- Protects the skin & prevents aging
Witch hazel also contains flavinoids, essential oils, and gallic acid which are all antioxidants. These protect the skin from environmental stressors and free radical damage. Such exposures age the skin and produce fine lines and wrinkles. 
Related Articles: 
Using Witch Hazel for Circles, Bags & Puffy Under Eyes
Witch Hazel for Underarms: Benefits, How to Use & Effects
3- Soothes the skin
The flavonoids, essential oils, and gallic acid in witch hazel also soothe inflammation by calming irritation and reducing redness in the skin. This is great for inflamed, acne-prone skin, especially when the person has an active flare-up. Less inflammation will mean better healing and less scarring afterward. 
Video: Witch Hazel for Acne: Good Or Bad? Get The Facts
How To Use Witch Hazel On The Skin
If you have determined that it is safe and beneficial for you to use witch hazel, here is the best way to do it:
Use as a skin toner – this is the easiest way to use witch hazel on your skin (body and face). After you have cleansed your skin, apply some using your hands or a cotton pad onto your skin like a toner and let it absorb. Then you can go ahead with the rest of your skincare routine. You do not need to wash it off your skin unless your skin reacts badly to it. It can be used in the morning or at night before you go to bed. 
Choose one that is alcohol-free – alcohol, usually listed as ethanol, dries out your skin and will cause more harm than good. Look for witch hazel products that are alcohol-free to prevent extra irritation and dryness. 
Start gradually – like all new or potentially irritating treatments, I recommend that you start slowly and build your way up. Start using witch hazel on your skin once per day, 2-3 times per week. See how your skin will look and feel. Gradually increase your frequency until you can safely use it daily. Some people use it twice daily. This will depend on how your skin reacts and whether you really need it or not. 
Moisturize and use SPF –  do not skip your moisturizer. Witch hazel will cause dryness if you use it every day without replacing some of the hydration that it strips away with the oils from your skin. It will also make your skin very sensitive so always use an SPF to protect you from sun damage. 
Best Recommended Witch Hazel Products To Use 
1- THAYERS Alcohol-Free, Original Witch Hazel Facial Toner
Even though this says "facial" toner, it can be used anywhere on the body. It is known to be free of alcohol and to soothe, tone, hydrate, and balance the pH level of the skin.
This toner helps also reduces the look of pores, balances oily skin, evens skin tone, and maintains the skin's moisture barrier. From personal experience, I can say that it works great on sensitive skin. 
You can Click here to get the THAYERS Alcohol-Free Witch Hazel on Amazon. 
2- Quinn's Alcohol-Free Witch Hazel
This toner is another one of my favorites. And it's not just me. Even Khole Kardashian uses this one on her million-dollar skin! So you know it's got to be good!
It comes in a variety of scents and an unscented version if you are sensitive to fragrances. It is alcohol-free and gentle on sensitive skin. 
You can Click here to get the Quinn's Alcohol-Free Witch Hazel on Amazon. 
Side Effects Of Using Witch Hazel On The Skin
The main side effects associated with using witch hazel on the skin are irritation, dryness, and allergic reactions. 
Since witch hazel is astringent and strips oil from the skin, it is very easy for you to develop dry skin and irritation when using it on your skin. If you already have dry skin or are very sensitive, this might not be the best option for you.
However, to minimize the side effects, you can ensure that you moisturize at least twice daily to keep your skin hydrated and healthy. 
On the other hand, unless diagnosed, it is impossible to anticipate an allergy to witch hazel, especially if you have never used it before. Always do a patch test on a small area of skin for a few days before applying witch hazel to your face or other parts of your body. 
Signs of an allergic reaction may include, but are not limited to:
Tingling or burning that worsens
Swelling
Redness
Hives or bumps on the skin
Peeling and irritation that worsen
Skin that feels hot to the touch
If you notice any of these signs, wash your skin off with clean, cool water and seek medical attention. Stop using witch hazel.
The Bottom Line
Witch hazel's anti-inflammatory, astringent, and antioxidant characteristics have shown promise in reducing acne scarring, but it's important to recognize its limitations. 
Witch hazel is not the ultimate solution and might not completely get rid of, diminish, or lessen all kinds of acne scars. 
Based on variables such as skin type, the severity of the scars, and the period of usage, individual outcomes may vary. 
Sources
Anti-Inflammatory and Anti-Acne Effects of Hamamelis virginiana Bark in Human Keratinocytes 
Antioxidant and potential anti-inflammatory activity of extracts and formulations of white tea, rose, and witch hazel on primary human dermal fibroblast cells – PMC 
Does Witch Hazel Help With Acne Scars? 
8 Benefits and Uses of Witch Hazel 
Witch Hazel for Skin: Benefits and Uses 
Confirmed: The Uses for Witch Hazel Are Pretty Much Endless