Benefits of Oatmeal Soap- Can It Help Eczema & Psoriasis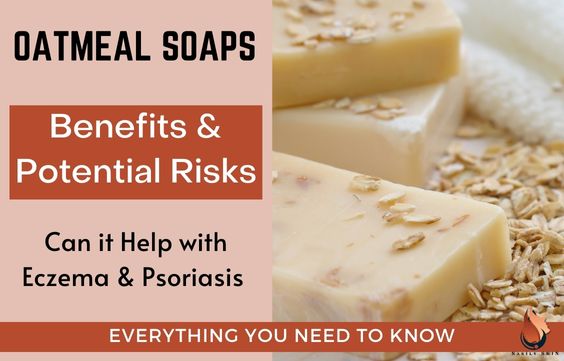 You've probably come across a load of oatmeal skin care products including soaps, body washes, scrubs, face masks, and even moisturizers and I am sure you wondered do they have any benefits.
So in this article, we're going to talk about the benefits of oatmeal soap for the skin, especially for those who struggle with eczema, psoriasis, dry skin, and acne.
What is Oatmeal Soap
A good oatmeal soap is one that is made of colloidal oatmeal and a variety of other skin-moisturizing ingredients.
Oatmeal soap recipes can vary depending on the manufacturer but the main ingredients focus on oatmeal and other moisturizing ingredients. 
Colloidal oatmeal is made by grinding oat grains into a fine powder and then boiling the powder. It is considered a skin emollient since it softens the skin and packs a load of proteins, fats, vitamins, minerals, and other nutrients into the skin. 
The best way to get the most benefits from oatmeal is by using the colloidal kind (processed). Using regular kitchen oats will not provide the same benefits as colloidal oats for the skin as the nutrients will not be absorbed the same way into the skin. 
Also, I highly recommend checking out my article on Calamine Soaps for Itchy Skin- Benefits & Risks
Benefits of Oatmeal Soap
The oatmeal that is used in soaps and other products has many benefits for the skin which include:
1- Naturally Cleansing
Because it includes saponins, a kind of carbohydrate found in plants, oatmeal also functions as a natural cleanser. As they don't remove your skin's natural oils or cause it to become dehydrated, the saponins in oats make it mild yet efficient.
The excess oil and grime that might clog your pores are removed gently. Saponins are also well renowned for soothing the skin and having antioxidant qualities.
2- Moisturizes the skin
Oatmeal is chock full of proteins, Vitamin E, and beta-glucans which all moisturize and hydrate the skin. The proteins keep your skin barrier healthy and vitamin E moisturizes the skin and soothes inflammation. The beta-glucans absorb water which helps to keep water in the skin, hydrating it. 
This is especially great for people who suffer from dry, irritable, flaky skin. Keeping the skin moisturized and hydrated prevents it from peeling and flaking. This is very beneficial in cases of eczema and psoriasis. 
Related Article: Vitamin E Soaps- Benefits, Uses & Side Effects 
3 – Relieve Itchiness
Oatmeal has anti-inflammatory properties that greatly help to soothe irritated skin and relieve itchiness. Studies suggest that colloidal oatmeal contains plant chemicals called avenanthramides, which provide strong anti-inflammatory and antioxidant properties. 
People who suffer from eczema and psoriasis, or very dry skin, tend to also be very itchy. Using oatmeal soaps made of colloidal oatmeal can help to soothe inflamed skin and reduce itchiness. 
Related Articles:
Best Salt Soap – Benefits, How to Use & Side Effects
Himalayan Salt Soap – Benefits, Side Effects & Best Ones
4- Protects the skin
Oatmeal contains lots of flavonoids. Flavonoids are antioxidants that help to protect the skin from UV rays and free-radical damage. This helps to keep the skin healthy and prevents early signs of aging. However, you still need to use your SPF!
Related Article – Carrot Soaps- Benefits, Side Effects & Best Ones to Use
5- Tones Complexion
The proteins found in colloidal oatmeal help to heal the skin and promote skin cell turnover and collagen production. These things help the skin to gradually resurface itself with healthier, more even-toned skin cells.
Over time, using oatmeal soaps can help you to reduce the appearance of mild to moderate dark spots or scars on the skin.  
Related Articles:
Best Vitamin C Soaps -Benefits, Side Effects & How to Use 
Best Kojic Acid Soaps- Benefits, Side Effects & How to Use
Best Potato Soaps – Benefits & Possible Side Effects
Side Effects of Using Oatmeal Soap
Oatmeal itself is generally very well tolerated by the skin. However, your skin could potentially become irritated by the other ingredients used in oatmeal soaps. 
Always check your products to make sure the other ingredients being used are not harsh, irritating, or something that you could be allergic to. 
Oatmeal itself is non-irritating and has very low allergic potential. People rarely, if ever, report instances of oatmeal allergies or irritation from using oatmeal. However, if you do have an oat allergy, you should not use oatmeal soaps or other topical oatmeal products.
Additionally, In the US, the FDA has approved the use of colloidal oatmeal in over-the-counter skincare products. 
Related Articles – Best Niacinamide Soaps & Body Washes- Benefits & Risks
Naturium Body Wash – Benefits, Risks & Best One To Use
Using Oatmeal Soap for Eczema
Oatmeal soap can help both adults and children with eczema, This is because colloidal oat can potentially help to heal and improve the skin's outer barrier. They also have anti-inflammatory properties that soothe the skin, moisturize and hydrate, and lessen itching.
You see Eczema can leave people with areas of itchy, inflamed, and irritated skin all over their bodies in addition to causing dryness.
This is thought to be largely due to abnormalities in the skin's epidermis or outer barrier which hinder it from retaining the necessary moisture. Now the colloidal oat from oatmeal soaps can help to heal the epidermis making the symptoms of eczema less harsh.
Using Oatmeal Soap for Psoriasis
Psoriasis occurs when the immune system causes excessive regeneration of skin cells. It can cause a build-up of scaly skin (usually around joints) that is dry, itchy, and irritated.  
Having daily baths with oatmeal soap can help to soften the skin and reduce itchiness, inflammation, and irritation caused by Psoriasis. For these conditions, oatmeal soaps that are very gentle with as many moisturizing ingredients as possible are best. 
Dermatologists also recommend using oatmeal lotions throughout the day. 
Using Oatmeal Soap For Acne
In many cases, acne is caused by a build-up of oil on the skin that can solidify and block pores, which can then become inflamed and infected. 
Oatmeal is said to help break up and remove excess oil from the skin, which prevents and lessens acne. It also soothes the skin and helps to relieve actively inflamed acne lesions.
Using oatmeal soap is an easy way to cleanse and calm acne-prone skin. 
Related Articles:
Benzoyl Peroxide Soap: Benefits, Side Effects & Best Ones
Best Salicylic Acid Soaps – Benefits, Risks & How To Use
Using Oatmeal Soap For Dry Skin
Oatmeal is moisturizing and it helps the skin to retain water. Using oatmeal soap with additional moisturizing ingredients will soften the skin and encourage hydration.
This is great for people with dry skin. When the proteins and beta-glucans settle into the layers of the skin, it traps water, giving the skin the moisture it needs. 
Using Oatmeal Soap On Children & Babies
Children and babies are especially prone to rashes (a very common one is the nappy rash). Oatmeal's soothing effect on the skin helps to reduce irritation in the sensitive skin of children and babies. 
Bathing them with oatmeal soaps and then using oatmeal lotion on the affected areas can greatly reduce discomfort, itching, peeling, and dry skin. It will also help to heal the skin. 
Video: Doctor Anne – Colloidal Oatmeal – the benefits in Skincare
How To Use Oatmeal Soap
Oatmeal soaps can be used like regular soap on any of the external parts of your body. 
They are usually great for sensitive skin, and for areas that are affected by dryness, irritation, and peeling or scaling. 
Oatmeal soaps can be used every day or every time you shower, depending on how much you need them and how the soap is made (ingredients). 
However, even though oatmeal is generally well tolerated, soaps are made of other ingredients as well. Always patch-test the soap on a small area of skin for a few days to see how your skin will react before using it all over. 
Best Recommended Oatmeal Soaps
1- Aveeno Moisturizing Bar with Natural Colloidal Oatmeal
Aveeno is known for its oatmeal-based products and this soap is no different! It is a personal favorite of mine that works great on my sensitive skin.
This bar has a soap-free formula so it is less likely to worsen skin dryness, but it still effectively cleanses the skin while moisturizing it. It is also fragrance-free and dye-free.
It can be used by adults and children for dry skin, or on skin with rashes, eczema, psoriasis, and acne. 
You can Click here to check out the Aveeno Moisturizing Bar with Natural Colloidal Oatmeal on Amazon. 
2- Aspen Kay Naturals Handmade Oatmeal Soap Bar
Apart from oatmeal, Aspen Oatmeal soap is also made of organic raw honey, goat's milk, organic Shea butter, and a variety of other moisturizing ingredients. While it does contain fragrance, it is phthalate-free.
This bar gently exfoliates and cleans the skin while soothing and moisturizing it. It works great for sensitive skin and for skin conditions like eczema and psoriasis, dryness, acne, rashes, and sensitive skin in general. 
You can Click here to get the Aspen Kay Handmade Oatmeal Soap Bar on Amazon. 
3- Yardley Oatmeal and Almond Bar Soap
This soap is great for adults and children with eczema, psoriasis, and sensitive skin. It is gentle ad mild with a subtle scent.
It cleanses the skin well without making it too dry so it won't worsen dryness and irritation. Instead, the oatmeal and almond soothe and calm the skin. 
You can Click here to check out the Yardley Oatmeal and Almond Bar Soap on Amazon. 
Sources
What Is Colloidal Oatmeal? Benefits, Uses, and Safety 
Oatmeal For Skin: 10 Reasons To Add This Superfood To Your Routine 
The Benefits Of Oatmeal For Your Skin – Skincare Ingredient – Kiehl's