Moisturizing After Benzoyl Peroxide: Tips to Follow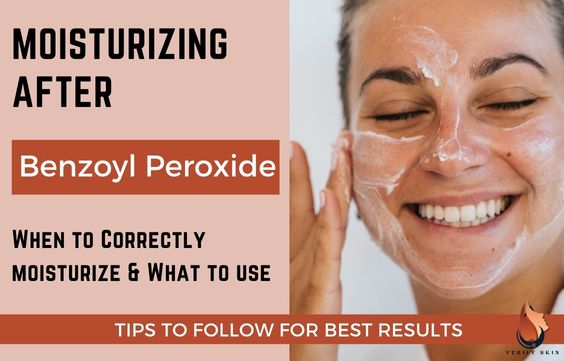 Benzoyl Peroxide is one of the holy grail treatments for acne and we love to see it working wonders for your skin. But like all skin care products, there is a right way to use benzoyl peroxide too.
An important factor to consider is that you need to keep your skin moisturized when using this ingredient. But why? And most importantly, how?
Can You Use a Moisturizer After Benzoyl Peroxide
Yes, you should use your moisturizer after using benzoyl peroxide. 
Keep in mind that benzoyl peroxide works by exfoliating the skin to get rid of dead skin cells, excess oil, and bacteria. 
Therefore, the most common and probable side effects of using benzoyl peroxide are dryness, irritation, and skin peeling. To help to prevent these side effects, it is best to ensure that you are moisturizing your face every time you use it. 
If you already have dry skin, or if you find that your skin is becoming increasingly dry when you use benzoyl peroxide, moisturize throughout the day as often as you think is necessary. 
How Long To Leave Benzoyl Peroxide On & How Often To Use
Benzoyl Peroxide To Treat Acne Scars & Dark Spots
Wait Time Between Applying Benzoyl Peroxide and Moisturizer
You should wait at least 60 seconds or until your benzoyl peroxide product has absorbed into the skin before applying moisturizer or any other product. 
The wait time will vary depending on what formulation of the product you are using (for example, face wash, toner, serum, gel, cream, etc). How long it takes to dry on the skin will depend on its consistency. 
However, do give your skin a few seconds to absorb the product before layering anything over it that can either dilute it, hinder its penetration into the skin, or react with it in any way. 
Can Benzoyl Peroxide Make Acne Worse: What To Expect & Do
Can You Leave Benzoyl Peroxide on Overnight: Is it Safe
Why It Is Important To Use Moisturizer After Benzoyl Peroxide
Using a good moisturizer after benzoyl peroxide will prevent dryness and irritation and will keep your skin hydrated and healthy. 
When your skin is hydrated and healthy, it will be better able to make use of benzoyl peroxide. It will also be able to heal and regenerate faster and better. 
Benzoyl Peroxide Skin Purge – Everything You Need To Know 
Tips To Follow When Using Benzoyl Peroxide
If you are new to using benzoyl peroxide, start with a mild concentration in a gentle formula. A good one to start with is a face wash. 
Start by using benzoyl peroxide gradually (maybe once or twice per week for a few minutes) and then work your way up (until you can use it daily and leave it on your skin). 
Always use a moisturizer after using benzoyl peroxide. You may use your moisturizer multiple times a day or as often as necessary. 
Always use sunscreen. Benzoyl peroxide will make your skin even more vulnerable to sun damage. 
Avoid using additional exfoliating products or home remedies while you are using benzoyl peroxide. These may cause over-exfoliation and irritation. 
Do not use other acne treatments at the same time as benzoyl peroxide. 
If you experience purging, do not abandon your treatment.  Stick it out until the purging resolves to see the real benefits. 
Always consult a dermatologist before starting benzoyl peroxide treatments as using the wrong concentration or using it too much can damage your skin. 
Here are some great tips on how to use benzoyl peroxide and what to do about side effects and more by Nadia Zayat:
Best Moisturizers To Use After Benzoyl Peroxide
The best moisturizers to use after using benzoyl peroxide are the non-comedogenic ones that will not block your pores. 
Here are some great options: 
1- CeraVe Body and Face Moisturizing Cream
Hyaluronic acid, ceramides, and MVE are included in the CeraVe Moisturizing Cream's formulation to provide you with all-day moisture. This cream's non-greasy, non-sticky texture aids in smoothing out your skin while not blocking your pores. 
Click here to check out the CeraVe Body and Face Moisturizing Cream on Amazon. 
2- La Roche-Posay Toleriane Double Repair UV SPF Moisturizer
This SPF-infused, oil-free facial moisturizer helps to safeguard and restore healthy-looking skin.
It is made of Ceramide-3, Niacinamide, Glycerin, and Prebiotic Thermal Water. It is also very suitable for sensitive skin. 
Click here to see the price for the La Roche-Posay Toleriane Double Repair UV SPF Moisturizer on Amazon. 
3- The Water Cream by Tatcha
This lightweight, clarifying water cream releases a burst of hydrating nutrients and pore-refining botanicals for healthy aging and smooth, balanced skin.
It is infused with high-quality green tea, algae, and protein-packed rice. It also includes a hint of 23-karat gold, for the ultimate gorgeous glow. It is great for oily, combination, and sensitive skin. 
Click here to see The Water Cream by Tatcha on Amazon. 
Frequently Asked Questions (FAQs)
Moisturizer before or after benzoyl peroxide: which is better?
It is better to use your moisturizer after using benzoyl peroxide. This will give your skin time to absorb the benzoyl peroxide properly.
Benzoyl Peroxide Allergy: How To Spot & Treat
Can I use moisturizer before benzoyl peroxide?
You should not use moisturizer before using benzoyl peroxide. 
Moisturizers seal the skin off to lock in moisture. This means that it will also prevent the benzoyl peroxide from penetrating the skin properly. 
Sources: 
Dermatologist's Guide to Using Benzoyl Peroxide For Acne | Be Beautiful India 
How Much Time Do you Take Between Applying Two Products? 
Acne Treatment Tips for Using Benzoyl Peroxide