Certain Dri Review- How to Use, Risks & What to Expect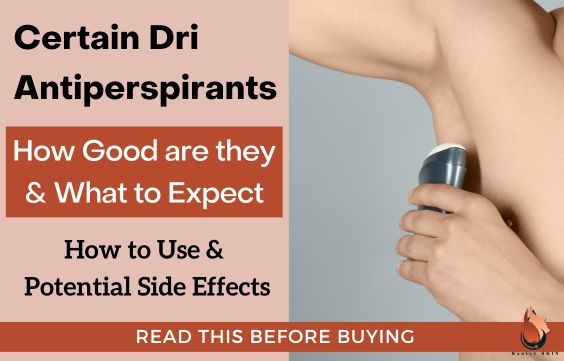 Certain Dri is an antiperspirant company that makes antiperspirants in three strengths: Everyday Strength (for everyday use by average sweaters), Extra Strength (for those who need a bit more protection), and Prescription Strength (for those who suffer from hyperhidrosis or excess sweating). 
Now this brand claims to be doctor recommended and their products are also distributed and marketed by the Bridges Consumer Healthcare Company. This company partners with doctors who review and recommend their products to patients. 
But is Certain Dri really as good as it seems? That's what we are here to find out!
Related Article: Why Armpits Smell Even With Deodorant & Bathing: How to fix
How Certain Dri Works
The active ingredient in Certain Dri is Aluminum, but each type contains a different form and a different concentration. Aluminum works by blocking the pores and sweat ducts to prevent sweat from pouring out of our skin where it is applied. 
Certain Dri claims that they provide more sweat protection than your average antiperspirants because they contain prescription strength concentrations of Aluimum in each of their products, making them more effective. They also use different forms of Aluminum (in FDA-approved concentrations) to be more gentle on the skin but still effective depending on how much sweat protection you need. 
However, specifically for hyperhidrosis (excess sweating), they use Aluminum Chloride because it is the strongest form of aluminum that can be used on your skin to prevent sweating. 12% is an FDA-approved concentration that remains non-toxic for you while still being very effective. 
You can check out these other brands that I have reviewed:
Odaban Spray: Is it Effective, Safe & What to Expect
Perspirex: How to Use, Effectiveness, Risks & Side Effects
Sweatblock Wipes- Are They Safe, Benefits, & Side Effects
Who Should Use Certain Dri
Certain Dri was developed for people with hyperhidrosis or who sweat more than the average person. However, it can be used by any adult that needs it. 
It should not be used by children or on babies, and you should not apply it anywhere other than your underarms. 
People who have extra sensitive skin or aluminum allergies should also avoid using Certain Dri as it can cause reactions.
Related Article – Can You Make DIY Antiperspirants- Best Ways to Fight Sweat
Which Certain Dri You Should Use  
Finally, if you have hyperhidrosis and you sweat excessively, then the Prescription Strength Roll-On or Dry Spray will be best for you. 
Whilst for those who sweat excessively check out either their: Prescription Strength Antiperspirant – Invisible Roll-On 
Or if you prefer a spray check out their Prescription Strength Antiperspirant & Deodorant – Invisible Dry Spray
How To Use Certain Dri 
All of the Certain Dri antiperspirants are to be used on your underarms only. 
Apply to clean, completely dry skin. 
For best results, they should be applied at night, just before bed. 
You can and may need to apply the everyday-strength stick again in the morning (after your shower) for an extra layer of protection but this may not always be necessary. 
For the extra strength and prescription strength ones, use sparingly. You only need 1-2 swipes of the roll-on or 2-1 sprays of the dry spray. Using too much may irritate your skin.
You may also need to reapply these every night for a few days before you achieve full sweat protection.
When you notice that you stop oozing sweat under your arms, you will only need to reapply them every 3 days. 
Related Articles –
Driclor: How it Works, How to Use & What to Expect
Duradry – Are They Effective, How to Use & Side Effects
Effectiveness Of Certain Dri
Certain Dri is certainly effective against sweat and odor, but it does have some side effects. 
The concentrations of aluminum in these products do exactly what they are supposed to do: stop sweat in its tracks. But, if you have sensitive skin, they might be too strong for you. 
When it comes to sweat, the guys and I here at Sasily were pleasantly surprised with just how dry this kept our pits. 
I was very happy with how effective the everyday strength one was. It is definitely stronger than other regular, everyday antiperspirants. 
The guys tried the prescription strength ones (they sweat up a storm, especially on runs and workouts). They became instant fans of the dryness and lack of stink!
I found that the scents themselves were mild and not over-powering and the unscented ones were great too!
However, there are a few things you should know:
You need to follow the instructions and apply this to completely dry skin or it will sting. 
If you get sweaty or wet before the product works into your skin, you will get itchy. So try to sleep with your armpits as cool and dry as possible. 
Related Article – How to Get Rid of Underarm Odor & Sweating Permanently
Side Effects & Safety Of Certain Dri
Certain Dri products are non-toxic and safe to use, but they do have a few side effects (which can be managed). 
Safety
Even though these products contain high concentrations of Aluminum, they are all in FDA-approved levels that are safe and non-toxic for human use on the skin. The body will not absorb the aluminum enough to cause any short or long-term illnesses. 
Related Article – Anhydrol Forte Review- How Effective Is It & Side Effects
Side Effects
The most common side effects associated with Certain Dri antiperspirants are burning, itching, irritation and allergic reactions. 
Aluminum can easily irritate some people's skin (especially sensitive skin) and other people are allergic to it. In these cases, using Certain Dri can cause your skin to break out into itchy bumps, rashes, redness, or even swelling. Irritation will occur within minutes-hours of applying the product. However, an allergic reaction will occur after the second or third (or even more) applications. 
If you experience any of the symptoms above, wash your skin and give it a break. Let the symptoms go away and then try the product again. If the same happens, or even worsens, you may need to seek medical help and consider using another product. 
For some milder deodorants consider:
Charcoal Deodorants- Are They Good, Benefits & Side Effects
Best Salt Crystal Deodorants: Risks, Benefits & How to Use
Best Magnesium Deodorants & Sprays- Benefits & Side Effects
Why does Certain Dri burn and itch?
Mild burning, stinging or itching is normal for this product. The aluminum is reacting with the moisture in your pores to effectively block them. However, it should not be severe or unbearable. 
When the product has dried into your skin, I recommend keeping the skin as dry as possible to prevent more irritation. You can also use a thin layer of an anti-itch cream (although, using the antiperspirant at night while you sleep means you won't really feel the itching or tingling). 
If the side effects are unbearable and keep you up, then this is not normal and your skin could be reacting to the product. Wash your skin right away. If the symptoms do not get better, seek medical help.
Related Article – Best & Safest Deodorants For Your Bum (Men & Women)
Ingredients
| | |
| --- | --- |
| Certain Dri Product | Ingredients |
| Everyday Strength Antiperspirant Deodorant – Solid Stick | Aluminum Zirconium Tetrachlorohydrex Glycine (20%), Aluminum Sesquichlorohydrate, Purified Water, Glycerin, Glyceryl Stearate, PEG-100 Stearate, Magnesium Aluminum Silicate, Polysorbate 20, Triclosan, Fragrance |
| Extra Strength Antiperspirant Deodorant | Aluminum Sesquichlorohydrate (25%), Cetyl Alcohol, Cyclopentasiloxane, Fragrance, Glyceryl Stearate (and) PEG-100 stearate, Hydrogenated Castor Oil, Mineral oil, Stearyl alcohol, Talc |
| Prescription Strength Antiperspirant – Invisible Roll-On | Aluminum Chloride (12%), Polyacrylate Crosspolymer-6, Sodium hydroxide, Water |
| Prescription Strength Antiperspirant & Deodorant – Invisible Dry Spray | Aluminum Chlorohydrate (25%), Aloe Barbadensis Leaf Extract, Bisabolol, Butane, C12-15 Alkyl Benzoate, Carthamus Tinctorius (Safflower) Seed Oil, Citronellol, Coumarin, Cyclopentasiloxane, Fragrance, Geraniol, Hydrofluorocarbon 152A, Isopropyl Myristate, Limonene, Linalool, Propylene Carbonate, Stearalkonium Hectorite, Zingiber Officinale (Ginger) Root Extract |
Related Articles:
Carpe Deodorant Review- Does it Work, Benefits & Effects
Mitchum Deodorants: How Good Are They & Are They Safe
Rexona Roll-On Deodorant Review: Benefits & Side Effects
Sources
National Library Of Medicine-DailyMed-Certain Dri Ingredients