Lume Deodorant Wipes – Are They Really Safe & Do They Work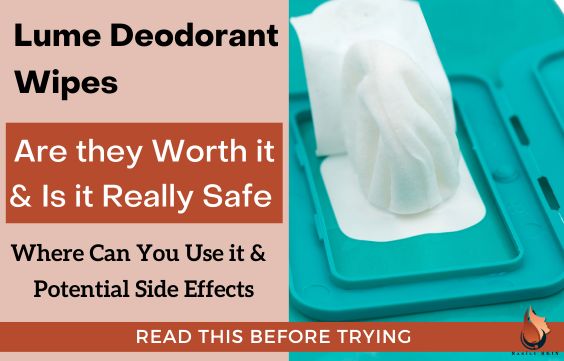 Lume is best known for its whole-body deodorants and body washes. However, one of their lesser-known products is the Lume Acidified Deodorant Wipes.
Let's talk about everything you need to know about these wipes: Do they work? Are they safe? How are they used? Are they effective? How long will they last? Are they worth the buy?
What Are The Lume Acidified Deodorant Wipes
The Lume Acidified Deodorant Wipes are medicated wet wipes that can be used anywhere on the body between showers and deodorant applications.
These wipes are infused with mandelic acid, just like their deodorants, and are used between showers to clean and deodorize the skin for up to 24 hours. 
However, while these wipes are infused with mandelic acid, they are not meant to solely replace your deodorant or a shower. According to Lume, they are intended to "prolong your odor-free interval between deodorant applications or to freshen up on the go!"
Related Article: Lume Acidified Body Wash – What It Does, Benefits & Risks
How to Use the Wipes
According to Lume, their wipes can be used externally, anywhere on the body where you might have odor (even on your privates!). 
I find that they are easy to use and great for those creasy areas where sweat can get trapped (groin, under boobs, under butt, and underarms).
Simply open the packet, take one of the wipes out, and use it to wipe the area of skin you intend to clean and deodorize. You can throw away the wipe afterwards or they can be flushed! Lume claims that their wipes are flushable and biodegradable. This means that they break up (much like toilet paper) so that they are septic tank-safe. 
The package is easily resealable like regular baby wipes. The wipe itself is thick and durable so one will go a long way. And they do not leave any sticky residue or icky feeling behind. 
If you are struggling with excessive sweating consider using Sweatblock Wipes, you can click here to learn more.
Where Can The Wipes Be Used
Lume wipes are for external use only. This means that they can be used anywhere on the body such as
Armpits, face, hands, legs,
thighs, torso, under-boobs, back, butt cheeks, etc)
And on the external private parts (upper, inner thighs, crease between your groin and thighs, external vulva,
The skin around the base of the penis, ball sacks, and butt cracks).
Where Not to Use Lume Wipes
Do not use these wipes inside your vagina or on your penis itself. Also, these wipes are not meant to be used on broken or irritated skin.
Related Article: Lume Deodorant for Private Parts- Is it Safe & Best Scents
Video: Showing Lume Wipes
Are The Lume Acidified Deodorant Wipes Effective
After using these wipes I have found that they can be effective for odor control between showers and deodorant application and for freshening up without the need for an extra shower or deodorant application, especially if you're on the go. 
But you will still need to shower and apply your deodorant as you would normally. However, if you suffer from excess odor or you're just having a hectic day, then these wipes are great for a quick touch-up. 
They will keep you odor-free until your next shower or at least for another 24 hours. 
I generally do not need to touch up between deodorant applications, but I did give this a shot after a workout session. They definitely made me feel refreshed and clean. They also did get rid of the little odor I developed from the sweat session I had.
Related Article: Lume Deodorant Review- Is It Really Safe & Side Effects 
How Long Will These Wipes Last
The Lume Acidified Deodorant Wipes come in two sizes: A pack of 15 and a pack of 45. Each wipe measures about 6"x 6". How long they will last will depend on how you use them.
For me, a 45-pack lasted me for more than a month but I didn't use it so often only after workouts.
I recommend using one wipe specifically for your privates to prevent the transfer of bacteria. Then use a separate one for your face (again to prevent the transfer of bacteria). Then you can use the same one for the rest of your body or your underarms. 
You can click here to see the price for a pack containing 45 wipes on Amazon.
Are Lume Acidified Deodorant Wipes Safe To Use
Unless you are sensitive or allergic to any of the ingredients used in the wipes, they are quite safe to use. 
As always, I recommend doing a patch test before using any product (including wipes) all over your body and on your private parts. 
Please remember that these wipes, though pH-balanced and safe, are intended for EXTERNAL USE ONLY. 
Ingredients
The main active ingredient in the Lume Acidified Deodorant Wipes is Mandelic Acid. 
However, they also contain Water, Organic Aloe Barbadensis Leaf Juice, Hamamelis Virginiana Water, Saccharomyces Ferment Filtrate, Lactobacillus Ferment, Glycereth-7 Triacetate, Cocos Nucifera Fruit Extract, Lactobacillus, Caffeine, Caprylyl/Capryl Glucoside, Sodium Cocoyl Glutamate, Polyglyceryl-5 Oleate, Glyceryl Caprylate, Caprylyl Glycol, Citric Acid, Alcohol, Tetrasodium Glutamate Diacetate, Sodium Benzoate, and Skin Safe Fragrance.
They do not contain aluminum, Baking Soda, Phthalates, Sulfates, Parabens, or Talc. 
Side Effects Of Using Lume Acidified Deodorant Wipes
The main side effects associated with the Lume Acidified Deodorant Wipes are irritation and allergic reactions. 
Everyone's skin is different. As with all topical products, irritation, and allergic reactions are always possibilities to consider. 
If you notice that your skin gets extra dry, or you develop itching, bumps, rashes, redness, swelling or discomfort, especially around your private parts, face or underarms, stop using the wipes. Wash your skin with clean, plain water. Then seek medical attention as urgently as needed. 
Are Lume Acidified Doeodrant Wipes Worth They Buy?
I would say that these wipes are worth the buy. 
If you are looking for an affordable, sensitive-skin-safe wipe to just touch up and refresh yourself quickly, these will work great for you.
One wipe goes a long way. I also have sensitive skin and the slight fragrance does not irritate it, so that's a plus on my end. 
It's definitely not a replacement for your deodorant, nor is it meant to be. But I think it would be a great addition to our little makeup/toiletries bag on the go!
Where To Buy Lume Deodorant Wipes
The Lume Acidified Deodorant Wipes are available in one scent which can be bought over the counter from most pharmacies or online. 
You can Click here to check out the Lume Acidified Deodorant Wipes on Amazon. 
Sources
Acidified Deodorant Wipes | Lume Deodorant | Outrageously Effective Whole Body Deodorant