Ginger Soaps- Benefits, Side Effects & Do They Really Work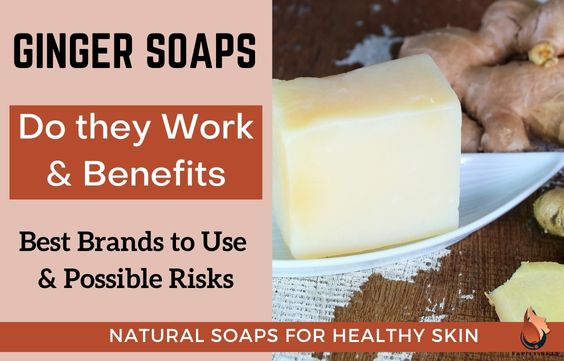 Up until recently, I had never heard about ginger soaps.
But, after researching it thoroughly and then trying it myself. I now completely understand why the beauty industry has made soaps out of this spice! So, let's dive into everything we need to know about ginger for the skin and ginger soaps. 
What Are Ginger Soaps
As the name suggests, ginger soaps are soaps whose main ingredient is ginger. 
The ginger that is available to us in the markets and supermarkets is the rhizome (underground part of the stem) of a flowering plant of the Zingiberaceae family. It is regarded as a spice and is closely related to turmeric, cardamom, and galangal. 
Benefits of Ginger Soaps) For The Skin
1- Reduces inflammation
Ginger is packed with compounds called gingerol which are phytochemicals with anti-inflammatory properties. This makes it great for soothing acne and irritation in the skin. It reduces redness, swelling, and itching.
Related Article: Benefits of Oatmeal Soap- Can It Help Eczema & Psoriasis
2- Reduces oiliness
Ginger also helps to break up and reduce the amount of oil on the surface of your skin. This also makes it great for acne-prone skin. Less oil means less pore blockage and fewer chances of acne breakouts. 
Related Articles:
Benzoyl Peroxide Soap: Benefits, Side Effects & Best Ones
Best Niacinamide Soaps & Body Washes- Benefits & Risks
3- Kills bacteria and fungi
Ginger has antibacterial and antifungal properties that can help to prevent and improve skin infections and even bacterial acne. Many people combine ginger with honey to create a great all-natural acne mask that works together to fight bacterial acne and soothe the skin. 
Related Articles:
Best Potato Soaps – Benefits & Possible Side Effects
Best Salicylic Acid Soaps – Benefits, Risks & How To Use
4- Reduces the appearance of fine lines & wrinkles
Ginger is rich in vitamin C and other antioxidants. It also promotes collagen production in the skin. Together, these properties help to protect and heal the skin from sun damage and free radical damage, both of which age the skin prematurely. 
Related Articles:
Carrot Soaps- Benefits, Side Effects & Best Ones to Use
Glycolic Acid Soap- Benefits, Risks, How to Use & Best Ones
5- Helps to fade dark spots
Some people believe that gingerol (the active ingredient in ginger) can help to inhibit melanin production in the skin. However, there is insufficient research to back up this claim. 
On the other hand, ginger's ability to tone the skin and its intense antioxidant properties are what most experts attribute its fading abilities to.
According to experts, ginger may help enhance blood flow which helps the skin heal light and superficial scars. 
One of the best soaps to use to lighten your skin is Kojic acid soap you can click here to learn more about the Best Kojic Acid Soaps- Benefits, Side Effects & How to Use
Related Article – 5 Best Soaps to Lighten Dark Underarms, Necks & Thighs
6- Reduces the appearance of cellulite
While there is nothing wrong with having cellulite, some people prefer not to have them, and that's okay too. Ginger helps with lymphatic drainage and blood flow.
This improves the way our bodies flush out toxins and stops the build-up of fat deposits underneath our skin. Ginger's toning properties also help to prevent dimpling of the skin. 
Related Articles –
Best Papaya Soaps for Lighter Skin- Benefits & Side Effects
Best Vitamin C Soaps -Benefits, Side Effects & How to Use 
Video: Ginger and benefits to the skin – dermatologist explains
How To Use Ginger Soaps
Ginger soaps can be used anywhere on the body (externally) once or twice a day during your bath. 
Simply lather up the soap and massage it all over your body, or on the areas that you are treating, let it sit for a minute or two, and then rinse it off. 
Ginger soaps can be used on the face as well. However, since your face is generally more sensitive, be careful about how long you leave it on. 
I recommend that you always do a patch test before applying this soap on your face or large, sensitive areas of your body. 
Related Articles:
Vitamin E Soaps- Benefits, Uses & Side Effects 
Best Calamine Soaps for Itchy Skin- Benefits & Risks
Bonus Tip
Ginger soaps can also be used in your hair! 
Ginger soaps or shampoos are great for controlling dandruff. They also improve blood circulation in your scalp which makes your hair grow faster and healthier. And, finally, they control oil production on your scalp.  
Best Ginger Soaps To Use
1- Miw Piw Ginger Soap
The natural ingredients used to make the Miw Piw Ginger Soap include extracts of ginger, turmeric, coconut, sunflower, and sesame.
Miw Ginger soap is intended to boost blood circulation, reduce inflammation, improve lymphatic drainage, and get rid of cellulite. It is great for all skin types, even sensitive skin since it is very gentle. When lathered it produces a thick foam that cleans and unclogs pores. 
You can Click here to check out the Miw Piw Ginger Soap on Amazon. 
2- Nerite's Lymphatic Detox Organic Ginger Soap
This all-natural soap helps cleanse pores and minimize blemishes while still being mild and effective. The soap's ingredients include wormwood, Shea butter, glycerin, coconut oil, and ginger extract, all of which have many positive effects on the skin, including hydration and firming.
Neriste's Ginger soap is great for all skin types and can be used every day.
You can Click here to see the price for Nerite's Lymphatic Detox Organic Ginger Soap on Amazon. 
3- Dr. Woods Ginger Citrus Bar Soap
Dr.s Woods all-natural citrus soap is made of a combination of ginger, lemon, orange, and lime. It is a gluten-free, cruelty-free bar that is created in the USA and is wrapped in natural materials so it is environmentally friendly.
This soap is ideal for everyday use on all skin types, including dry and oily skin, youthful skin, and aging complexions. The other ingredients include  Fair Trade Organic Shea Butter, Vitamins A, and E, and vital fatty acids.
You can Click here to see the Dr. Woods Ginger Citrus Bar Soap on Amazon. 
What other ingredients are in ginger soaps?
Apart from ginger, and a soap base, other ingredients will depend on the manufacturer of the soap. 
Some soaps may contain other natural ingredients and spices, or they may contain other skincare ingredients like moisturizers, vitamins, etc. 
Related Article – Himalayan Salt Soap – Benefits, Side Effects & Best Ones
Side Effects Of Using Ginger Soaps
The main side effects that are associated with using ginger on your skin are irritation and allergic reactions. 
Since ginger is a spice, some people, especially those with sensitive skin, find that using too much of it can irritate their skin. Even though it is supposed to soothe inflammation, using a high concentration on thin, or very sensitive skin can cause burning, itching, peeling, redness, and general irritation.
If this is the case with your skin, you should use it less often or use a lower concentration of ginger, and moisturize religiously after your ginger soap baths. If these straps do not help, then ginger soaps may not be for you. 
On the other hand, even though ginger allergies are rare, they are still a possibility. If you have a known allergy to spices like turmeric, cardamon and others, or if you are allergic to ginger itself, then you should not use ginger soaps or other forms of ginger skincare products. 
Related Articles:
Best Salt Soap – Benefits, How to Use & Side Effects
Are Carbolic Soaps Safe – Benefits, Risks & Side Effects
Irish Spring Soap- Is it Good, Benefits, & Side Effects
Ivory Soap – Benefits, Side Effects, What You Need to Know
What are pH-Balanced Body Washes- Benefits & Best Brands
Sources
Ginger Benefits for Skin: Uses, Treatments, and Side Effects
11 Proven Health Benefits of Ginger 
 Ginger Is the Brightening Skincare Ingredient You May Have Never Thought To Use 
Experts Say Ginger Is a Natural Pigmentation-Fighter – NewBeauty