How To Correctly Moisturize When Using Azelaic Acid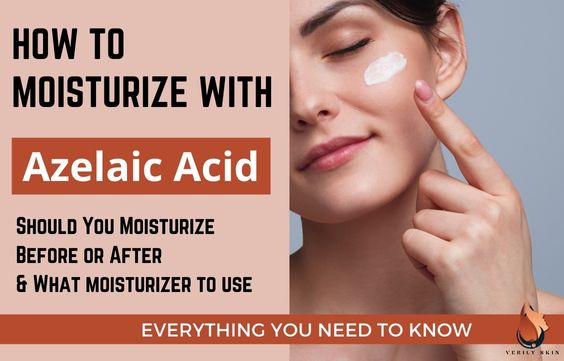 How should you use moisturizer when using azelaic acid? What should you use? What should you avoid? 
If you are new to the azelaic acid train, and these questions sound familiar, dive into the basics with me. 
Applying A Moisturizer Before Or After Azelaic Acid: Which is best?
It is generally best to apply your moisturizer after applying azelaic acid. However, this can depend on the consistency of your product (s).
Ideally, you should apply the thinnest products in your skincare routine first, to ensure maximum absorption. 
It might be difficult to decide when to apply azelaic acid to the skin because it's typically found in creams and gels, which are thicker topical preparations. And, while you want the effects of any topical treatments you might be applying to be unaffected, you also want azelaic acid to adequately permeate into your skin without being over-drying.
According to one clinical trial, moisturizers may be used either before or after azelaic acid application without significantly altering the skin's ability to absorb the acid.
So, when you decide to apply your moisturizer will ultimately depend on:
Your skin's reaction,
The consistency of your products,
And personal preference. 
If you choose to use azelaic acid before your moisturizer I suggest using a formulation that is thinner than the moisturizer if you can find one that is suitable for your skin. 
This will allow it a little more time to seep into your skin and reap the full benefits. Azelaic acid can also cause the skin to become dry, so using a moisturizer following may assist to reduce this effect.
How Long You Should Wait To Apply Moisturizer After Azelaic Acid
Dermatologists recommend that you wait at least 15 minutes after applying azelaic acid before applying your moisturizer. 
This is to make sure that the acid has enough time to deeply penetrate the skin and be well-absorbed. 
During this time, the product should have also dried on your skin, so smearing a moisturizer over it will not smear the product on areas of your skin where you do not need it. 
How to Use Azelaic Acid for Acne Scars & Dark Spots
What Kind Of Moisturizer You Should Use After Using Azelaic Acid
The best kind of moisturizer to use after azelaic acid is one that is hydrating, simple, and will not block your pores. 
The most commonly recommended ones are the ones with hyaluronic acid. 
Moisturizers with other hydrating ingredients like niacinamide can also be used without side effects or reactions. 
Can You Put Moisturizer On Before Azelaic Acid
If you have dry, sensitive skin and/or if your moisturizer is thinner than your azelaic acid formulation, you may apply it before applying your azelaic acid. 
As long as your moisturizer does not block your pores or prevent the skin from absorbing the azelaic acid, it does not affect the efficacy of this acid. 
While it is generally accepted that moisturizer is applied near the end of your routine, this will depend on the consistency of the products and your skin. 
If you have dry and sensitive skin, moisturizing the skin well before applying an acid like azelaic acid can prevent irritation and over-drying. It may even help the acid to penetrate the skin better. 
Just be sure to use one that is not occlusive to the skin. 
A Helpful Suggestion
A great suggestion is to apply azelaic acid after a hyaluronic acid serum and before your moisturizer.
The serum's hyaluronic acid will assist in retaining moisture in the skin and counteract the drying effects that azelaic acid frequently has on the skin. This will aid in both rapid absorption and speedy outcomes. Then, for overall better protection, add a physical barrier to the skin's surface with your moisturizer.
Here is a great video of one person's experience with azelaic acid:
Mad About Skin: AZELAIC ACID – 5 Things I Wish I Had Known | How To Use Azelaic Acid
Best Moisturizers To Use With Azelaic Acid
Here are some great, non-clogging moisturizers that you can use with azelaic acid in your routine:
1- Neutrogena® Hydro Boost Water Gel 
By addressing dryness, this gel makes the face feel more moisturized. It contains hyaluronic acid, dimethicone, a silicone-based component that creates a barrier, and glycerin, a common element in skincare that draws moisture to the skin
Click here to check out the Neutrogena Hydro Boost Water Gel on Amazon.   
2- The Dewy Skin Cream by Tatcha
In a sophisticated, non-greasy consistency, this moisturizer combines deep hydration with antioxidant elements. The brand claims that it is made with a combination of Okinawa algae and hyaluronic acid, which work together to replace ceramides and increase hydration levels in the skin.
Glycerin and dimethicone are some of the moisturizer's other nourishing components.
Click here to see the price for The Dewy Skin Cream by Tatcha on Amazon. 
3- CETAPHIL Daily Hydrating Lotion
Hyaluronic acid is the main hydrating ingredient in this lotion that works to instantly moisturize the skin. It is appropriate for skin that is acne-prone since it is non-comedogenic.
This means that it is a lightweight formula that provides long-lasting moisture without clogging pores. This daily lotion is dermatologist tested and clinically shown to be mild and non-irritating, even for the most sensitive skin. It is hypoallergenic and has no additional scent.
Click here to see the CETAPHIL Daily Hydrating Lotion on Amazon. 
Related Articles:
Using Moisturizer After Benzoyl Peroxide: Tips to Follow
Moisturizing After Salicylic Acid: What To Do & Use
Moisturizing After Glycolic Acid: What You Should Know
Sources:
Evaluation of sequential application of moisturizer lotions and azelaic acid gel 15% using a human skin model 
Important Things To Know About Azelaic Acid