Microneedling Healing Stages & Aftercare Tips to Heal Fast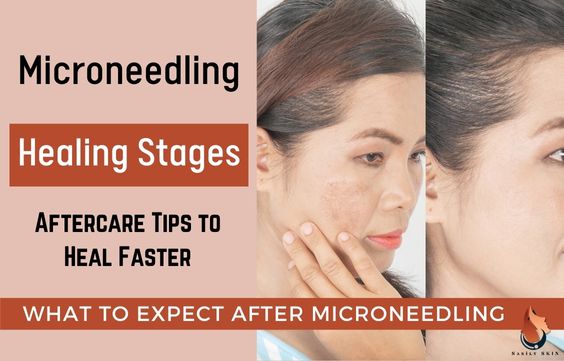 Microneedling has quickly become the go-to treatment for many skin conditions.
This process stimulates increased collagen production, which remodels the skin, as a result of controlled injury to the top layer of the skin.
This puts the skin into healing mode, which is when collagen production is increased. This procedure employs what is called Collagen Induction Therapy.
How long Does it take to Heal from Microneedling?
Most people recover within 7 days of the microneedling procedure.
The microneedling procedure is minimally invasive so some side effects are to be expected. However, you can generally return to your routine in about a week.
What to Expect After Microneedling – Healing Stages
Healing Period
What to Expect/ Healing Stages
Immediately after the procedure(Minutes to Hours)
You can expect to see some redness, and minimal swelling (some people do not get any swelling at all).

As the numbing cream works out you may experience some pain (mild) or discomfort. Your face may also feel increasingly dry. 

If you experience severe pain or swelling or bruising, you need to alert your doctor right away in case there is a complication developing after the procedure.

This can either be due to a unique reaction from your skin or improper technique.
1-7 days after the procedure
Generally, you can return to work one day after the procedure.

Your skin will still be red, but any swelling and pain/discomfort should be visibly decreased by then. 

For the remaining 6 days, you should experience decreasing redness, some dryness that should also improve over time, and some flaking and shedding. 

At the end of the 7 days, the redness, dryness, flaking and shedding should be resolved.

However, this will vary from person to person. Some people may completely heal before the 7 days, while some may take slightly longer.
After 1 week
Even though your skin will be visibly healed after at least 7 days.

It is important to remember that healing under the surface, on a microscopic level, with collagen synthesis, will still be happening weeks after the procedure.

This is where good aftercare and a good skin care regimen will come in. 
Table showing what to expect during the healing period after Microneedling
Other Side Effects During the Healing Process
Some other possible but usually rare side effects are:
Pimples/breakouts
Bumps
Prolonged redness
Prolonged swelling
Infection
Scarring
Keep in mind that once your procedure is done correctly, these side effects are rare. If you have super sensitive skin, you may experience a few breakouts but those usually resolve without a problem. 
If other complications do arise, please seek the immediate help of your doctor. 
Aftercare Tips for Microneedling
1- Follow your specialized skincare routine
Your doctor/practitioner should provide you with a list of instructions for aftercare that are specific to you after microneedling.
This can vary based on your skin type, condition, lifestyle, etc. It is important that you follow their instructions for the best results. 
They will send you home with a tailored skincare routine that will involve:
A gentle cleanser (probably different from your usual one)
Special moisturizers
Serums that are supposed to aid the healing process
Specific ointments to prevent infection and aid healing
Ensure that you follow your doctor's instructions. 
Video Showing Basic Microneedling Aftercare Tips
2- Use SPF religiously
It is super important to reach for your sunscreen at least twice daily and even more often if necessary. 
Exposure to the sun may cause your skin to become burnt or irritated which will slow the healing process or damage the skin. Avoid being in the sun as much as you can. 
Best Sunscreens to use after Microneedling
There are two great sunscreens that I recommend that you can use after Microneedling.
Both of them have an SPF of 50 making them very effective. And they are gentle enough that they wouldn't interfere with the skins healing process.
The best sunscreen to use after microneedling are:
1- Skinceutical Fusion Sunscreen
Skinceutical Physical Fusion Sunscreen is great because not only is it very effective at protecting your skin from UV radiation. But because of its tint it can help to reduce the amount of heat stress that your skin experiences.
Heat stress will further irritate your skin and prevent it from healing after your microneedling procedure.
Skinceutical Sunscreens are a bit expensive but I think they are worth it, you can click here to see the price for a bottle on Amazon.
2- Aveeno Mineral Sunscreen Lotion
Is a great sunscreen, especially for those who have sensitive skin and are prone to breaking out.
This makes it ideal if you are worried about a breakout after microneedling.
It is a more budget-friendly option too, Click here to see the price for Aveeno Mineral Sensitive Skin Sunscreen Lotion
3- Avoid Infections
Infection is one of the complications of microneedling that can slow down the healing process, encourage scarring, and damage your skin. 
To avoid infection, apply any topical antibiotic cream that your doctor recommends. You should also:
Wash your hands before touching your face 
Avoid applying makeup in the 24 hours following microneedling, especially with a makeup brush/tool that has been used before
Avoid swimming pools, hot tubs, and saunas
Avoid circumstances where you can sweat profusely, such as intensive activities at the gym, to preserve your skin. 
You may be allowed to continue these activities once 72 hours have elapsed.
4- Avoid Certain Skincare Products
You should avoid:
Any skin care product that involves harsh chemicals to exfoliate
Fragrant products
Glycolic or alpha hydroxy acids (AHAs). 
Retinol and regular Vitamin C serum, for at least the first 48 hours after microneedling 
If you use products with powerful anti-ageing ingredients, you may want to gradually incorporate items back into your regular beauty routine.
5- Choose the right cleansers & moisturizers
Always consult your dermatologist before using any cleansers, toners, or scrubs in the two to three days following microneedling to ensure the components won't exacerbate side effects. 
What Cleanser & Moisturizer Can Be Used
After microneedling, it's preferable to stick to components that are mild and natural, and those you're comfortable with. But you can also use:
Hyaluronic acid (to assist in increased collagen formation)
Coconut oil (as an emollient to seal in moisture and moisturize your face) 
Diluted, alcohol-free witch hazel (to clean dry skin)
Related Article – How & When to Safely Wash Face after Microneedling
Recommended Cleansers to use after Microneedling
It is recommended that the cleanser that you use after microneedling be effective yet not too harsh to disrupt the healing process of your skin.
You can click on the links below to see the cleansers that we can recommend, they are usually available on Amazon.
ZO Skin Health Gentle Cleanser
Aveeno Ultra-Calming Hydrating Gel Facial Cleanser
THAYERS Alcohol-Free Unscented Witch Hazel Facial Toner with Aloe Vera Formula
Recommended Moisturizers to use after Microneedling
Because your skin is so sensitive after microneedling, it would be best to avoid moisturizers that are scented, or have irritating ingredients.
Here are a few products that are great moisturizers for your skin after microneedling (all available on Amazon):
CETAPHIL Daily Hydrating Lotion for Face , With Hyaluronic Acid
SheaMoisture Overnight Face Oil for, Virgin Coconut Oil for Daily Hydration
Asterwood Naturals Pure Hyaluronic Acid Serum for Face Fragrance Free.
6- Do not use Makeup too quickly
Covering up the redness with makeup is one of the worst things you can do. Makeup may clog the pores on your freshly exposed skin, leading to outbreaks. 
You'll have to wait for the redness to fade. But in the meanwhile, you may soothe it using soft, odorless treatments made with natural components. 
Before applying makeup, you should wait at least 48 hours following microneedling. This allows the skin to recover.
7- Avoid Picking Skin Off
Peeling is a natural occurrence after microneedling. Not everyone peels, but if you do, it usually happens after the second day. 
What should you do about peeling?
Do not pick and peel your skin flakes off. Let them fall off naturally. 
Do not use exfoliators to help remove the skin. Just stick to the skincare routine prescribed to you. The flakes will fall off gradually. 
Why You Need Good Aftercare
Any procedure that requires puncturing the skin is inherently risky. Infection is frequently one of those concerns. Good aftercare prevents infections.
Because your skin has several open wounds, you can't immediately resume your usual skincare routine. So, a suitable and gentle aftercare regimen is essential to prevent further skin irritation.
Post-microneedling care is the only method to keep your skin protected as it heals, enabling all of the treatment's advantages to show through without slowing down the healing process.
What to look out for if complications occur
Generally, microneedling is considered to be low-risk and safe. However, in the rare case that complications do occur, you should look out for the following: 
fever over 100.4°F (38°C)
nausea
hives
yellow or green discharge
bleeding
headache
If any of these symptoms occur, seek medical attention right away. 
Sources/Citations
Microneedling – Aftercare – Healthline