Derma Rolling for Acne Scars – Everything You Should Know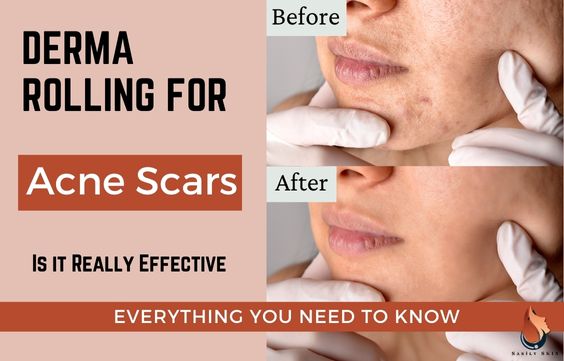 Derma rolling for acne scars has become a very popular treatment – and with good reason: it works!
Severe acne prevents the skin from being able to regenerate properly. Leaving behind red or pigmented scars, and/or uneven texture in shapes known as ice-pick, rolling, and boxcar scars.
And to our everlasting dismay, OTC skin care products do not always help us, but thankfully we can use a derma roller.
So in this article, we are going walk through everything you need to know about derma rolling for acne scars.
How Derma Rolling Helps Acne Scars
Irregular scars such as acne scars are caused by collagen bundles in the top layer of the skin. These are bundles broken down by gliding the small needles from a derma roller over the skin.
Derma rolling promotes the healing process by also accelerating the production of additional collagen. The end result is skin that is plumper, more even in tone and texture, and has fewer apparent scars.
Derma rolling creates micro-channels and controlled injury to the top layer of the skin using multiple, micro-needles on a drum or barrel that rolls over the skin in a controlled fashion. 
When will you see Results From Derma Rolling For Acne Scars
Generally, it may take about 3-6 months to see any visible changes in your skin. 
But the exact length of time it will take to see visible improvement of your acne scars after derma rolling will depend on:
The severity of your scars,
The length of needles you are using,
And how often you are derma rolling. 
However, keep in mind that:
Derma rolling works slower than microneedling and will take more time to produce comparable results. 
The skin takes time to heal and regenerate. As we get older, our skin takes longer to make collagen and to repair. 
The key is to be consistent and patient when derma rolling for acne scars at home. 
Video: How Dermaroller Improved My Skin Texture (Before & After)
Will Acne Scars Come Back After Derma Rolling
No. The results from derma rolling for acne scars are expected to be permanent. 
By applying controlled stress to the skin, derma rolling is intended to stimulate the skin's own healing response. 
As a result of derma rolling, new collagen fibers are created, giving the skin a firmer, smoother, and stronger appearance.
This implies that the scars that were reduced by derma rolling shouldn't reappear.
Benzoyl Peroxide To Treat Acne Scars & Dark Spots
Which Skin Types Are Best Suited To Derma Rolling For Acne Scar
Derma rolling for acne scars can be done with great results on any skin type as long as it is done correctly. 
The effectiveness of the therapy is independent of skin type because it depends on the body's capacity to produce new collagen in order to mend existing scars.
However, crucial considerations when deciding if derma rolling is the best option for you are the type of acne scar and the degree of inflammation your skin produces.
How to Use Azelaic Acid for Acne Scars & Dark Spots
Who Shouldn't Have Derma Rolling For Acne Scars
Derma rolling for acne scars at home is not likely to be effective for you if you have rosacea, eczema, or acne, or if you are presently pregnant.
Other non-invasive, therapeutic alternatives are available in similar circumstances which may be more efficient.
Which Needle Size Is Best For Acne Scars
For shallow acne scars, you will need a roller with needles that are 0.5 mm to 1.0 mm long. For deep acne scars, you will need a roller with needles that are 1.5 mm long. 
You should not use needles that are longer than 1.5 mm long. These may penetrate the skin too deeply. 
If you are new to derma rolling, it is recommended that you start with shorter needles, like the 0.25 mm ones. This will allow you to get acquainted with the technique without the risk of damaging your skin.
How Often Should You Derma Roll For Acne Scars
How often you will need to derma roll to effectively treat your acne scars will depend on the length of needles that you are using. 
| | |
| --- | --- |
| Needle Length | Frequency |
| 0.25 mm | Every other day |
| 0.5 mm | 1-3 times per week (depending on your skin's sensitivity) |
| 1.0 mm | Every 10-14 days |
| 1.5 mm | Once every 3-4 weeks |
How Often Should You Derma Roll For Acne Scars
How To Use A Derma Roller For Acne Scars
You should follow these instructions when derma rolling for acne scars at home:
The derma roller should be removed from its packaging and sterilized and/or cleaned before use.
Prepare your skin by cleaning the treatment area and then applying a suitable serum over the area (this will add to the treatment and will help the roller to glide over your skin).
Hold the skin taut while rolling over each part: once up and down, once side to side, and once diagonally. This can be repeated in each area 3-4 times.
After the skin has become reddish, gently clean the area with either saline solution or clean/distilled water. 
Apply your moisturizing serum or cream and your SPF to your skin.
Clean your derma roller according to cleaning instructions provided or using isopropyl alcohol that is 70% concentrated or higher. 
Replace the derma roller in the storage container after allowing it to dry.
Tips To Follow When Derma Rolling For Acne Scars
To clean your face before derma rolling, you may use a gentle, pH balanced cleanser. If the needles of your roller are longer than 0.5mm, you will need to gently wipe the treatment area with 70% isopropyl alcohol. 
Derma rolling is not usually painful, but you can also use a numbing cream to lessen discomfort if needed. It can be applied for 15-20 minutes before you are ready to clean your face. Remember to completely clean it off before you start derma rolling. 
Before you start derma rolling, mentally divide your face into sections based on where you have your acne scars. 
Do not derma roll the under-eye area or over the eyelids. This skin is too thin and will be easily bruised and damaged. 
Do not derma roll over active acne. This will only irritate the area and spread the bacteria and acne to other areas of the skin, making the situation worse.
Lift the derma roller off the skin after each pass. This will avoid track marks being left in your skin. 
You can decide how many times in each direction you want to derma roll based on how sensitive your skin feels. 
Do not derma roll in one direction over one area more than 6-8 times. Derma rolling for too long can cause scarring (which we do not want more of!)
Do not press the derma roller into your skin too deeply. This will cause the needles to cut into the dermis (middle layer of the skin) or cause tearing in the skin which will cause too much injury and more scarring. 
Recommended Derma Rollers For Acne Scars
Please be aware that derma rollers or microneedling instruments that are greater than 0.3 mm in length are not approved or cleared by the Food and Drug Administration. 
Therefore, it's recommended that you obtain professional advice and guidance before using derma rollers for acne scars at home.
1- Koi Beauty Derma Roller
This roller comes with 540 Titanium needles that are great for home use. It is available in options ranging from 0.5mm to 1.5mm, capable of targeting both shallow and deep acne scars.
This is derma roller is better suited for someone who is not a newbie at derma rolling at home. 
You can click here to see the price of the Koi Beauty Derma Roller on Amazon.
2- Sdara Skincare Derma Roller
If you are a newbie at derma rolling, this is a great option to get started with.
This derma roller has a reputation for effectively addressing shallow acne scars even though the needles are 0.25mm in length.
Its rolling barrel contains 540 Titanium micro-needles. 
Click here to check out the Sdara Skincare Derma Roller on Amazon. 
What Serums Can You Use With A Derma Roller For Acne Scars
When choosing a serum to use with your derma roller, choose one that will benefit your skin. The most common and safe choice is usually hyaluronic acid.  
For example, when derma rolling for acne scars, you might want to choose a serum that moisturizes as well as promotes collagen production and cell turnover. 
If you are not sure how different serums will affect your skin, most professionals recommend that you stick to using hyaluronic acid.
Hyaluronic acid will moisturize your skin and help the skin to efficiently go through its natural healing process. 
What type of Serums to Avoid
If infused farther into the skin, certain serum components might have irritating effects.
Avoid retinol and vitamin C, both of which have the potential to irritate. Also avoid harsh chemicals and active ingredients.
Recommended Serums To Use When Derma Rolling For Acne Scars
THE ORDINARY Hyaluronic Acid
The Ordinary Hyaluronic formulation combines low-, medium- and high-molecular-weight HA, which produces multi-depth hydration in a water-based formula.
This system is supported by the addition of Vitamin B5 which also enhances surface hydration.
You can click here to see the current price for THE ORDINARY Hyaluronic Acid on Amazon. 
Olay Regenerist Micro-Sculpting Serum
This serum is said to be fast-absorbing, non-greasy, and specially designed to regenerate surface cells. It also delivers anti-aging ingredients to the skin.
It contains Niacinamide (Vitamin B3), Vitamin B5, and Amino Peptides which all help to moisturize and rebuild skin cells. 
Click here to check out the Olay Regenerist Serum on Amazon. 
Can Derma Rolling Make Acne Scars Worse
Acne scars can become worse, remain unchanged, or you may develop new scars if derma rolling:
Was done Incorrectly,
Dirty materials were used
The wrong serums was used
Bad aftercare,
The best way to avoid this is to:
Consult a professional for advice on how you should derma roll at home (what roller to use, what length of needles to use, what serums to use, aftercare advise).
Pay attention to your skin so that you know its sensitivity and what kind of treatments you can handle.
Learn the technique before going in blindly.
Start small. This means, start with short needles and basic derma rolling before jumping to the more intense derma rolling options. 
Care for your skin properly before and after derma rolling. 
Related Articles:
Derma Rolling For Stretch Marks – Ultimate Guide
How to Properly Clean Derma Rollers With & Without Alcohol
Microneedling & Derma Rolling for Large Pores – Full Guide
Sources:
Derma-Rolling (aka Micro-Needling) for Acne Scars: How to Do It Right
A Scientific, DIY Guide to Dermarolling Away Scars and Marks
How to use a dermaroller: Uses, tips, and how they work
Microneedling with Dermaroller – PMC