Derma Rolling For Stretch Marks – Ultimate Guide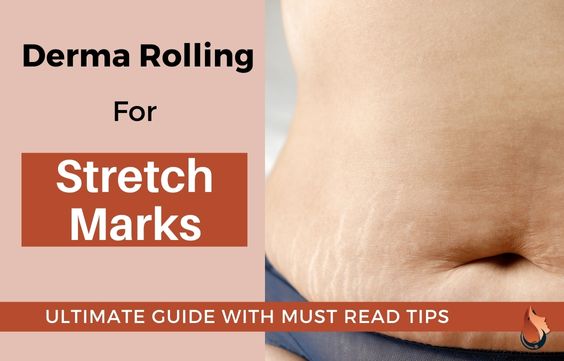 Derma rolling for stretch marks is one of the most discussed topics when it comes to skin treatments. 
Not only can it be conveniently done at home, but it has also proven to be effective over time. 
While there is nothing wrong with having what I like to call tiger stripes, some of us prefer to treat them.
So, let's talk about everything you should know about stretch marks and derma rolling for stretch marks. 
What Are Stretch Marks
Stretch marks are protracted, discolored streaks in our skin. This is usually caused when these areas are stretched out and then are swiftly filled in with hard, disorganized fibers.
The strong, elastic strands that keep the skin together usually allow it to stretch and return to its original shape. Your skin may, however, occasionally expand beyond its typical limits due to quick growth or weight fluctuations.
How Derma Rolling Helps Stretch Marks
Derma rollers gradually break apart the thick, stringy fibers that make up scar tissue as they roll over the skin, exposing collagen fibers at the skin's surface.
Additionally, your body recognizes the slight physical adjustments caused by the microneedles and starts a healing process.
Since stretch marks interfere with collagen synthesis naturally, derma rolling will not only aid in resuming it but also aid in the repair of the dermis's damaged connective tissue, which is the source of the stretch mark.
Eventually, your skin looks smoother and feels more elastic as new, sturdier fibers take the place of scar tissue.
Related Article: Derma Rolling for Acne Scars – Everything You Should Know
Best Size Derma Roller For Stretch Marks
If you are derma rolling at home, then you should use a derma roller with needles that are 1.0mm to 1.5 mm long. Do not use longer needles at home.
Stretch marks can also be effectively treated using 2.0mm needles. However, these needles should only be used by a professional on your skin and in a clinical setting. 
Using A Derma Roller For Stretch Marks: When & How
The basic steps to follow when derma rolling for stretch marks are:
Make sure that you properly clean your derma roller before using it on your skin. 
Thoroughly cleanse the skin of the treatment area. You can do this using a cleanser of your choice. 
Apply a hydrating serum of your choice. It is best to choose one with hyaluronic acid and that does not have irritating ingredients or actives. 
Using light pressure, roll the derma roller across the stretch marks in various directions for about one minute. 
Reapply your hydrating serum within 60 seconds of derma rolling for maximum absorption.
Repeat this process 2-3 times per week. 
Video: How To Use A Derma Roller On Stretch Marks
How long does derma rolling take to work on stretch marks
It will take about 1-2 months for you to start seeing visible changes in your stretch marks when derma rolling. 
Remember that the skin where stretch marks usually occur is thicker and the skin takes time to break down and regenerate collagen fibers and elastin. 
If you derma roll 3 times per week (and you should not derma roll more often than that), your stretch marks will eventually fade after 3-6 months. 
If you are derma rolling less frequently (maybe once per week or once every 4-6 weeks as some dermatologists recommend) you will see results after 7-8 months. 
However, all of this will depend on:
Whether the stretch marks are old ones or new ones
How many of them there are and how they are spread over the skin
Your skin type and its ability to produce inflammation and regeneration
Additional serums and products you may use
Some people will see results faster than others, but it all comes down to your skin and what works best for you. 
Remember that patience and consistency are key. Skin regeneration is a slow process. Give your skin time and some TLC!
Will Stretch Marks Come Back After Derma Rolling
Yes, stretch marks can come back after derma rolling.
You see because our skin is elastic, various life events like pregnancy, weight gain, medical conditions can cause stretch marks to reappear. 
However, if you continue to stick to your derma roller routine, and your skincare routine, you may be able to manage how stretch marks appear. 
They may appear less pronounced, they may fade quicker, or they may not appear at all after your skin has contracted!
Tips To Remember When Derma Rolling For Stretch Marks
1- You can derma roll more frequently on stretch marks.
This is because they usually occur in areas where the skin is thicker than the face.
So, even though you are using a relatively long needle, you can derma roll more often than you would if you were treating your face or an area with thin skin. 
Important Note
If you find that your skin is sensitive and derma rolling 2-3 times per week is too much for you, you can decrease the frequency. The treatment will still work, but it will just take a little longer.
If you continue to derma roll even though your skin is too sensitive or too irritated to stand the treatment, you will do more damage than good. Your skin will be too inflamed to heal properly and may even scar. 
2- Avoid Derma Rolling For Too Long
Do not derma roll one area of skin more than 10-12 times or for longer than a  minute. Even though the skin is thicker, it can still become damaged and irritated with too much derma rolling. 
3- Use the Derma Roller Correctly
Always lift the derma roller off your skin after each pass to avoid leaving track marks on your skin.
4- Use Serums For Best Results 
You may use serums that hydrate and moisturize your skin or that stimulate collagen production and skin regeneration along with your derma roller to enhance the healing and regeneration process. 
5- Practise Good AfterCare
If you are derma rolling an area that is usually exposed, do not forget to use a good SPF. 
Also keeping your skin moisturized after derma rolling as much as possible is very important. 
Related Article – Microneedling Healing Stages & Aftercare Tips to Heal Fast
Recommended Derma Rollers For Stretch Marks
1- Koi Derma Roller
This derma roller comes in a 1.5mm needle option that contains 540 titanium microneedles. It can be cleaned using 70% isopropyl alcohol, it comes with a user manual, and it is safe to use on your body for stretch marks. 
You can click here to see the price of Koi Derma Roller on Amazon.
2- THAPPink Derma Roller Kit
This kit comes with three replaceable heads. The one that you can use for stretch marks is the body attachment head which has 1200 microneedles that are 1.0mm long.
It also provides red or blue LED light therapy. The red LED light therapy helps to stimulate collagen production which will effectively treat stretch marks. 
Click here to view the THAPPINK Derma Roller Kit on Amazon. 
Best Serums To Use When Derma Rolling For Stretch Marks
Cerave Hyaluronic Acid Serum
This serum contains hyaluronic acid, ceramides, and Vitamin B5, all of which moisturize the skin and aid in its regeneration abilities.
It can be used on the body as well as the face and would be great over areas where you are derma rolling for stretch marks. 
You can click here to see the price of the Cerave Hyaluronic Acid Serum on Amazon. 
Paula's Choice BOOST Hyaluronic Acid Booster
This concentrated serum contains a specialized matrix of skin-smoothing hyaluronic acid, skin-replenishing ceramides, and panthenol.
It penetrates the skin's surface to help lock in moisture, keeping skin hydrated and ultimately moisturized. 
You can click here to see the price for Paula's Choice BOOST Hyaluronic Acid Booster on Amazon.
Sources:
A Scientific, DIY Guide to Dermarolling Away Scars and Marks
Microneedling Old Stretch Marks – Everything You Need to Know! – DermRollers
Derma Rolling for Stretch Marks | Microneedling Results | BeautyBio
I Tried Derma-Rolling for Stretch Marks—Here's What Happened