When & How to Moisturize After Microneedling & What to Use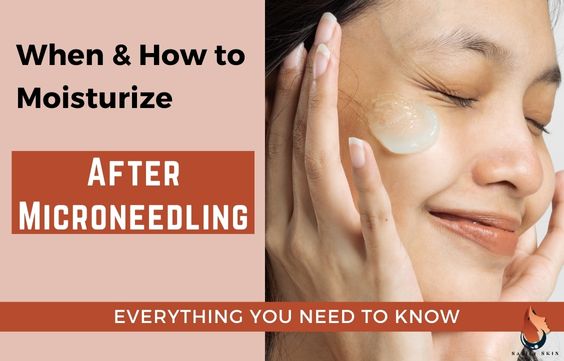 Moisturizing after microneedling is one of the most important things you can do for your skin to ensure that the procedure is sucessful. 
That is why it is important that you moisturize correctly and use the right type of moisturizer as well.
So in this article, I will cover:
Why moisturizing after microneedling is so important
How to choose a moisturizer
Tips about moisturizing after microneedling
Which moisturizers that are to use after microneedling
Should You Use A Moisturizer After Microneedling
Absolutely a moisturizer is essential to use after microneedling.
Apart from your SPF, correctly moisturizing is part of the holy grail of your aftercare regimen after microneedling. 
Why Moisturizing After Microneedling Is So Important
Microneedling creates little holes in the skin. It is very easy to lose moisture through these little channels. 
Good hydration and moisturization will ensure that your skin does not become too dry. Your skin will need to lock in the moisture needed for it to heal properly. 
Moisturizing after microneedling will also help to repair and maintain your skin's natural barrier, which will protect the skin and aid the healing process. 
Additionally, excess drying out of the skin will cause irritation and damage. This can make the skin more prone to infections, breakouts, itchiness, and scarring. 
How Long After Microneedling Can You Use A Moisturizer
Your doctor or practitioner will apply a suitable moisturizer and SPF on your skin immediately after the procedure along with any treatment creams or lotions. 
After that, when you get home, it is safe to apply your recommended moisturizer after you have washed your face. 
After the initial face washing, it is recommended that you moisturize at least twice a day.
You should also moisturize after every time that you wash your face (which should also be twice a day). 
Do not forget to apply SPF over your moisturizer to protect your skin. When your skin is protected it can make more use of the moisture that you are adding. 
Related Article – How & When to Safely Wash Face after Microneedling
Best Moisturizer To Use After Microneedling
The best moisturizer to use after microneedling is Hyaluronic Acid. 
It's recommended that you use either pure hyaluronic acid or products that contain hyaluronic acid as your moisturizer. 
If using other products with hyaluronic acid, remember to choose the ones that are also:
fragrance-free
non-toxic
will not block pores (non-comedogenic)
do not contain any active ingredients
Why is Hyaluronic Acid The Best Choice For Moisturizing After Microneedling
Adding topical Hyaluronic Acid to your skin after microneedling boosts hydration and boosts the skin's capacity to absorb nutrients.
It also improves healing and regeneration, resulting in plump, smooth, and younger-looking skin.
Hyaluronic Acid (HA) is a humectant (a substance that helps to hold on to moisture), with the ability to bind nearly 1,000 times its weight in water.
HA can be found naturally in many parts of the human body, including the skin, eyes, and joint synovial fluid. But, scientists have found a way to make it through a process called Biofermentation.
Great Hyaluronic Acid Serums You can Use After Microneedling
1- THE ORDINARY Hyaluronic Acid
The Hyaluronic Acid used by the ORDINARY allows for deep hydration. This is because the molecules are very small allowing them to penetrate deep into the skin.
The ORDINARY also contains Vitamin B5 which also enhances surface hydration.
Click here to check out the price of THE ORDINARY Hyaluronic Acid 2% + B5 on Amazon. 
Neutrogena Hydro Boost Hydrating Hyaluronic Acid Serum
Neutrogena Hydro Boost is oil-free, won't clog pores, and contains purified hyaluronic acid. 
This allows it to be easily absorbed into the skin and delivers higher hydration levels.
You can get the Neutrogena Hydro Boost Hyaluronic Acid Serum on Amazon, click here to see the price there.
Vichy Mineral 89 Hyaluronic Acid Face Serum
Vicky Mineral Infused Hyaluronic Acid serum is amazing it:
Is safe and effective for all skin types, in a minimalist, fragrance-free formula with only 11 ingredients.
Strengthens & repairs the skin's barrier, hydrates & plumps skin
Makes skin more resistant to visible signs of aging by factors such as UV radiation, pollution, and stress.
Is a lightweight, fast-absorbing translucent booster.
Is accepted by the National Eczema Association. 
Now the Vichy Mineral Hyaluronic Acid Serum is a bit expensive compared to other brands. But I think it's worth it. You can click here to see the price of it on Amazon.
Tips On How To Moisturize After Microneedling
Here are some great tips to help you get the best out of your aftercare when it comes to moisturizing:
1- Keep it simple
It is best to stick to a cleanser, a moisturizer, and an SPF for the first few days after microneedling.
You do not want to pack your face with products. Instead, you should let it heal naturally and with some protection. 
2- Moisturize at least twice daily
You should wash your face twice daily after the first 24 hours of healing after microneedling. Every time that you wash your face, you should moisturize to lock in moisture and keep your skin from drying out. 
3- Choose the right kind of moisturizer
Different skin types will require different things. However, all skin becomes even more sensitive after microneedling. 
So, if you are going to use a moisturizing cream, lotion, or any other product:
Ensure that it is non-irritating,
Fragrance-free,
Non-toxic and can adequately moisturize your face. 
Hyaluronic acid is the most recommended moisturizer because it is one ingredient that is already made by the body, and it is not harsh and will not block pores. 
4- Always consult your doctor or practitioner
about applying serums or creams to your skin after microneedling.
Also, do not hesitate to consult them if you have questions about your aftercare or any side effects from the procedure or the aftercare products. 
5- Always use an SPF
Good sun protection will protect your skin from sun damage. This will allow the skin to make the most of the moisturizer that you have applied and aid the healing process. 
Other Great Moisturizers To Use After Microneedling
CeraVe AM & PM Facial Moisturizing Lotion
CeraVe Lotions are great to use after microneedling. They work to lock in moisture and help restore your skin's protective barrier.
Benefits of Using CeraVe After Microneedling
Oil-free, and non-clogging so it offers an effective, yet gentle way to care for your normal to oily skin
Can help hydrate, calm, and soothe your skin, while also helping to maintain your protective skin barrier.
It contains niacinamide, hyaluronic acid, and three essential ceramides all of which promote healing which is needed after microneedling
The CeraVe AM version is an SPF 30 whilst the nighttime version doesn't include the added sun protection.
You can click here to see the price for both the Cerave AM and PM Moisturizer on Amazon.
Cetaphil Daily Hydrating Lotion with Hyaluronic Acid
The Cetaphil Hydrating Lotion with Hyaluronic Acid is also effective to use after microneedling. It is:
Formulated with Hyaluronic Acid and a combination of powerful moisturizing agents.
A gel-textured lotion that easily glides on the skin. Perfect for dry or extra dry skin.
Non-clogging, hypoallergenic and fragrance-free.
Dermatologist and Ophthalmologist Tested. 
Click here to see the price of Cetaphil's Daily Hydrating Lotion with Hyaluronic Acid on Amazon. 
Related Articles:
Microneedling Healing Stages & Aftercare Tips to Heal Fast
How & When to Safely Wash Face after Microneedling
Sources:
How to Take Care of Your Skin After Microneedling
The hype on hyaluronic acid – Harvard Health
Microneedling with Hyaluronic Acid in Austin – Vitalogy Skincare
Micro-Needling With Hyaluronic Acid Birmingham, MI | Dermal De-Aging Detroit   
The 15 Best Hyaluronic Acid Serums of 2022 – Byrdie 
The Ordinary Hyaluronic Acid 2% + B5 
Hydro Boost Hydrating Face Serum with Hyaluronic Acid | NEUTROGENA® 
AM Facial Moisturizing Lotion with Sunscreen 
PM Facial Moisturizing Lotion | CeraVe 
Cetaphil Daily Hydrating Lotion with Hyaluronic Acid 
Cetaphil Rich Hydrating Night Cream with Hyaluronic Acid 
Neutrogena ® Hydro Boost Gel-Cream with Hyaluronic Acid for Extra-Dry Skin