Microneedling & Derma Rolling for Large Pores – Full Guide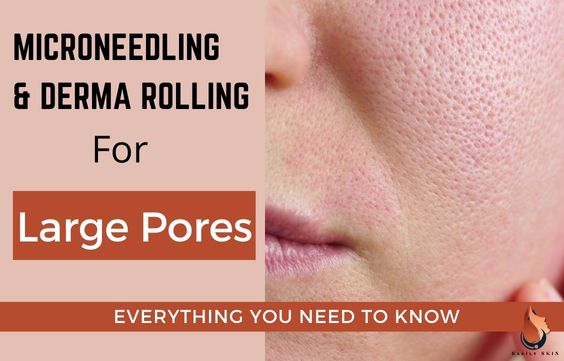 Larger pores do not only look unsightly but they also make it easier for dirt and other debris to infiltrate our skin. This makes us more prone to breakouts, leading to more skin blemishes.
This is why it's usually recommended to treat large pores. Both Microneedling and Derma rolling are very effective treatments.
They do not only decrease the appearance of pores but also address skin texture, discoloration, and the look of fine wrinkles.
Can Microneedling Shrink Pore Size
Microneedling does not shrink pores but it can contain them and diminish their appearance on the skin. 
This makes your skin look smoother and reduces the chances of blemishes occurring.
How Microneedling Treats Large Pores
Microneedling produces small injuries in the skin that form micro-channels or holes that sends the skin into healing mode.
In healing mode, the skin ramps up its collagen and elastin production. Increased collagen and elastin smoothen and tighten the skin, reducing your pores' appearance. 
So, does this mean that your pores change size? No. 
The actual size of your pores cannot change.
However, tightening the skin means that the pores are now confined to their rightful, small space in the skin, rather than having too much space to keep getting larger. 
How Many Microneedling Sessions Does It Take To Diminish Pores
Depending on each person, the total number of treatments required to observe a difference in pore size appearance will vary.
Each person's skin is different. Their pores will be of different sizes. Their skin will react differently to the treatment. 
As such, every person should not expect the same results in the same amount of time. Some may see results faster than others. 
Causes of Large Pores
Large pores are generally linked to:
To our genes
The kind of skin we have (those with oily skin have bigger pores),
And they can also be a sign of aging.
Your skin loses suppleness as you age, and your body generates less collagen, resulting in the appearance of bigger pores.
How Long Do The Effects Of Microneedling For Large Pores Last
The results of your initial round of microneedling should last about 3-6 months. 
After that, your dermatologist will assess your skin to see when you need repeat sessions of microneedling 
After your first round of sessions, your skin should be more receptive to the treatment and you should see better results, faster. 
Cost Of A Microneedling Session To Target Pores
A microneedling session can cost anywhere from $100 to $700 depending on body area, size of the area, type of microneedling, products being used, your doctor, your location, etc. 
The area that is related to pore size is usually the face. This is one of the smallest surface areas to be treated. 
The official Dermapen website says that face treatments may cost about $300 per session. 
However, even this cost will vary depending on:
How many sessions are needed,
Your provider,
Location,
Prep requirements,
Additional serums and treatments,
And additional aftercare and recovery requirements. 
Does Derma Rolling Have The Same Effect on Pores As Microneedling
Derma rolling will also decrease the appearance of pores, but more slowly than with microneedling. 
Microneedling uses needles that can penetrate the skin up to 2.5mm deep. Derma rollers are restricted up to 1.5mm. 
While the concept of creating micro-channels in the skin to induce healing in the skin is the same, the degree to which derma rollers do this is less. 
Therefore, you would have to either derma roll more often or for a longer time to see the same results as microneedling. 
How To Derma Roll To Diminish The Appearance Of Pores
When derma rolling to target large pores, you should choose a needle length of 0.25 to 0.5 mm and derma roll 2-3 times a week. 
If you are having this done professionally, your skincare professional or dermatologist will assess your skin after each session. 
They will determine if your skin is healing well enough and judge how many sessions you will need and when. 
If you are derma rolling at home, be patient with your skin. Use your best judgment to make sure that your skin is healing well before starting another session. 
Keep in mind that collagen synthesis is a slow process. The skin takes a long time to repair, and derma rolling will not produce results as fast as microneedling.
Video: Dermaroller For Beginners – How To Use Your Dermaroller
How Long Do The Effects Of Derma Rolling For Large Pores Last
The effects after the initial period of derma rolling will last for 3-6 months. 
However, continued use of the derma roller has proven to achieve better and longer-lasting results.
How Often Should You Derma Roll For Large Pores  
This will vary with everyone. But obviously, you cannot continue to derma roll three times a week indefinitely (You risk damaging your skin).
But, you can maintain your results by consulting a professional to advise you on how often you should derma roll. 
For example, they may recommend that you conduct a round of derma rolling (3 times a week for a specific number of weeks) every 6 months.
Additionally, your effects will also last longer with proper aftercare and general skin care after your derma rolling treatment. 
Cost Of Derma Rolling To Target Pores
A derma roller costs anywhere between $20 to $160, sometimes more. 
A benefit of derma rolling is that it is more cost-effective than micro-needling, even if you have a professional do it. 
It is also better to obtain advice on what kind of derma roller you should be using and the right way to use it before you end up spending more dollars on damage control for your skin. 
If you can, it is better to use good quality and reputable brands of derma rollers. Sometimes, the cheaper ones are made with inferior material and needles that do not work as well. 
Diminishing Large Pores: Microneedling vs Derma rolling
When it comes to faster results with less effort, microneedling is better to target enlarged pores. 
Derma rolling, while effective, takes longer to achieve the same results. 
As discussed earlier, derma rolling does not penetrate the skin as deeply. The reaction derma rolling will produce will be less pronounced and will take longer.
However, when it comes to cost-effectiveness, derma rolling is a better option. 
The cost of a derma roller that you can use multiple times is cheaper than the cost of one microneedling session, and you will need more than one session. 
The downside (and sometimes not a downside if you are patient) is that derma rolling is a process you will have to be consistent with for weeks to see and maintain your results. 
With derma rolling, you also stand a risk of damaging your skin if you do not know what you are doing. It is always best to have a professional advise you on what kind of derma roller to use and how to use it. 
Video: Dermatologist Explains The Derma Roller vs Dermapen
Great Derma Rollers That You Can Use For Large Pores
Not all derma rollers are created equal. Here are a few that I have found and would recommend for at-home use:
1-BeautyBio GloPRO Regeneration Tools
This is a patented at-home microneedling rejuvenation tool that amplifies skincare absorption and creates firmer, smoother skin.
As microneedles glide over the skin, the skin's natural rejuvenation response is ignited, which stimulates cells to restore volume and glow from the inside out.
LED red light therapy and microcurrent stimulation help stimulate cellular turnover and magnify results.
Now the main issue is that BeautyBio GloPRO is a bit more pricey but I think its worth it especially with the red light therapy.
Click here to check the price of the BeautyBio GloPRO Regeneration Tools on Amazon
2-DERMAROLL by Prosper Beauty 6 Piece Kit
This kit was designed by healthcare professionals with safety and hygiene as a priority. DERMAROLL contains 600 titanium micro needles with 4 replaceable roller heads (1 attached and 3 additional ones).
Titanium needles are 3-4 times stronger than stainless steel and will last longer and stay sharper, preventing injury to your skin.
The short 0.25mm micro needles are great for treating large pores, safe to use at home, painless, and do not penetrate living layers of skin.
Now the Prosper Beauty Kit doesn't have the redlight therapy like the gloPRO but it is more budget-friendly and will still do an amazing job with your pores.
Click here to view the current price of the DERMAROLL by Prosper Beauty Kit on Amazon
Related Articles:
Microneedling Healing Stages & Aftercare Tips to Heal Fast
Sources: 
A Scientific, DIY Guide to Dermarolling Away Scars and Marks
Can Microneedling Help with Pore Size? Los Angeles | CA
Microneedling to Reduce Pore Size | Derma Health Institute
Can Microneedling Reduce Pore Size? – My Cosmetic Clinic
Will Microneedling Make My Pores Smaller?
Microneedling Cost by Type and Body Part, Versus Laser, and More
How Much Does Microneedling Cost? – DermRollers 
Dermaroller vs Microneedling | Focal Point Salon & Spa   
The Best Derma Rollers That Make At-Home Microneedling a Breeze