Aloe Vera after Microneedling & Dermarolling – Is it Safe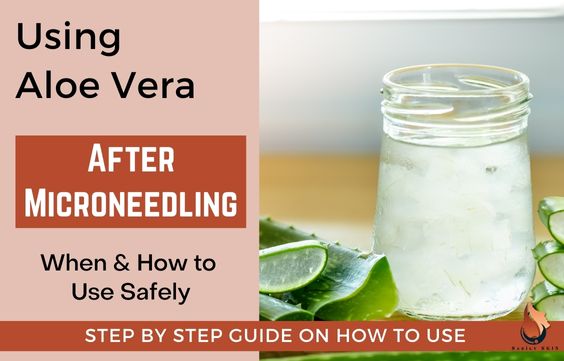 Aloe Vera is known to be quite soothing for the skin and very hydrating. It is all-natural and pretty safe for sensitive skin.
However, does this mean we can use it on your skin after procedures like microneedling and dermarolling? Or is there more to consider than its hydrating properties?
Can You Use Aloe Vera After Microneedling & Dermarolling
Yes, you can use aloe vera after microneedling & derma rolling, but not right away. 
Even though aloe vera is all-natural and generally soothing, most experts still suggest that you stick to hyaluronic acid as the preferred option, at least 48 – 72 hours after the procedure. 
Related Article – When & How to Moisturize After Microneedling & What to Use
Why Hyaluronic Acid Is Prefered Over Aloe Vera
Hyaluronic acid is already produced by the body and is safer and gentler than any other hydrating ingredient. 
Hyaluronic acid is a natural substance that is already made and found in our skin, joints, and eyes. Therefore, it is considered the safest option for treating your skin just after invasive procedures. 
On the other hand, even though aloe vera is natural and soothing, it is not native to our bodies.
Some people have reported itchiness and rashes after using aloe vera just after microneedling. This is most likely due to impurities found on the plant left over from not washing or purifying properly.
Or, even though it is soothing, some people's skin might still be too sensitive to the enzymes in aloe vera which also act as exfoliant.
Related Articles:
9 Best Oils to Use After Microneedling Or Derma Rolling
Retinol after Microneedling – Everything You Need To Know
How to Use Aloe Vera After Microneedling & Dermarolling
Wait for at least 48-72 hours before applying clean aloe vera gel to your face after microneedling & dermarolling. 
After your face has had some time to heal, you may start using aloe vera gel. Make sure that the gel has been extracted from the leaves of the plant well and try to purify it as much as you can. 
This means that you will need to make sure that the green parts are entirely removed as well as avoid the yellow substance that sometimes appears on the gel. This yellow substance is called aloin or aloe latex and can cause irritation and allergic reaction on the skin. 
You will also need to wash it well to prevent any bacteria from getting on your skin. 
It is also better to use fresh aloe leaves rather than store-bought aloe vera gel which may contain dyes or additives that can irritate your already sensitive skin. You can prolong the shelf life of your homemade aloe vera gel by adding Vitamin C or Vitamin E. 
However, if you cannot get your hands on these or the fresh aloe vera leaf, try to look for an organic, certified brand of aloe vera gel. 
Video: UnivHair Soleil – How To Make Pure Aloe Vera Gel & Store it For Months With No Preservatives | DIY
Benefits of Using Aloe Vera After Microneedling & Dermarolling
If you wait an adequate amount of time before using aloe vera gel on your skin after microneedling and derma rolling, you can see tremendous benefits over time. 
When your skin can absorb and make use of well-prepared aloe vera gel, it can:
Deeply moisturize
Soothe and calm
Boost healing and regeneration
Reduce aging
Protect the skin from sunburn and sun damage
Prevent and treat mild skin infections and acne
Related Articles –
Can Microneedling Scar or Darken Skin (Hyperpigmentation)
Tretinoin After Microneedling – When & How to Use
Risks & Side Effects of Using Aloe Vera After Microneedling & Dermarolling
Aloe Vera gel, though popular and natural, is not FDA-regulated. Therefore, it is up to you, the consumer, to observe your skin and use it at your discretion. 
Possible side effects of aloe vera gel, when used on super-sensitive skin (especially after procedures like microneedling & dermarolling), may include:
Dryness – even though aloe vera is said to be hydrating, it is also exfoliating. This can result in irritation and dryness if sensitive skin is exfoliated too much and stripped of its natural oils. 
Irritation – aloe vera gel has enzymes and other active ingredients like Vitamin C that can be too irritating to the skin if it is raw and exposed (like after microneedling created micro-channels in the skin)
Allergic reaction – the yellowish substance (aloin or aloe vera latex) can cause an allergic reaction on normal and sensitive skin. 
Worsening infections – even though aloe vera has some antimicrobial properties, it is not strong enough to treat moderate to severe skin infections. It may also interfere with the inflammation process of the skin which can make the infection worse. 
It is better to let your skin heal and recover after microneedling to apply any natural or intense treatments, even the ever-satile aloe vera gel. 
Click here to read about Microneedling Healing Stages & Aftercare Tips to Heal Fast
Also, click here to see Acne & Breakouts After Microneedling – How to Treat
Aloe Vera Products To Use After Microneedling & Dermarolling
1- Lily Of The Desert Topical Aloe Vera Gel
This aloe vera gel is harvested from fresh aloe vera leaves. It is reported to be great for sensitive skin. If you have to use store-bought aloe vera gel, this is a great option.
Click here to see the Lily of The Desert Topical Aloe Vera Gel on Amazon.
2- Cetaphil Soothing Gel-Cream with Aloe
To help rapidly cool and soothe dry skin for 24 hours, this moisturizer combines calming Aloe Vera and a special combination of moisturizers. It is also dermatologist tested and recommended for sensitive skin.
Click here to see the price for the Cetaphil Soothing Gel-Cream with Aloe on Amazon.
3- Advanced Clinicals Aloe Vera Hyaluronic Acid Moisturizing Lotion
Even though this moisturizer is made from aloe leaf juice rather than aloe vera gel, it is soothing and gentle on the skin.
It also has other moisturizing and soothing ingredients like vitamin C and hyaluronic acid. It is a great option that you can use for 3-4 days or a week after microneedling and dermarolling.
Click here to see the Advanced Clinicals Aloe Vera Moisturizing Skin Care Lotion on Amazon.
Sources:
What to Put On Skin After Microneedling