How to use Vaseline for Wrinkles & Circles Under the Eyes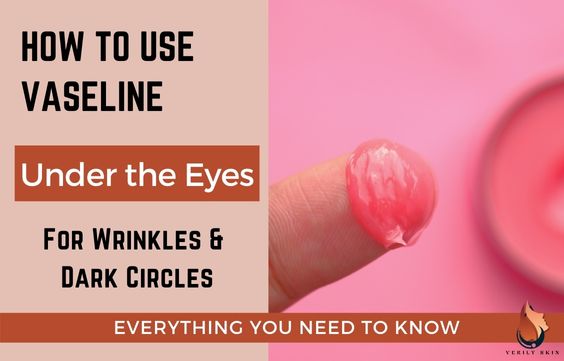 Using Vaseline on the face has become a viral trend these days. It is being used for everything from slugging to eye creams and lip balms.
However, can you use Vaseline for wrinkles & dark circles under the eyes effectively?
Does Vaseline Help Wrinkles & Dark Circles Under the Eyes
While Vaseline will not erase wrinkles & dark circles under the eyes, it will help to improve their appearance.
Your under-eye skin is thin, sensitive, and prone to dryness and irritation. Most eye creams and under-eye products focus a great deal on being as hydrating as possible for the area.
Vaseline is occlusive. It will seal the skin and lock moisture and hydration in. Many people find that using vaseline after moisturizer helps to seal the moisture and hydration in the skin.
Preventing dryness and locking in moisture helps to heal the skin and gives it a plumper appearance. These effects lessen wrinkles and fine lines, as well as dark circles.
For other better ways to lighten the dark circles under the eyes and get rid of wrinkles you can check out our articles below:
Using Azelaic Acid for Wrinkles & Circles Under the Eyes
Niacinamide for Dark Spots & Wrinkles Under the Eyes
Chamomile Tea Bags On Eyes: Benefits & How To Use
How to use Honey for Under Eye Wrinkles & Dark Circles
Benefits Of Using Vaseline Under The Eyes
Using Vaseline as an under-eye cream has many benefits. It:
Occludes the skin (keeps moisture in)
Prevents trans-epidermal water loss (water loss through the skin)
Keeps the skin softer and moisturized
Prevents dryness by keeping the top layer of the skin soft and sealed while locking moisture and hydration in the deeper layers
How to Use Turmeric for Under Eye Dark Circles & Wrinkles
Will Vaseline Help To Prevent Wrinkles & Dark Circles Under The Eyes
Yes, using Vaseline will help to slow down the aging of the skin and prevent wrinkles & dark circles.
Keeping the skin well moisturized and hydrated will ensure that the moisture barrier and the rest of the skin are healthy. This, along with good skincare, good diet and sleep, and sun protection will prevent skin damage from free radicals and aging.
Wrinkles will take much longer to develop and when they do, they will be much less obvious. Dark circles can also be avoided.
One of the most effective ways to get rid of circles is to use Tretinoin click here to learn how to use it correctly for Under Eye Circles & Wrinkles
How to Use Vaseline for Wrinkles & Dark Circles Under the Eyes
The best way to use Vaseline for wrinkles & dark circles under the eyes is as an eye cream.
You may also use it in various DIY preparations, but the simplest way is to just lather a small amount directly on your skin after your moisturizer and before your sunscreen.
Did you know you can use Toothpaste For Dark Under-Eye Circles & Wrinkles, click here to learn more.
How Often Should You Use Vaseline Under The Eyes
You may use Vaseline under your eyes as often as you want since it is well-tolerated on almost any kind of skin.
This will vary based on your preference and how dry your under eyes are or how bad the dark circles and wrinkles are. You may need to reapply it every few hours or you may be able to use it once or twice per day at the end of your skincare routine.
If you are going out during the day, remember to use sunscreen over it!
Can You Leave Vaseline Under The Eyes Overnight
Yes, you can leave Vaseline under the eyes overnight.
The most effective time to use it is at night, before bed, or after your skincare routine. This will seal the moisture in your skin as it relaxes and is protected from the sun at night.
Since it can be a bit oily, using it during the day, especially in hot weather or under makeup might be a little messy (even though you only need a very small amount).
When Will You See Results From Using Vaseline Under The Eyes
You should see visible differences in your under-eye skin within one week of using Vaseline consistently.
This will depend on the condition of your under-eye skin but improving the moisture level in your skin will improve its condition in a few days.
DIY Recipes With Vaseline For Wrinkles & Dark Circles Under The Eyes
Here is a great video recipe we found for a DIY Vaseline under-eye cream and a few other DIY recipes:
Video Recipe: Recipes to Remove Under Eye Bags Dark Circle, Wrinkles, Puffy Eyes
1- Vaseline + Lemon For Dark Under-Eyes
Petroleum jelly (Vaseline) hydrates skin and removes the tired appearance that dark circles give your face. The lemon juice provides hydrating and helps to lighten the darkness.
Ingredient/materials:
Mixing bowl
Spoon/spatula/brush
Vaseline
Lemon
Directions:
Use your fingers or a small spoon or spatula to thoroughly combine a 1/4 teaspoon of petroleum jelly with a few drops of lemon juice.
In the evening, apply it using a small brush or your fingers.
Let it sit for an hour, then wipe it off with a cotton cloth.
For the best results, do this consistently (daily).
2- Vaseline Hydrating Eye Cream For Wrinkles
Vaseline will seal in the moisture and hydration that the other ingredients in the eye cream will provide.
Ingredients/Materials:
Vaseline
Olive Oil
Aloe Vera Gel
Vitamin E Capsules
Mixing Bowl
Spoon/Spatula
Storage Container
Directions:
Grab a tidy little container with a lid.
Add Aloe Vera gel, petroleum jelly (Vaseline), and olive oil to your mixing bowl.
Now add the Vitamin E pill and thoroughly combine all the ingredients.
Mix well and transfer to your storage container. This can be kept in the fridge for 15-20 days.
Apply a few tiny dabs of cream around the eye with your ring finger.
Use the tip of the ring finger to gently tap the cream into the skin five times in a clockwise direction and five times in a counterclockwise direction.
Apply it at night, just before you go to sleep.
You will see tangible improvements if you use this cream frequently (daily).
3- Vaseline + Rose Oil + Wheat Germ Oil Eye Cream
Wheat germ oil is ideal for moisturizing dry skin and reshaping thanks to its vitamin E content. Rose oil, on the other hand, is toning and soothing. The Vaseline will seal the skin and lock everything in.
Ingredients/Materials:
Mixing Bowl
Spoon/Spatula
Storage Container
Wheat Germ Oil
Rose Oil
Vaseline
Directions:
Melt 2 tablespoons of Vaseline in the microwave or in a water bath to prepare this cream.
The melted Vaseline should be mixed with 1 tablespoon each of wheat germ oil and rose oil in your mixing bowl.
Transfer the mixture to your storage container.
Wait a few hours for the ointment to solidify then gently massage it in a circular motion over your under-eye contour.
You may apply this daily, any time of the day, but the best time is at night.
Related Articles:
Can You Use Salicylic Acid Under the Eyes – Shocking Truth
Sources:
How to try the TikTok Vaseline under-eye hack – TODAY
Vaseline Is A Secret Hack For Plumping Your Under Eyes And This Expert Explained Why
How to Treat Dry Skin Around the Eyes
Using Vaseline on your face: Benefits and risks