Cucumbers On Eyes: Benefits & Side Effects- What to Know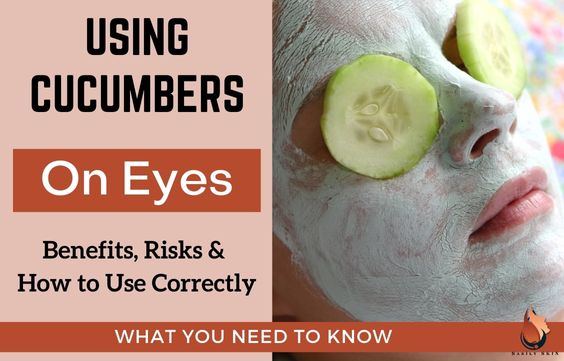 When we think about cucumbers in skincare, many of us picture ourselves reclining on a comfortable chair, with a face mask on, and cucumber slices covering our eyes.
The relaxation points add up to 100, but why do people use cucumber on their eyes?
Benefits Of Using Cucumbers On Eyes
Cucumbers can soothe damaged skin, reduce swelling, and stimulate antioxidant activity in the skin.
Here are the things different nutrients in cucumber do for the skin:
1- Refreshes the skin
Vitamin C can wake up the skin and stimulate new cell growth which makes the skin smoother, healthier, and brighter over time.
2- Cools and soothes the skin
Cucumbers have a cooling effect that soothes the skin. This works great for skin that is sunburned or irritated.
Related Article – Using Ice For Under-Eye Circles: Is it Safe, Pros & Cons
3- Fights off toxins
Cucumber's folic acid encourages antioxidants that support your skin's defenses against environmental pollutants that could make your eyes seem swollen or tired.
Related Article – Using Potatoes For Under-Eye Dark Circles & Wrinkles
4- Hydrates and moisturizes the skin
Cucumber may moisturize the skin beneath the eyes when used as a therapy since it contains so much water.
Some researchers believe that cucumber juice might be a useful component in treatments used to prevent wrinkles, as it helps the skin's natural elasticity be restored.
Related Article – How to use Vaseline for Wrinkles & Circles Under the Eyes
5- Helps Inflammation
Cucumbers are loaded with lignans (an antioxidant), plus potassium and magnesium, all of which have anti-inflammatory properties. This helps with swelling and puffiness under the eyes as well.
Related Article – Chamomile Tea Bags On Eyes: Benefits & How To Use
6- Prevents premature aging
The antioxidant properties of cucumber help to protect the skin from environmental stressors that age the skin faster. This prevents the early appearance of fine lines and wrinkles.
Related Article – Using Azelaic Acid for Wrinkles & Circles Under the Eyes
7- Improves circulation to the area
Cucumbers are also rich in Vitamin K which boosts circulation when applied to the skin. This helps the skin under the eyes to look healthier and less dark and tired. 
Related Article – Essential Oils for Under-Eye: Puffy Circles & Wrinkles 
8- Brightens the skin and helps with darkness
Coming full circle, Vitamin C brightens the skin and gradually fades spots and discoloration.
Some more effective ways to lighten dark circles are:
Toothpaste For Dark Under-Eye Circles & Wrinkles
Tretinoin For Under Eye Circles & Wrinkles: What to Know
Potential Side Effects of Using Cucumbers On Eyes
Cucumbers are so versatile and gentle that there are no known side effects or allergies associated with using them on your eyes!
It can be used as slices, as an extract, blended, or even frozen.
If you happen to get some in your eye, it will be a little uncomfortable, but it will not damage your eyes if washed out properly with clean water. Anything that goes into the eye (other than eye drops) will irritate them.
Related Articles:
How to Use Turmeric for Under Eye Dark Circles & Wrinkles
How to use Honey for Under Eye Wrinkles & Dark Circles
How To Use Cucumbers On Eyes
The easiest way to use cucumbers on your eyes is to place the slices directly over your closed eyes as you relax.
I recommend using cucumber on your eyes in the morning after waking up to help de-puff and wake up your under eyes. However, it can be used at any time during the day.
I love to use it before an event or before applying makeup. It gives the skin a refreshed look that looks lovely under concealer!
Here's what to do:
Wash and peel your cucumber (the skin may have residual pesticides that you do not want anywhere near your eyes).
Slice off the top of the cucumber, then make two slices about ½ inch thick each.
Cleanse your eye area.
Lay down, close your eyes, and place your cucumber slices over each eye.
Leave the cucumber slices on your eyes for at least 15 minutes (longer if you can) or until the cucumber starts to warm up.
Your cucumber can be at room temperature or it could be cool (after being placed in the refrigerator).
Other ways that you can use cucumber on your eyes include:
Blended and applied as an eye mask
In skincare products as an extract
Related Articles:
Witch Hazel for Under Eyes- Dark Circles, Bags & Puffiness
How to Use Kojic Acid for Under-Eye Circles & Wrinkles
Frequently Asked Questions (FAQs)
Can you leave cucumbers on eyes overnight?
Leaving cucumber slices on your eyes overnight might be a bit challenging, but you can leave blended cucumber juice on your under-eyes overnight.
The juice will absorb into the skin nicely and will not mess up your sheets and pillows. It will also hydrate the skin.
Related Article – Niacinamide for Dark Spots & Wrinkles Under the Eyes
Can I put cucumbers on my eyes everyday?
Yes, you can put cucumber on your eyes every day if you want.
It is hydrating, soothing, and nutritious for the skin. It is not known to cause irritation or dryness and can be used as many times as you'd like.
Related Article – Can You Use Salicylic Acid Under the Eyes – Shocking Truth
Can you use frozen cucumbers on eyes?
You can use frozen cucumbers on your eyes, but not for too long.
Holding anything frozen directly on an area of your skin for too long will cause your skin to become irritated or even burned. This is especially concerning for the skin around your eyes which is thinner and more sensitive than anywhere else.
If you are placing frozen cucumbers on your eyes, be sure to lift them off periodically or if you notice your skin starts to look red or feel numb.
Click here to read more about: Using Ice For Under-Eye Circles: Is it Safe, Pros & Cons
I personally think the safer and more effective method is to use cool cucumbers instead of frozen ones. That way you can relax and let the coolness gradually work its magic without damaging your skin.
Related Articles:
Chamomile Tea Bags On Eyes: Benefits & How To Use
Milk to Treat Dark Circles: Will it Work & How to Use
Sources:
Do Cucumbers Improve Undereye Skin?
Cucumis sativus fruit-potential antioxidant, anti-hyaluronidase, and anti-elastase agent
Assessment of viscoelasticity and hydration effect of herbal moisturizers using bioengineering techniques – PMC
Phytochemical and therapeutic potential of cucumber
Do Cucumbers Actually Do Anything For Your Eyes?